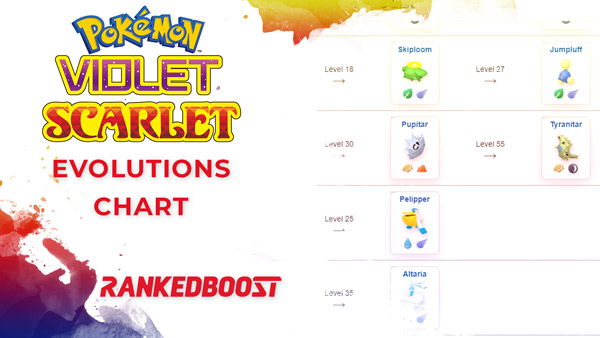 Pokemon Scarlet and Violet Evolution Chart
This Pokemon Scarlet and Violet Evolution Chart will list all 541 Pokemon and their Evolution Requirements. A many types of Evolutions can occur by either reaching a certain level, using an item or completing an objective to trigger an alternative evolution.
Pokemon SV All Evolutions and Requirements
In the Pokemon SV Series, there are pokemon that evolve from leveling up, while of the pokemon evolutions will require an Evolution Item. The other methods vary widely, and we explain them in more detail within this Pokemon Evolutions Chart.
Stage 1 (Base) – The starting form of the pokemon species line.
Stage 2 (First) – The first stage of the evolutions.
Stage 3 (Final) – The second and usually final stage of the evolutions.
Types (Fire, Water, Grass, etc) – Determines the pokemon strengths and weaknesses.
Level Requirement (→16, →32, →42) – The level requirement to trigger an evolution.
Evolution Items (Moon Stone, Thunder Stone, etc) – Items that can trigger Pokemon evolutions.
Home () – The Pokemon IDs marked with the "Home Icon" are pokemon that can be transferred into the game from Pokemon Home.