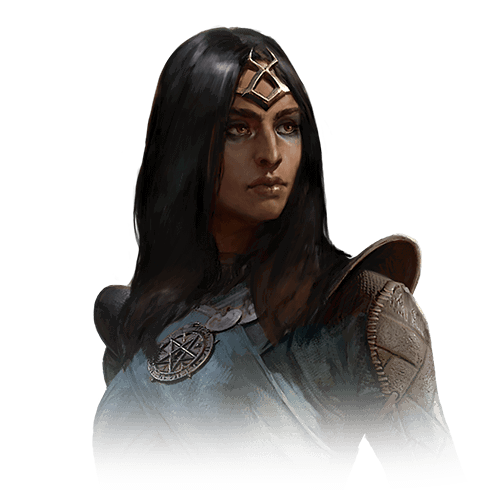 Diablo 4 Sorceress
The Sorceress is a ranged damage dealer that can utilize it class exclusive enchantment system to further empower certain spells and builds. below we explain what each enchantment effect does, and what bonuses you will receive from each of the main stats Strength, Intelligence, Willpower, and Dexterity.
Sorceress Stats
Stat
Effect

Strength

1 Strength = 1 Armor

Dexterity

1 Dexterity = 0.02% Critical Strike Chance

1 Dexterity = 0.025% Chance to Dodge Attacks

Intelligence

1 Intelligence = 0.1% Skill Damage

1 Intelligence = 0.05% All Resistances

Willpower

1 Willpower = 0.1% Resource Generation

1 Willpower = 0.25% Overpower Damage

1 Willpower = 0.1% Healing Received
Best Sorceress Enchantment Skill Effects To Use
The Best Sorceress Skill Enchantment Effects to use in d4 will depending on your build, however, there are some enchantments that stand out and can make or break a build. Among these strong enchantment skill effects are the following: Ice Shards, Fire Bolt, and Arc Lash.
How To Unlock Enchantment Slots
Upon reaching level 15, the Priority Quest Legacy of the Magi is automatically obtained. Completing this quest line is necessary to access the Enchantment Slots system. The second slot unlocks at level 30.
A skill must have at least one Skill Point allocated to it (either from the Skill Tree or via equipment) to be utilized.
Best Enchantment Effects
Tier
Skill
Enchantment Effect

S Tier

Enchantment Effect:

Ice Shards automatically conjure and fly towards Frozen enemies.

Defualt

Ice Shards

Upgrades

Enhanced Ice Shards

Destructive Ice Shards

Greater Ice Shards

S Tier

Enchantment Effect:

Lucky Hit: Your direct damage has up to a 100% chance to Burn enemies for 23% over 8 seconds.

Defualt

Fire Bolt

Upgrades

Enhanced Fire Bolt

Flickering Fire Bolt

Glinting Fire Bolt

A Tier

Enchantment Effect:

Whenever you are hit, there's a 20% chance the attacker is Stunned for 1 second.

Defualt

Arc Lash

Upgrades

Enhanced Arc Lash

Flickering Arc Lash

Glinting Arc Lash

A Tier

Enchantment Effect:

Whenever you cast a non-Basic Skill, you have a 20% chance to launch a Frozen Orb at a nearby enemy.

Defualt

Frozen Orb

Upgrades

Enhanced Frozen Orb

Destructive Frozen Orb

Greater Frozen Orb

A Tier

Enchantment Effect:

When you kill an enemy, they explode in a Fireball for 50% of its damage.

Defualt

Fireball

Upgrades

Enhanced Fireball

Destructive Fireball

Greater Fireball

A Tier

Enchantment Effect:

Killing an enemy has a 10% chance to form a Crackling Energy.

Defualt

Spark

Upgrades

Enhanced Spark

Flickering Spark

Glinting Spark

A Tier

Enchantment Effect:

When a Burning enemy is killed, a Hydra head spawns from its corpse for 3 seconds.

Defualt

Hydra

Upgrades

Enhanced Hydra

Invoked Hydra

Summoned Hydra

B Tier

Enchantment Effect:

When Crackling Energy would form, there's a 10% chance Ball Lightning is formed instead.

Defualt

Ball Lightning

Upgrades

Enhanced Ball Lightning

Mage's Ball Lightning

Wizard's Ball Lightning

B Tier

Enchantment Effect:

Every 15 seconds, a Blizzard forms over you and follows you for 4 seconds.

Defualt

Blizzard

Upgrades

Enhanced Blizzard

Mage's Blizzard

Wizard's Blizzard

B Tier

Enchantment Effect:

Chain Lightning forms automatically, after spending 100 Mana.

Defualt

Chain Lightning

Upgrades

Enhanced Chain Lightning

Destructive Chain Lightning

Greater Chain Lightning

B Tier

Enchantment Effect:

Absorbing Crackling Energy has a 10% chance to conjure a Lightning Spear.

Defualt

Lightning Spear

Upgrades

Enhanced Lightning Spear

Invoked Lightning Spear

Summoned Lightning Spear

B Tier

Enchantment Effect:

Lucky Hit: Direct damage has up to an 8% chance to spawn a rotating Incinerate beam.

Defualt

Incinerate

Upgrades

Enhanced Incinerate

Destructive Incinerate

Greater Incinerate

B Tier

Enchantment Effect:

Every time an enemy takes Burning damage, there's 3% chance a Meteor falls on them.

Defualt

Meteor

Upgrades

Enhanced Meteor

Mage's Meteor

Wizard's Meteor

B Tier

Enchantment Effect:

Lucky Hit: Critical Strikes have up to a 30% chance to make your active Conjuration Skills unleash a Frost Nova.

Defualt

Frost Nova

Upgrades

Enhanced Frost Nova

Mystical Frost Nova

Shimmering Frost Nova

B Tier

Enchantment Effect:

Evade is replaced with Teleport on a 17.0 second cooldown.

Defualt

Teleport

Upgrades

Enhanced Teleport

Mystical Teleport

Shimmering Teleport

C Tier

Enchantment Effect:

Lucky Hit: Your direct damage has up to a 100% chance to Chill for 30%.

Defualt

Frost Bolt

Upgrades

Enhanced Frost Bolt

Flickering Frost Bolt

Glinting Frost Bolt

C Tier

Enchantment Effect:

Whenever you are hit, there's a 40% chance to release 5 Charged Bolts.

Defualt

Charged Bolts

Upgrades

Enhanced Charged Bolts

Destructive Charged Bolts

Greater Charged Bolts

C Tier

Enchantment Effect:

Killing an enemy has a 10% chance to conjure Ice Blades. 20 seconds to recharge.

Defualt

Ice Blades

Upgrades

Enhanced Ice Blades

Invoked Ice Blades

Summoned Ice Blades

C Tier

Enchantment Effect:

Lucky Hit: Direct damage has up to a 15% chance to spawn a Firewall for 3 seconds.

Defualt

Firewall

Upgrades

Enhanced Firewall

Mage's Firewall

Wizard's Firewall

D Tier

Enchantment Effect:

Flame Shield automatically activates when you take fatal damage. It takes 120 seconds to recharge.

Defualt

Flame Shield

Upgrades

Enhanced Flame Shield

Mystical Flame Shield

Shimmering Flame Shield

E Tier

Enchantment Effect:

Upon getting hit, you have a 5% chance to apply Ice Armor.

Defualt

Ice Armor

Upgrades

Enhanced Ice Armor

Mystical Ice Armor

Shimmering Ice Armor