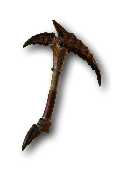 Diablo 4 Black River
The Diablo 4 Black River is a Unique Scythe exclusive to the Necromancer class.
Life On Kill

Intelligence

Damage to Healthy Enemies

Ranks to Fueled by Death

Ranks to Corpse Explosion

Corpse Explosion consumes up to 4 additonal Corpses around the initial Corpse, dealing

[X%]

increased damage and with a

[X%]

larger radius per additional Corpse.

Necromancer Class Only
How To Get Black River
The Black River Unique Scythe will only drop from Level 85+ Monsters.
You can further increase your chances of the Black River Drop by slaying Drowned in Nightmare Dungeons. Since these monster types have a higher drop rate of Unique Scythe Equipment.

Drowned
Best Builds To Use with Black River
We have a total of (2) builds that use the Black River Unique Scythe. You can click/tap any Black River build below to view the complete Build.

Best Builds
Best Malignant Hearts To Use With Black River
The best malignant heart to use with Black River is Caged Heart of The Sacrilegious, which is a Vicious Type Socket.
Best Unique Weapons and Armor To Use with Black River
The best unique equipment to use with Black River in D4 is Howl from Below, which is a Unique Gloves.

Best Necromancer Uniques
Best Paragons To Use with Black River
The best paragon to use with Black River in D4 is Flesh-eater, which is a Legendary Board Node.

Best Necromancer Paragons