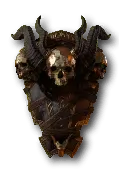 Diablo 4 Lidless Wall
The Diablo 4 Lidless Wall is a Unique Shield exclusive to the Necromancer class.
Block Chance

Blocked Damage Reduction

Main Hand Weapon Damage

Thorns

Attack Speed

Damage to Distant Enemies

Lucky Hit: Up to a 5% Chance to Restore [X]% Primary Resource

Maximum Essence

Lucky Hit: While you have an active Bone Storm, hitting an enemy outside of a Bone Storm has up to a

[5 - 25%]

chance to spawn an additional Bone Storm at their location. Each of your active Sacrifice bonuses increases the chance by 25% and the total number of additional Bone Storms you can have by 1.

Necromancer Class Only
How To Get Lidless Wall
The Lidless Wall Unique Shield will only drop from Level 85+ Monsters.
You can further increase your chances of the Lidless Wall Drop by slaying Skeletons, Knights in Nightmare Dungeons. Since these monster types have a higher drop rate of Unique Shield Equipment.
Best Skills To Use with Lidless Wall
The strongest skill synergy with the Lidless Wall Unique Shield in D4 are Bone Storm, and there is also a strong passive synergy with .

Best Necromancer Skills