Diablo 2 Paladin Best Skills Tier List, ranking the strongest Skills. We detail each Paladin Skill Synergy, Lvl Requirement and what they do in game for Defensive Auras, Offensive Auras, Paladin Combat Skills.
Quickly navigate this Paladin Skills Guide using the links above.
Diablo 2 Paladin Skills Tier List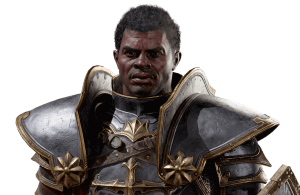 S TIER

The Best Paladin Skills you should always max (Level 20) depending on your class build in our Diablo 2 Tier List.

A TIER

Very Strong Skills, but not the primary skill, usually used as a Secondary or for Synergy Bonus Damage in most builds.

B TIER

Good choice and can be viable when used with the right Paladin Build.

C TIER

An Average choice, middle of the pack neither good nor bad. In most cases, only 1 Level is needed for these skills.

D TIER

Below Average, slightly on the weaker side of an average pick. Typically only required to reach further within the skill tree of a class.

E TIER

Weak choice and wouldn't recommend unless you enjoy the playstyle.

F TIER

Worst the lowest ranking options in this Diablo 2 Skills Tier List.

Resist Cold
Unranked
These Skills rankings are still to be determined within this Tier List.
Best Paladin Skills in Diablo 2
List of Best Skills To use with Paladin Class in Diablo 2. We explain Skills such as Sacrifice, Might, Prayer and what synergy they share when leveling them up.
List of Defensive Auras for Paladin
Skills
Description

S Tier

Vigor

Increases Speed, Stamina, and Stamina recovery for all party members.

Active / Passive

Magic

A Tier

Salvation

Increases all Elemental resistances for all party members.

Active / Passive

Magic

B Tier

Defiance

Boosts the Defense of all party members.

Active / Passive

Magic

C Tier

Cleansing

Reduces Poison and Curse duration for all party members.

Active / Passive

Magic

C Tier

Meditation

Boosts Mana recovery for all party members

Active / Passive

Magic

C Tier

Prayer

Heals all party members.

Active / Passive

Magic

C Tier

Redemption

Periodically attempts to redeem corpses for Health and Mana.

Active / Passive

Magic

D Tier

Resist Fire

Increases the Fire resistance of all party members.

Active / Passive

Fire

D Tier

Resist Lightning

Increases the Lighting resistance of all party members.

Active / Passive

Lightning

E Tier

Resist Cold

Increases the Cold resistance of all party members.

Active / Passive

Cold
List of Offensive Auras for Paladin
Skills
Description

S Tier

Concentration

Reduces the chance that your attacks will be interrupted.

Active / Passive

Magic

S Tier

Conviction

Reduces enemy Defense and the Resistances of monsters.

Active / Passive

Magic

A Tier

Fanaticism

Increases your Attack Rate and Attack Rating. Increases damage for all party members.

Active / Passive

Magic

A Tier

Holy Fire

Periodically does Fire damage to nearby enemies.

Active / Passive

Fire

A Tier

Holy Shock

Periodically does Lightning damage to enemies within a radius

Active / Passive

Lightning

B Tier

Blessed Aim

Increases Attack Rating.

Active / Passive

Magic

B Tier

Might

Increases damage dealt by party members

Active / Passive

Physical

B Tier

Sanctuary

Damages and does knockback to the Undead. Ignores Physical Resistances and Immunities Of Undead Monsters.

Active / Passive

Magic

C Tier

Thorns

Enemies take damage when they cause melee damage to party members.

Active / Passive

Physical

D Tier

Holy Freeze

Periodically slows enemies nearby.

Active / Passive

Cold
List of Paladin Combat Skills for Paladin
Skills
Description

S Tier

Blessed Hammer

A summoned Hammer spirals outward, damaging enemies. The Undead take additional damage.

Active

Magic

S Tier

Conversion

A successful attack has a chance to convert the target to fight evil.

Active

Magic

S Tier

Holy Shield

Magically enhances shield to give defense bonuses.

Active / Passive

Magic

S Tier

Vengeance

Adds Elemental (Fire, Lightning and Cold) damage to all melee attacks.

Active

Physical

A Tier

Charge

Closes the distance with an enemy, delivering a bash on contact.

Active

Physical

A Tier

Fist of the Heavens

Lightning attack from the sky that releases Holy Bolts.

Active

Lightning

A Tier

Smite

Shield bash that does damage and knock back

Active

Physical

A Tier

Zeal

Quickly attacks multiple adjacent enemies

Active

Physical

B Tier

Holy Bolt

Bolt of energy that damages undead, or heals friendly units.

Active

Magic

C Tier

Sacrifice

Increased damage at the cost of health

Active

Physical