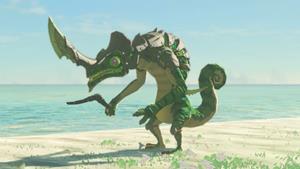 Zelda Tears of the Kingdom Lizalfos
The Zelda Tears of the Kingdom Lizalfos enemy has 50 Life, and can be found using the map below. we also included what items Lizalfos drop once defeated.
Life: 50

Melee Attack Power
: 12

Ranged Attack Power
: 4
Description: These quick-witted, lizard-like monsters can be found all over Hyrule. They're a sly species that lurk underwater or use camouflage to blend in with the environment to launch ambushes. Moreover, they never sleep. And even when they have no weapons, they'll come at you swinging their sword-like horn.
Where To Find Lizalfos Locations
You can find Lizalfos enemies near the Lanayru Wetlands, Lanayru Great Spring locations.