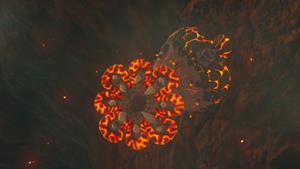 Zelda Tears of the Kingdom Fire Like
The Zelda Tears of the Kingdom Fire Like enemy has 250 Life, and can be found using the map below. we also included what items Fire Like drop once defeated.
Life: 250
Description: These monsters live mostly in caves near volcanoes. They belch scorching fire out of their maws. There are still many mysteries about them, but it seems they don't do well in the cold. Don't get too close, or they'll gulp you up into their large gullets and give you an all-too-close look at their insides.
Where To Find Fire Like Locations
You can find Fire Like enemies near the Eldin Mountains, Eldin Mountains Depths locations.