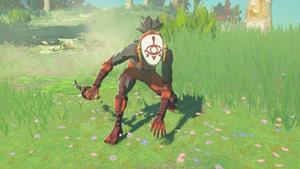 Zelda Tears of the Kingdom Yiga Footsoldier
The Zelda Tears of the Kingdom Yiga Footsoldier enemy has 64 Life, and can be found using the map below. we also included what items Yiga Footsoldier drop once defeated.
Life: 64

Melee Attack Power
: 10
Description: The lowest-ranked members of the Yiga Clan. They've been dispatched all across Hyrule with a single task: seek out and kill Princess Zelda and Link. They're a crafty bunch, sometimes disguising themselves as simple travelers or villagers to get the jump on you. Be wary of suspicious people you encounter. They're very agile, and their weapons of choice are bows and swords.
Where To Find Yiga Footsoldier Locations
You can find Yiga Footsoldier enemies near the locations.