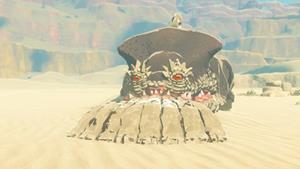 Zelda Tears of the Kingdom Molduga
The Zelda Tears of the Kingdom Molduga is a Mini Boss found in the Gerudo Desert areas of the map. The Molduga Boss will drop Molduga Fin, Molduga Jaw, Molduga Guts.
Life: 1500
Description: This massive monster swims beneath the desert's sand. It spends most of its time submerged, but if it senses sound, it will breach the surface to feast on whatever it can grab. Running around carelessly can be dangerous if you suspect there may be one in the area.
Where To Find Molduga Locations
You can find Molduga enemies near the Gerudo Desert locations.