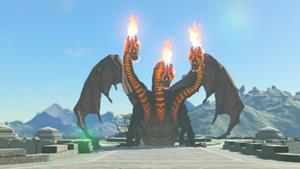 Zelda Tears of the Kingdom Flame Gleeok
The Zelda Tears of the Kingdom Flame Gleeok enemy has 8000 Life, and can be found using the map below. we also included what items Flame Gleeok drop once defeated.
Life: 8000
Description: This three-headed monster first appeared after the Upheaval. Fighting it alone is inadvisable, as its three heads will attack you all at once. Creates powerful flames within its body. When someone sets foot upon its turf, this beast will engulf the intruder and their surroundings in a fierce blaze.
Where To Find Flame Gleeok Locations
You can find Flame Gleeok enemies near the Eldin Canyon, Lake Hylia locations.