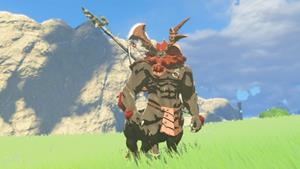 Zelda Tears of the Kingdom Lynel
The Zelda Tears of the Kingdom Lynel enemy has 2000 Life, and can be found using the map below. we also included what items Lynel drop once defeated.
Life: 2000

Melee Attack Power
: 33

Ranged Attack Power
: 15
Description: These fearsome monsters have lived in Hyrule since ancient times. They possess intense intelligence and resilience, as well as a piercing horn, making them among the most dangerous monsters in all the land. This is compounded by their natural resistance to all elements. Only challenge a Lynel if you're very well prepared.
Where To Find Lynel Locations
You can find Lynel enemies near the Hyrule Field, Central Hyrule Depths locations.