Zelda Tears of the Kingdom Armor Sets List
This is a list of all armor sets you can complete to gain a full set bonus effect. Armor Sets are comprised of Head, Boots, and Chest you can equip to increase your overall defense and even gain special effects.
Armor Sets List for Zelda TotK
Below is a list of armor sets, as well as their stats and effects. We link to each armor which includes the location where you can find them and the cost to upgrade.

Headgear

Body Armor

Legwear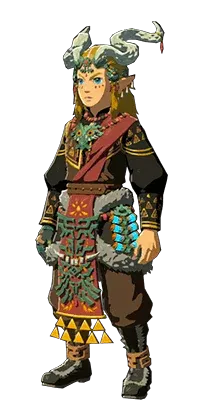 Best Armor Sets Tier List

Best Armor Tier List
Armor Sets List
Tier
Set Armor
Pieces
Effects

S Tier

Full Set Bonus: Stormy Weather Charge (Charge Attack faster during stormy weather and cuase a Electric Burst at end of combo or Charge Attack)

Armor Effect

:

Stormy Weather Attack Up (Increased Attack Power during stormy weather)

S Tier

Full Set Bonus: Hot Weather Charge (Charge Attack faster during hot weather and cuase a Fire Burst at end of combo or Charge Attack)

Armor Effect

:

Hot Weather Attack Up (Increased Attack Power during hot weather)

S Tier

Full Set Bonus: Cold Weather Charge (Charge Attack faster during cold weather and cuase a Ice Burst at end of combo or Charge Attack)

Armor Effect

:

Cold Weather Attack Up (Increased Attack Power during cold weather)

S Tier

Full Set Bonus: none

Armor Effect

:

Rupee Padding (Lose Rupees instead of Health)

S Tier

Full Set Bonus: Energy Recharge Up (Energy Recharge Rate is faster)

Armor Effect

:

Energy Up

A Tier

Full Set Bonus: Charge Atk. Stamina Up (Decreases the stamina used by charged attacks)

Armor Effect

:

Attack Up

A Tier

Full Set Bonus

:

Speed Up at Night

A Tier

Full Set Bonus

:

Gloom Resistance (Additional Gloom Resistance)

Armor Effect

:

Gloom Resistance

A Tier

Full Set Bonus: Shock Damage Resist (Reduce damage from electric attacks)

Armor Effect

:

Heat Resistance

A Tier

Full Set Bonus: none

Armor Effect

:

Attack Up

A Tier

Full Set Bonus: Lightning Proof (Immune to lightning strikes)

Armor Effect

:

Shock Resistance

A Tier

Full Set Bonus: Unfreezable (Cannot be frozen by Ice Attacks)

Armor Effect

:

Cold Resistance

B Tier

Full Set Bonus: Decreases the stamina used when jumping while climbing.

Armor Effect

:

Climb Speed Up

B Tier

Full Set Bonus: Charge Atk. Stamina Up (Decreases the stamina used by charged attacks)

Armor Effect

:

Attack Up

B Tier

Full Set Bonus

:

Fireproof (Protection from Fire)

Armor Effect

:

Flame Guard

B Tier

Full Set Bonus

:

Shining Steps (Leaves a trail of Glowing Light)

Armor Effect

:

Glow (Lights up Dark Areas)

B Tier

Full Set Bonus: Decreases the stamina used when swim dashing

Armor Effect

:

Swim Speed Up

C Tier

Full Set Bonus

:

Slip Resistance (Prevents slipping when climbing during the rain)

Armor Effect

:

Slip Resistance

C Tier

Full Set Bonus: Impact Proof (Negates fall damage)

Armor Effect

:

Skydive Mobility Up

C Tier

Full Set Bonus: none

Armor Effect: none

D Tier

Full Set Bonus

:

Attack Up

Armor Effect

:

Attack Up

D Tier

Full Set Bonus

:

Attack Up

D Tier

Full Set Bonus

:

Speed Up at Night

Armor Effect

:

Stealth Up

D Tier

Full Set Bonus

:

Attack Up

D Tier

Full Set Bonus

:

Speed Up at Night

D Tier

Full Set Bonus

:

Attack Up

D Tier

Full Set Bonus

:

Attack Up

D Tier

Full Set Bonus

:

Attack Up

D Tier

Full Set Bonus

:

Stealth Up

Armor Effect

:

Stealth Up

E Tier

Full Set Bonus

:

Attack Up

Armor Effect: none

E Tier

Full Set Bonus: Makes Stal enemies not attack and increases your damage with bone weapons.

Armor Effect

:

Stealth Up

E Tier

Full Set Bonus: Makes Stal enemies not attack and increases your damage with bone weapons.

E Tier

Full Set Bonus: none

Armor Effect: none

F Tier

Full Set Bonus: none

Armor Effect: none