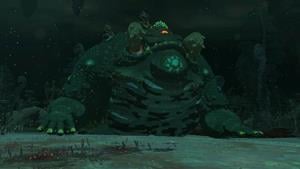 Zelda Tears of the Kingdom Frox
The Zelda Tears of the Kingdom Frox enemy has 700 Life, and can be found using the map below. we also included what items Frox drop once defeated.
Life: 700
Description: A large monster that dwells in the Depths. Despite its unwieldy body, it has incredibly powerful legs that it can use to leap from afar to capture prey. Its large mouth allows it to swallow whatever it hungers for in one gulp.
Where To Find Frox Locations
You can find Frox enemies near the Gerudo Highlands Depths, Central Hyrule Depths locations.