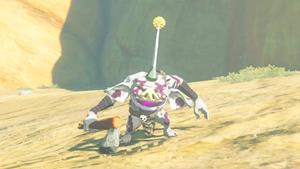 Zelda Tears of the Kingdom Silver Bokoblin
The Zelda Tears of the Kingdom Silver Bokoblin enemy has 720 Life, and can be found using the map below. we also included what items Silver Bokoblin drop once defeated.
Life: 720

Melee Attack Power
: 43

Ranged Attack Power
: 24
Description: You would be foolish to call these Silver Bokoblins a mere nuisance. They have been influenced by Ganon's fiendish magic, so they are stronger than event the Black Bokoblins. It's said that the Demon King's power marked their silver bodies with purple patterns. The magical glow at the tip of their horns may look funny at a glance, but don't take these creatures lightly, or the joke will be on you.
Where To Find Silver Bokoblin Locations
You can find Silver Bokoblin enemies near the locations.