Yu-Gi-Oh Duel Links Tier List revealing the best decks and cards to collect and use. In this duel links decks guides we'll give you tips, top yugioh decks to win in Casual, Freind and Ranked Duels. Including the best decks and character skills to set to win your ranked duels and achieve the highest scores possible when dueling level 40 Legendary Duelist.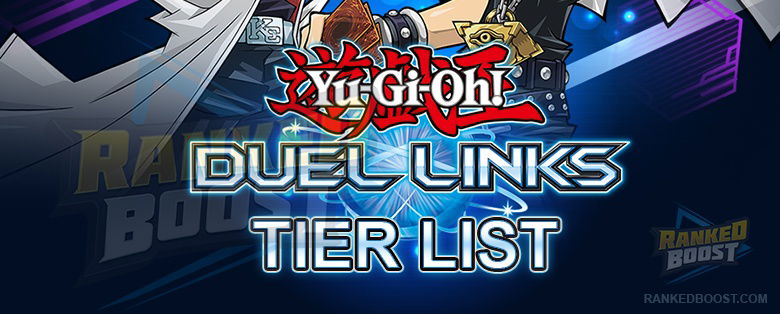 There are a couple of new features you should be aware of it, let's start off with Character Skills. Each playable character in the game has 3 Skills, unlocked by periodically leveling up at Level 4, 13 and 20.  However, Joey unlocks his first one at level 3.
Each are unique and are used to do special things such as Draw a card, increase life points, etc. You can set them within your skill tab. These are important to set with certain decks to make them more powerful in Yugioh duel links decks. Some cards are ranked as god tier like the Blue Eyes White Dragon and Dark Magician. They provide immense value for many builds because they are often summoner or used in fusion combos.

The best decks in YuGiOh duel links can be tough to create and you may have to farm some legendary duelist to collect the some of the best cards needed. However, once you've completed your deck list below you may also need to understand how to play your deck to it's advantages.
PvP dueling with a friend or facing off against lower level NPCs is a good way to catch on how to play. We've also included some starter guides on how to get started and playing them correctly.
#1

Dinosaur Kingdome
(Dinosaur Deck)

Rex Best Skill Set
Dinosaur Kingdom (Rex Raptor)

Monster x12 – Fusion x2

Two-Headed King Rex 3x
Crawling Dragon #2 3x
Element Saurus 3x
Thunder Dragon 3x
Twin-Headed Thunder Dragon 1x
Bracchio-raidus 1x

Spell x5

Twister 1x
Polymerization 2x
Order to Charge 2x

Trap x3

Windstorm of Etaqua 1x
Metalmorph 1x
Curse of Anubis 1x

#2

Daedalus
(Water Deck)

Mako Best Skill Set
Mythic Depths (Mako Tsunami)

Monster x13

Levia-Dragon – Daedalus 2x
Unshaven Angler 3x
Kaiser Sea Horse 3x
Yomi Ship 2x
Needle Sunfish 3x

Spell x4

Big Wave Small Wave 2x
Water Hazard 1x
Umi 1x

Trap x3

Mirror Wall 1x
Metalmorph 1x
Windstorm of Etaqua 1x

#3

Kazejin & BEWD
(Light Deck)

Keith Best Skill Set
Switcheroo (Bandit Keith)

Monster

x11

Kazejin 3x
Whirlwind Prodigy 3x
Blue-Eyes White Dragon 2x
Light Effigy 3x

Spell x6

Celestial Transformation 3x
Stray Lambs 3x

Trap x3

#4

Toon Mermaid
(Toon Deck)

Pegasus Best Skill Set
It's a Toon World (Pegasus)

Monster x11

Flash Assailant 3x
Sphere Kuriboh 1x
Axe Raider 3x
Toon Masked Sorcerer 1x
Toon Mermaid 3x

Spell x6

Mimicat 1x
Toon Rollback 1x
Toon World 1x
Shard of Greed 1x
Riryoku 1x
Twister 1x

Trap x3

Curse of Royal 1x
Windstorm of Etaqua 1x
Metalmorph 1x

#5

Two Fusion Dragons
(Dragon Deck)

Mako Best Skill Set
Balance (Mako Tsunami)

Monster x15 – Fusion x4

Red-Eyes B. Dragon 3x
Meteor Dragon 3x
Thunder Dragon 3x
Blue Dragon Summoner 3x
Mystical Sheep #1 1x
Goddess with the Third Eye 1x
Versago the Destroyer 1x
Twin-Headed Thunder Dragon 2x
Meteor B. Dragon 2x

Spell x5

Polymerization 3x
Fusion Gate 2x

#6

Garlandolf
(Ritual Summon Deck)

Pegasus Best Skill Set
Master of Rites (Pegasus)

Monster x13

Garlandolf, King of Destruction 3x
Thunder Dragon 3x
Senju of the Thousand Hands 3x
Sonic Bird 3x
Sphere Kuriboh 1x

Spell x6

Shard of Greed 1x
Fulfillment of the Contract 1x
Ritual Cage 1x
Ritual of Destruction 3x

Trap x1

#7

Suijin Amulet
(Water Deck)

Mako Best Skill Set
Mythic Depths (Mako Tsunami)

Monster x12

Suijin 3x
High Tide Gyojin 3x
Unshaven Angler 3x
Yomi Ship 3x

Spell x6

Stray Lambs 2x
Sea Lord's Amulet 2x
Twister 2x

Trap x2

#8

Handless
(Beatdown Deck)

Mako Best Skill Set
Balance (Mako Tsunami)

Monster x13

Guardian Grarl 2x
Flash Assailant 3x
Element Doom 2x
Arsenal Summoner 3x

Spell x6

Wonder Balloons 2x
Wicked-Breaking Flamberge – Baou 2x
Gravity Axe – Grarl 3x

Trap x1

Windstorm of Etaqua 2x
Jar of Greed 1x
If you found this YuGiOh Duel Links Best Decks Guide useful and would like to request Ranked Boost to create a specific YuGiOh duel links guide you can send the creator a message here.