Psyduck Pokemon Go Stats
90
122
96
100
Max HP
Atk
Def
Stamina
Pokemon GO Psyduck Max CP
966
| | |
| --- | --- |
| Flee Rate | 10% |
| Capture Rate | 40% |
| Global Spawn Rate | 2.54% |
| Buddy Candy Distance | 3 KM |
| Buddy Size | Medium |
| Perfect Pokemon GO Psyduck IV at Level 20 | 702 |
| Egg Distance to Hatch | 5 KM = 3.10 Miles |
| Perfect Psyduck IV Egg Hatch | 634 CP |
| Psyduck Egg Hatch Rate | 2.4% |
| Shiny Psyduck | - |
| Male | 50.00% |
| Female | 50.00% |
| Neutral | 0.00% |
Pokemon GO Psyduck Evolution Chart
Pokemon go Psyduck evolves into Golduck using 50 Candy. Their best stats are Attack and Defense.
Unevolved

Psyduck#054Water
↓
First Evolution50 Candy

Golduck#055Water
Evolution Chart →
Weakness Chart
Super Effective Against
1.56x
Effective Against
1.25x

Electric
Grass
Not Very
Effective Against
0.8x

Fire
Ice
Steel
Water
Very
Ineffective Against
0.64x
Water Type Pokemon are countered by Electric Type. For Example, Pikachu (Electric type) will deal increased damage to Psyduck when using any Electric Moves against him in Gym Battles.

However, it will also take decreased damage when attacked by Fire, Ground and Rock moves.
Countered By (Weak Against)
Psyduck Pokemon Go
Best Gym Attacker Movesets
Best Gym Defender Movesets
Quick Moves (Standard)
CD

Cooldown

EPS

Energy per Second

EPS

w/STAB

DPS

Damage per Second

DPS

w/STAB

1.00
6.00
7.50
10.00
12.50
CD

Cooldown

EPS

Energy per Second

DPS

Damage per Second

1.55
6.45
7.74
Charge Moves (Special)
| | | |
| --- | --- | --- |
| Aqua Tail | Damage | Charge |
| | 50 | |
CD

Cooldown

DW

Dodge Window

DPS

Damage per Second

DPS

w/STAB

1.90
0.45
26.32
32.89
| | | |
| --- | --- | --- |
| Cross Chop | Damage | Charge |
| | 50 | |
CD

Cooldown

DW

Dodge Window

DPS

Damage per Second

1.50
0.40
33.33
| | | |
| --- | --- | --- |
| Psybeam | Damage | Charge |
| | 70 | |
CD

Cooldown

DW

Dodge Window

DPS

Damage per Second

3.20
1.40
21.88
Pokemon Go Psyduck Spawn Locations
Water Spawns
Canal
Dock
Harbors
Lake
Ocean
Beach
River
Riverbank
Stream
Wetland
Ports
Reservoir
Basin
Tap Image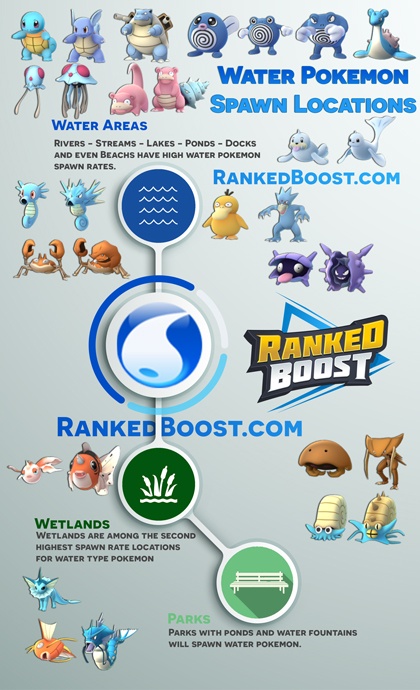 Spawn Locations →
Pokemon Go Psyduck Nests
| Nest | Address |
| --- | --- |
| Salt Lake Park Skate Park | United States, California, Huntington Park, 6939-7199 Bissell St |
| Palo Alto Golf Course | United States, California, Palo Alto, 1875 Embarcadero Rd |
| Saddle River Park | United States, New Jersey, Saddle Brook, 760 Saddle River Rd |
| Keyport Waterfront Park | United States, New Jersey, Keyport, Keyport Waterfront Path |
| National Mississippi River Museum and Aquarium | United States, Iowa, Dubuque, 350 E 3rd St |
| Enterprise Golf Course | United States, Maryland, Mitchellville, 3101-3195 Lottsford Vista Rd |
| Rio | United States, Maryland, Gaithersburg, 136 Boardwalk Pl |
| Lower Slaughter | United Kingdom, England, Cheltenham, Becky Hill |
| Ueno Park | Japan, Tokyo, Taito, 〒110-0007 上野公園・池之端三丁目 |
| Percy Priest Lake | United States, Tennessee, Nashville, Percy Priest Lake |
| Canalside | United States, New York, Buffalo, 44 Prime St |
| Burlington Outlet Village | United States, North Carolina, Burlington, 2389 Corporation Pkwy |
| Psyduck - World's Fair Park | United States, Tennessee, Knoxville, 823 Clinch Ave |
Habitats
| Habitat | Address |
| --- | --- |
| Spruce Street Harbor Park | United States, Pennsylvania, Philadelphia, 301 S Christopher Columbus Blvd |
| Boathouse Row | United States, Pennsylvania, Philadelphia, 1 Boathouse Row |
Pokemon by Types
☆

Pokemon