Pokemon GO Trading can be used for various things like completing your Pokedex or receiving a gift from another trainer. Below we will explain how to trade in pokemon go and what type of gifts you will get from Friendships with other players.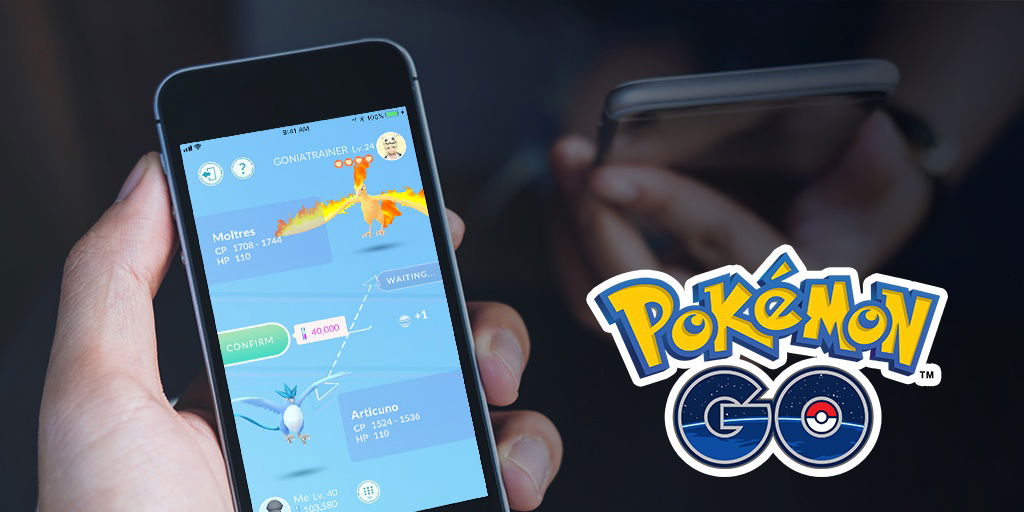 Pokemon GO Trading
What players can expect from Pokemon GO Trading and what requirements you will need to trade pokemon with your friends in pokemon go.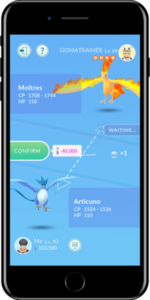 Pokemon GO Friendship and Trading How It Works
first, let's understand how you can increase your Friendship Level and what other limitation is in place with this mechanic.
Participating in a Raid & Gym Battles with a Friend (Once Per Day Per Friend)
Sending a Gift from a Pokestop
Completing a Trade.
Since your Friendship Level can only increase once per day per friend, you can expect the following time required when leveling up Friendship In Pokemon GO.
Good Friend – 1 Day
Great Friend  – 7 Days
Ultra Friend  – 30 Days
Best Friend – 90 Days
Now let's look at the different levels of Friendship in Pokemon GO, keep in mind all trading in pokemon go will require a stardust cost.
Friendship
Bonuses
Good Friend
1-Day
Trade Discount: 0%
Damage Bonuses: 3%
One Time XP Reward: 3,000
Great Friend
7-Days
Trade Discount: 20%
Damage Bonuses: 5%
Extra Raid Balls: +1 Ball
One Time XP Reward: 10,000
Ultra Friend
30-Days
Trade Discount: 92%
Damage Bonuses: 7%
Damage Bonuses: +2 Balls
One Time XP Reward: 50,000
Best Friend
90-Days
Trade Discount: 96%
Damage Bonuses: 10%
Damage Bonuses: +4 Balls
One Time XP Reward: 100,000
Base Trading Rate Paid By Both Players the same price regardless if one person already has the Pokemon they are receiving.
Friendship Level
Regular and regional
Shiny and Legendary
Caught
New
Caught
New
Good friends
1 day
100
20,000
20,000
1,000,000
Great friends
7 days
80
16,000
16,000
800,000
Ultra friends
30 days
8
1,600
1,600
80,000
Best friends
90 days
4
800
800
40,000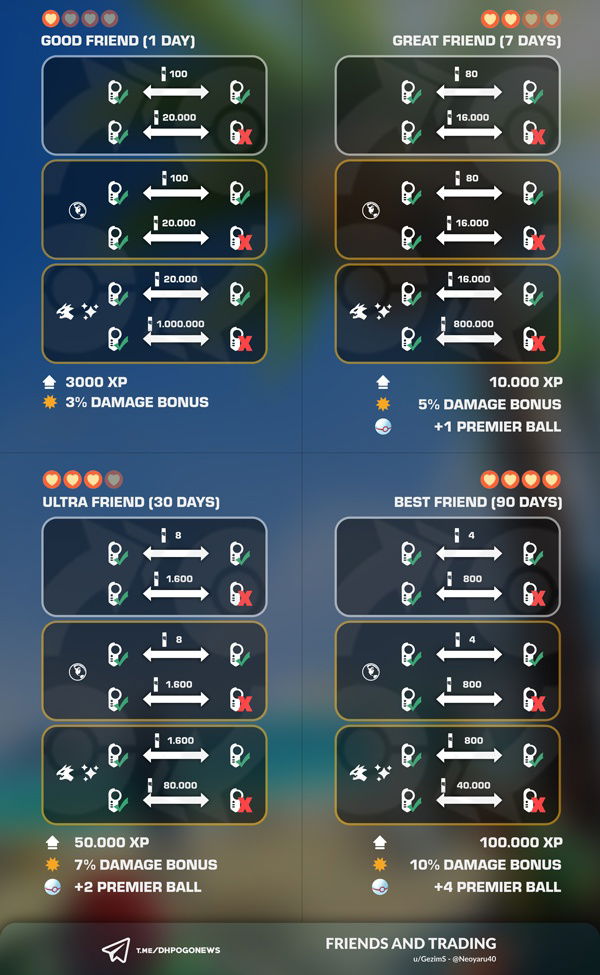 Image Above credit goes to a reddit user by the name of GezimS, for putting together a quick breakdown of costs.
Depending on the Distance of the where the pokemon was caught you will receive additional candy from trading.
1 Candy => close distance
2 Candy => medium distance
3 Candy => 100 KM distance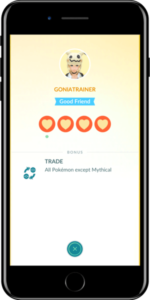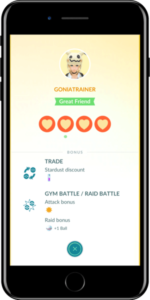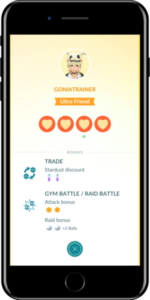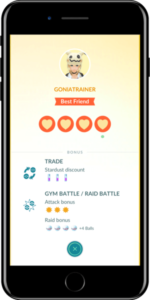 Other bonuses players should be aware of when leveling up your pokemon go friendship.
Candy Bonuses – When you start a trade you can earn bonus candy, the further apart the pokemon was caught (up to 100KM) the more Candy you will receive from the Trade.
CP and HP Ranges – The CP and HP ranges are affected by your friendship level, the higher your Friendship with the Trader the better the pokemon.
Special Trades Stardust Cost Reduction – Trading Mythical, Legendary Pokemon will cost less Stardust the higher your Friendship Level.
Pokemon GO Trade Types
There are two different trade types in Pokemon GO and will cost a different amount of Stardust to complete.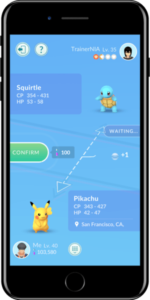 Normal Trade – Normal Pokemon
Special Trade – Mythical, Legendary Pokemon
Trading Pokemon will cost Stardust and the amount will depend on a couple of factors.
New Pokedex Entry | 20 000 Stardust
Legendary Trade | 20 000 Stardust
Shiny Trade | 20 000 Stardust
Legendary + New Pokedex Entry | 1 Million Stardust
Shiny + New Pokedex Entry| 1 Million Stardust
Best Pokemon To Trade In Pokemon GO
We will go through the Best Pokemon To Trade In Pokemon GO. These will range from Shiny, Event Only and Meta Relevant Gym Attacker Pokemon. Most importantly we will list all the Regional Pokemon, which for most in Pokemon GO are the rarest pokemon you should trade to complete their Pokedex.
List of Pokemon You Should Trade In Pokemon GO.
Types

Pokemon You Should Trade

Regional Pokemon
Tauros
Event Pokemon
Event Hat Pikachu ( X-mas, Halloween)
Delibird
Meta Relevant
(Good For Gym/Raids)
Dragonite
Legendaries
Articuno
Shiny Pokemon
You can view the complete list of Shiny Pokemon.
Exclusive and Legacy Moves
(Pokemon with Moves that are no longer available.)
Pokemon that were caught before an update or during an event may have a Specific Move that is longer available. This is some cases can help make a pokemon more meta relevant and rare.
Unown
You can view the complete list of Unown Pokemon
Pokemon GO Friendship
Pokemon GO Friendship will influence many game mechanics one of which will be Trading in Pokemon GO. Lets first discuss how to increase Friendship Levels In Pokemon GO.
1x Friendship Level Per Day
200x Max Friend Limit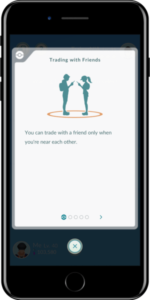 When you visit Pokestops you have a chance to receive a "Gift" these cannot be opened, instead you will send these your friends. Gifts contain the following items:
| Gift Items | Amount |
| --- | --- |
| Hyper Potion | 2 |
| Max Potion | 2 |
| Revive | 2 |
| Max Revive | 2 |
| Poke Ball | 5 |
| Great Ball | 5 |
| Ultra Ball | 5 |
| Pinap Berry | 10 |
| Evolution Item | 1 |
| Alolan Pokemon 7KM Egg | 1 |
Pokemon found within the 7KM Alolan Egg.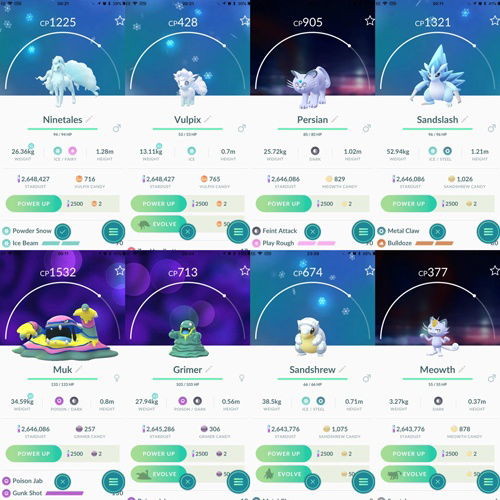 Some Additional Gift Giving and Pokemon GO Friendship Information are as follows:
Opening a gift increases Both You and Your Friends Friendship Level.
You will not receive the 7KM Alolan Egg if you do not have a Free Slot in your Pokemon Egg.
You can receive up to 20 Gifts Per Day.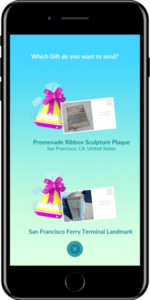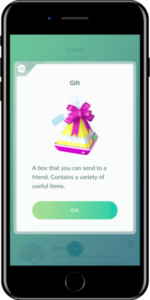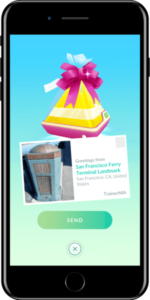 Based on Releases that Niantic has done in the past, we can take a guess and estimate as to when some of these future updates will be released. These are not actual release dates, these are when we think these features might become available based on Niantic past release record.
Pokemon GO Trading release in NOW
Trainer Battles release
Pokemon Breeding Release
Pokemon GO Gen 4 release
List of Other Features Players Want In Pokemon GO
Trainer Battles (Player VS Player): Fighting gyms all day is fun, but sometimes you want to measure your Pokemon versus your friends. This is a feature Pokemon go players are eagerly looking forward to using.  As for the date, this will be available that is still unknown and could be for quite some time. At least till Pokemon go trading is ready since Niantic has their Pokemon Go trade system is the top priority.
Show Other Nearby Trainers: This would be an excellent way to find out who exactly is playing Pokemon go near you. It also will help players find hotspots for Pokemon activity or just places to hang as a Pokemon go player. In the future, this will allow players find each other and even Pokemon Go trade.
LeaderBoards (GYM Scoreboards): along with Pokemon Go Trading, there will be a big update to the gyms. Most notably the gyms will soon have leaders, so players can compare themselves to other and finally see who is the very best.
PokeStops (Poke Centers): Niantic Labs' CEO John Hanke mentioned there would be some update to Pokestops. He, However, did not explicitly say as to what those types of updates will be.
Platform Expansion: This is most likely a lot further down the line then Pokemon Go trading. Niantic did mention they were interested in expanding Pokemon Go into other devices such as Microsoft's Hololens and the apple watch.
Pokemon Centers: Niantic Labs CEO, John Hanke, confirmed that a future update will allow the players to transform their PokeStops into Pokemon Centers. The players will be able to heal their Pokemon in those Pokemon Centers and also carry out some yet-to-be-announced other actions. Some players suspect this may be a location for players to conduct Pokemon Go Trading or maybe Pokemon Breeding.
Pokemon Go Trading Updates:
Update 7/11/2016 – No major updates yet in regards to Pokemon Go Trading. players have raised concerns with the new trading system. Most players worry how this could unbalance Gyms in their local area. say, for example, a high-ranking player wanted to trade extremely strong Pokémon to their friends, they could find a way to dominate all of the gyms in a local town. Since there is a limit to how many gyms a player can occupy at a time, trading could be a clever way to circumvent that and keep a particular team (Valor, Instinct, or Mystic) in control.
Update 7/25/2016 – Niantic Labs CEO, John Hanke, confirmed that a future update of Pokemon Go will allow the players to transform their PokeStops into Pokemon Centers.
Update 8/10/2016 – Niantic Labs is currently working on their new Pokemon tracking system, after which they are expected to begin work on Pokemon GO Trading.
Update 8/19/2016 – Code has been found in the newest app update, hinting towards the new Pokemon GO Trading System.