Magikarp Pokemon Go Stats
43
29
102
40
Max HP
Atk
Def
Stamina
Pokemon GO Magikarp Max CP
220
| | |
| --- | --- |
| Flee Rate | 15% |
| Capture Rate | 56% |
| Global Spawn Rate | 4.78% |
| Buddy Candy Distance | 1 KM |
| Buddy Size | Medium |
| Perfect Pokemon GO Magikarp IV at Level 20 | 166 |
| Egg Distance to Hatch | 2 KM = 1.25 Miles |
| Perfect Magikarp IV Egg Hatch | 150 CP |
| Magikarp Egg Hatch Rate | 8.6% |
| Shiny Magikarp | - |
| Male | 100.00% |
| Female | 0.00% |
| Neutral | 0.00% |
Pokemon GO Magikarp Evolution Chart
Pokemon go Magikarp evolves into Gyarados using 400 Candy. Their best stats are Attack and Defense.
Unevolved

Magikarp#129Water
↓
First Evolution400 Candy

Gyarados#130FlyingWater
Evolution Chart →
Weakness Chart
Super Effective Against
1.56x
Effective Against
1.25x

Electric
Grass
Not Very
Effective Against
0.8x

Fire
Ice
Steel
Water
Very
Ineffective Against
0.64x
Water Type Pokemon are countered by Grass Type. For Example, Weepinbell (Grass type) will deal increased damage to Magikarp when using any Grass Moves against him in Gym Battles.

However, it will also take decreased damage when attacked by Fire, Ground and Rock moves.
Countered By (Weak Against)
Magikarp Pokemon Go
Best Gym Attacker Movesets
Best Gym Defender Movesets
Quick Moves (Standard)
CD

Cooldown

EPS

Energy per Second

EPS

w/STAB

DPS

Damage per Second

DPS

w/STAB

1.73
0.00
0.00
0.00
0.00
Charge Moves (Special)
| | | |
| --- | --- | --- |
| Struggle | Damage | Charge |
| | 35 | |
CD

Cooldown

DW

Dodge Window

DPS

Damage per Second

2.20
0.80
15.91
Pokemon Go Magikarp Spawn Locations
Water Spawns
Canal
Dock
Harbors
Lake
Ocean
Beach
River
Riverbank
Stream
Wetland
Ports
Reservoir
Basin
Tap Image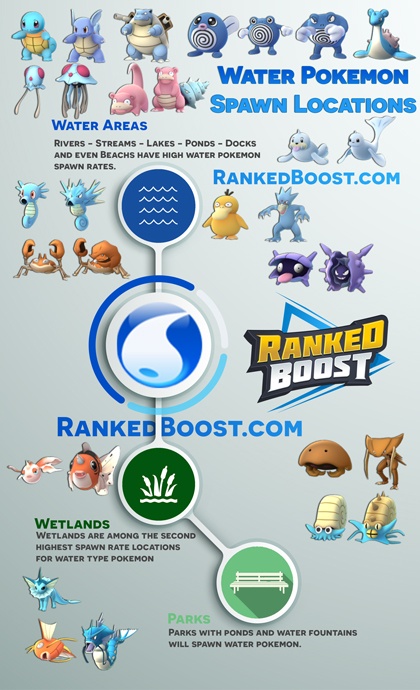 Spawn Locations →
Pokemon Go Magikarp Nests
| Nest | Address |
| --- | --- |
| Burrows Park | Australia, New South Wales, Clovelly, 41 Eastbourne Ave |
| Keyport Waterfront Park | United States, New Jersey, Keyport, American Legion Dr |
| Intrepid Museum | United States, New York, New York, Pier 86W 46th St & 12th Ave |
| Juniper Valley Park | United States, New York, Middle Village, Lutheran Ave & 71st St |
| Pier 83 | United States, New York, New York, 2005 Hudson River Greenway |
| Green Park | United Kingdom, England, London, Green Park |
| The Woodlands Waterway | United States, Texas, The Woodlands, 2101 Riva Row |
| Chic-fil-a Parking Lot | United States, Georgia, Norcross, Peachtree Corners Inc6105 Peachtree Pkwy |
| Canalside | United States, New York, Buffalo, LLoyd St |
| Port of Baltimore | United States, Maryland, Baltimore, 401 East Pratt Street#1653 |
| Mindspace Landscape Garden | India, Maharashtra, Mumbai, MDP RdMindspaceGoregaon West |
| Castel Sant'angelo | Italy, Rome, Rome, Lungotevere Castello |
| River Street | United States, Georgia, Savannah, River Street |
| Greensboro Arboretum | United States, North Carolina, Greensboro, 401 Ashland Dr |
| National Mississippi River Museum and Aquarium | United States, Iowa, Dubuque, 350 E 3rd St |
| Municipal Wharf | United States, California, Santa Cruz, 21 Municipal Wharf |
| Lock 4 Park | United States, Ohio, Canal Fulton, 6600 Erie Ave NW |
| Fond Du Lac Lighthouse | United States, Wisconsin, Fond du Lac, Lighthouse Dr |
| Gtown Waterfront | United States, District of Columbia, Washington, 1001 Wisconsin Ave NW |
| Fells Point / Inner Harbor | United States, Maryland, Baltimore, 920 S Broadway |
| Ellicott City | United States, Maryland, Ellicott City, 677-8305 Hamilton St |
| Rio | United States, Maryland, Gaithersburg, 136 Boardwalk Pl |
| Pier 39 | United States, California, San Francisco, Pier 39 and Fisherman's Wharf |
| Magikarp Habitat - Towne Lake Recreation Area | United States, Texas, McKinney, 1405 Wilson Creek Pkwy |
| Percy Priest Lake | United States, Tennessee, Nashville, Percy Priest Lake |
| Villa Borghese | Italy, Rome, Rome, Viale del Lago |
| Lake Mexia | United States, Texas, Limestone County, Lake Mexia |
| Inner Harbor / Fells Point | United States, Maryland, Baltimore, 501 E Pratt St |
| Jackson Community Park | United States, Ohio, Massillon, 7660 Fulton Dr NW |
| Burlington Outlet Village | United States, North Carolina, Burlington, 2389 Corporation Pkwy |
| Magikarp - World's Fair Park | United States, Tennessee, Knoxville, 823 Clinch Ave |
| Ueno Park | Japan, Tokyo, Taito, 〒110-0007 上野公園・池之端三丁目 |
Habitats
| Habitat | Address |
| --- | --- |
| Udine | Italy, Udine, Udine, Town Center |
| Spruce Street Harbor Park | United States, Pennsylvania, Philadelphia, 301 S Christopher Columbus Blvd |
| Boathouse Row | United States, Pennsylvania, Philadelphia, 1 Boathouse Row |
| Jack Marley Park | United States, North Carolina, Angier, 145 East Williams Street |
| Towne Lake Recreation Area | United States, Texas, McKinney, 1405 Wilson Creek Pkwy |
| Naperville Riverwalk | United States, Illinois, Naperville, 441 Aurora Ave |
Pokemon by Types
☆

Pokemon