Welcome to our Pokemon GO Generation 4 MAX CP List, here you can view the Worst and Best Gen 4 Pokemon GO MAX CP Stats.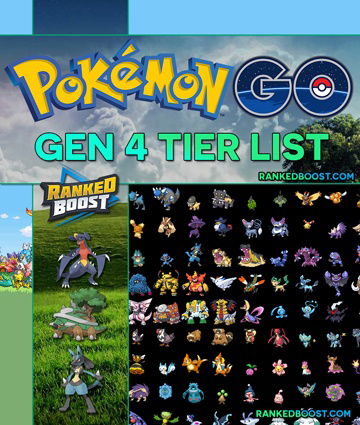 In this list, we have only included the Best Generation 4 Pokemon in a TOP 10 Ranking. if you wish to view every gen available currently in the game you can visit our regular PoGo Tier List. until then you can view these new upcoming mons and take the time to prepare for them.
(THE POKEMON GO GEN 4 MAX CP STATS PROVIDED IN THIS ARTICLE ARE BASED ON THE POKEMON DIAMOND, PEARL & PLATINUM GAMES)
(THIS WILL BE UPDATED WITH THE NEWEST MAX CP DATA AS SOON AS IT BECOMES AVAILABLE.)
The TOP 10 Best Generation 4 MAX CP Pokemon GO, We have also included additional stats such as Atk and Def. The Third Generation Legendary & Mythical Pokemon are not ranked within this TOP 10 Best Gen 3 Pokemon List since they will likely not be available at release.
#10 – Empoleon
#9 – Torterra
#8 – Electivire
#7 – Hippowdon
#6 – Tangrowth
#5 – Rampardos
#4 – Togekiss
#3 – Mamoswine

#2 – Rhyperior
#1 – Garchomp 
#10

#9

#8

#7

#6

#5

#4

#3

#2

#1

Best Attack Pokemon

Rampardos295

#1




Regigigas287

#2




Rhyperior241

#3




Garchomp261

#4




Cranidos218

#5




Honchkrow243

#6




Gallade237

#7




Azelf270

#8




Electivire249

#9




Staraptor234

#10



(You Can View The Entire Pokemon GO Gen 4 MAX CP List Below)
Pokemon GO Gen 4 Best Pokemon
Here is our MAX CP List of the Best Gen 4 Pokemon GO, These numbers are based on the Handhelds Games and are subject to change. You can view the Best Pokemon In Gen 4 along with the legendary types that will likely not be available right away.
We added a bonus predictive egg chart with this Pokemon GO Best Gen 4 Tier List. You will be able to obtain base forms of many of the Best Gen 4 Pokemon in this list through Eggs.