Mankey Pokemon Go Stats
75
148
87
80
Max HP
Atk
Def
Stamina
Pokemon GO Mankey Max CP
1002
| | |
| --- | --- |
| Flee Rate | 10% |
| Capture Rate | 40% |
| Global Spawn Rate | 0.92% |
| Buddy Candy Distance | 3 KM |
| Buddy Size | Medium |
| Perfect Pokemon GO Mankey IV at Level 20 | 556 |
| Egg Distance to Hatch | 5 KM = 3.10 Miles |
| Perfect Mankey IV Egg Hatch | 502 CP |
| Mankey Egg Hatch Rate | 1.4% |
| Shiny Mankey | - |
| Male | 50.00% |
| Female | 50.00% |
| Neutral | 0.00% |
Pokemon GO Mankey Evolution Chart
Pokemon go Mankey evolves into Primeape using 50 Candy. Their best stats are Attack and Defense.
Unevolved

Mankey#056Fighting
↓
First Evolution50 Candy

Primeape#057Fighting
Evolution Chart →
Weakness Chart
Super Effective Against
1.56x
Effective Against
1.25x

Fairy
Flying
Psychic
Not Very
Effective Against
0.8x

Bug
Dark
Rock
Very
Ineffective Against
0.64x
Fighting Type Pokemon are countered by Flying Type. For Example, Pidgey (Flying type) will deal increased damage to Mankey when using any Flying Moves against him in Gym Battles.

However, it will also take decreased damage when attacked by Normal moves.
Countered By (Weak Against)
Mankey Pokemon Go
Best Gym Attacker Movesets
Best Gym Defender Movesets
Quick Moves (Standard)
CD

Cooldown

EPS

Energy per Second

EPS

w/STAB

DPS

Damage per Second

DPS

w/STAB

1.30
7.69
9.61
6.15
7.69
CD

Cooldown

EPS

Energy per Second

DPS

Damage per Second

1.00
7.00
12.00
Charge Moves (Special)
| | | |
| --- | --- | --- |
| Brick Break | Damage | Charge |
| | 40 | |
CD

Cooldown

DW

Dodge Window

DPS

Damage per Second

DPS

w/STAB

1.60
0.60
25.00
31.25
| | | |
| --- | --- | --- |
| Cross Chop | Damage | Charge |
| | 50 | |
CD

Cooldown

DW

Dodge Window

DPS

Damage per Second

DPS

w/STAB

1.50
0.40
33.33
41.67
| | | |
| --- | --- | --- |
| Low Sweep | Damage | Charge |
| | 40 | |
CD

Cooldown

DW

Dodge Window

DPS

Damage per Second

DPS

w/STAB

1.90
0.35
21.05
26.32
Pokemon Go Mankey Spawn Locations
Fighting Spawns
Gyms
Sport Centers
Stadiums
Recreation Areas
Tap Image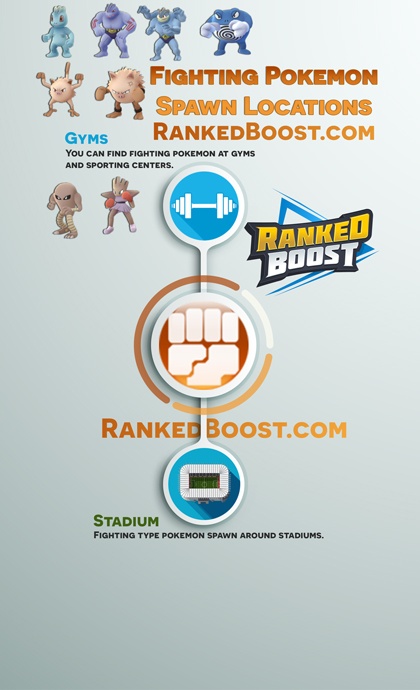 Spawn Locations →
Pokemon Go Mankey Nests
| Nest | Address |
| --- | --- |
| Gore Hill Memorial Cemetery | Australia, New South Wales, Artarmon, The Avenue |
| Cylburn Arboretum | United States, Maryland, Baltimore, 4915 Greenspring Ave |
| Coulsdon Golf Course | United Kingdom, England, Coulsdon, 27 Coulsdon Ct Rd |
| Silverlakes Park North | United States, Florida, Pembroke Pines, 300 NW 172nd Ave |
| Heritage Park | United States, South Carolina, Simpsonville, 861 SE Main St |
| Millbrook Exchange Park | United States, North Carolina, Raleigh, 1905 Spring Forest Rd |
| Markham Park and Target Range | United States, Florida, Sunrise, 16001 W State Rd 84 |
Pokemon by Types
☆

Pokemon