Return to Pokedex
Pokemon GO Typhlosion Evolution Chart
Pokemon go Cyndaquil evolves into Quilava which evolves into Typhlosion. Their best stats are Attack and Defense.
Unevolved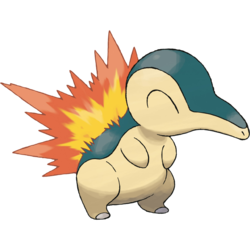 Cyndaquil#155Fire
↓
First Evolution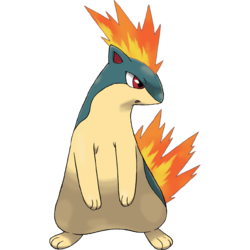 Quilava#156Fire
↓
Second Evolution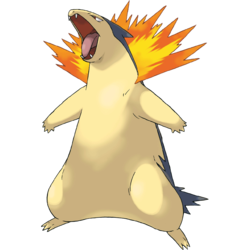 Typhlosion#157Fire
Evolution Chart →
Weakness Chart
Super Effective Against
1.56x
Effective Against
1.25x

Ground
Rock
Water
Not Very
Effective Against
0.8x

Bug
Fairy
Fire
Grass
Ice
Steel
Very
Ineffective Against
0.64x
Fire Type Pokemon are countered by Rock Type. For Example, Tyranitar (Rock type) will deal increased damage to Typhlosion when using any Rock Moves against him in Gym Battles.

However, it will also take decreased damage when attacked by Steel, Bug, Ice and Grass moves.
Quick Moves (Standard)
| | | | | |
| --- | --- | --- | --- | --- |
| CDCooldown | EPSEnergy per Second | EPSw/STAB | DPSDamage per Second | DPSw/STAB |
| 1.50 | 6.67 | 8.34 | 6.67 | 8.33 |
| | | |
| --- | --- | --- |
| CDCooldown | EPSEnergy per Second | DPSDamage per Second |
| 1.20 | 5.00 | 10.00 |
Charge Moves (Special)
| | | |
| --- | --- | --- |
| Fire Blast | Damage | Charge |
| | 140 | |
| | | | |
| --- | --- | --- | --- |
| CDCooldown | DWDodge Window | DPSDamage per Second | DPSw/STAB |
| 4.20 | 0.80 | 33.33 | 41.67 |
| | | |
| --- | --- | --- |
| Overheat | Damage | Charge |
| | 160 | |
| | | | |
| --- | --- | --- | --- |
| CDCooldown | DWDodge Window | DPSDamage per Second | DPSw/STAB |
| 4.00 | 1.20 | 40.00 | 50.00 |
| | | |
| --- | --- | --- |
| Solar Beam | Damage | Charge |
| | 180 | |
| | | |
| --- | --- | --- |
| CDCooldown | DWDodge Window | DPSDamage per Second |
| 4.90 | 2.00 | 36.73 |
Pokemon Go Typhlosion Spawn Locations
Fire Spawns
Residential
Cities
Neighborhoods
Dry/Arid Climate
Warmer Climate
Beach
Parks
Tap Image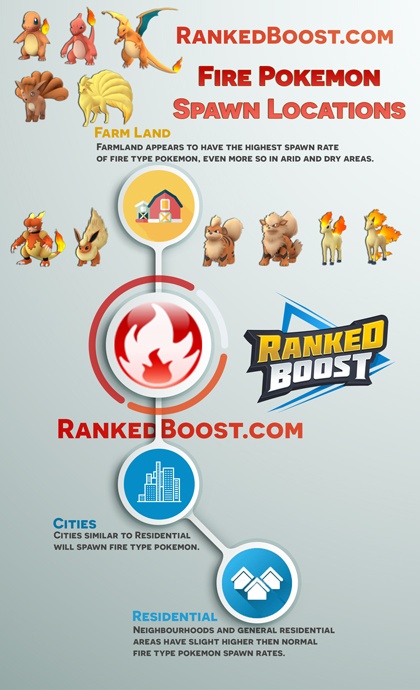 Spawn Locations →
| | |
| --- | --- |
| STAB | It means Same Type Attack Bonus, you deal increased damage to your opponent in gyms battles. |
| Dodge Window (DW) | This tells you how much time you have to dodge an incoming quick or charge move |
| Cooldown (CD) | This is how long you will need to wait before you can cast another quick/charge move. |
| EPS | Short for Enegery Per Second, tells you the amount of enegry youll gain after using a quick/charge attack. |
| Combat Power (CP) | CP determines how strong your pokemon is. Their strength is based on MAX CP & CP Per Level. |
Pokemon by Types
Related Fire Pokemon
Generation 2
☆ Pokemon