Goldeen Pokemon Go Stats
82
123
115
90
Max HP
Atk
Def
Stamina
Pokemon GO Goldeen Max CP
1006
| | |
| --- | --- |
| Flee Rate | 15% |
| Capture Rate | 40% |
| Global Spawn Rate | 2.18% |
| Buddy Candy Distance | 3 KM |
| Buddy Size | Medium |
| Perfect Pokemon GO Goldeen IV at Level 20 | 610 |
| Egg Distance to Hatch | 5 KM = 3.10 Miles |
| Perfect Goldeen IV Egg Hatch | 551 CP |
| Goldeen Egg Hatch Rate | 2.6% |
| Shiny Goldeen | - |
| Male | 100.00% |
| Female | 0.00% |
| Neutral | 0.00% |
Pokemon GO Goldeen Evolution Chart
Pokemon go Goldeen evolves into Seaking using 50 Candy. Their best stats are Attack and Stamina.
Unevolved

Goldeen#118Water
↓
First Evolution50 Candy

Seaking#119Water
Evolution Chart →
Weakness Chart
Super Effective Against
1.56x
Effective Against
1.25x

Electric
Grass
Not Very
Effective Against
0.8x

Fire
Ice
Steel
Water
Very
Ineffective Against
0.64x
Water Type Pokemon are countered by Electric Type. For Example, Electrode (Electric type) will deal increased damage to Goldeen when using any Electric Moves against him in Gym Battles.

However, it will also take decreased damage when attacked by Fire, Ground and Rock moves.
Countered By (Weak Against)
Goldeen Pokemon Go
Best Gym Attacker Movesets
Best Gym Defender Movesets
Quick Moves (Standard)
CD

Cooldown

EPS

Energy per Second

DPS

Damage per Second

1.05
6.67
8.57
CD

Cooldown

EPS

Energy per Second

DPS

Damage per Second

1.50
6.67
6.67
Charge Moves (Special)
| | | |
| --- | --- | --- |
| Aqua Tail | Damage | Charge |
| | 50 | |
CD

Cooldown

DW

Dodge Window

DPS

Damage per Second

DPS

w/STAB

1.90
0.45
26.32
32.89
| | | |
| --- | --- | --- |
| Horn Attack | Damage | Charge |
| | 40 | |
CD

Cooldown

DW

Dodge Window

DPS

Damage per Second

1.85
0.85
21.62
| | | |
| --- | --- | --- |
| Water Pulse | Damage | Charge |
| | 70 | |
CD

Cooldown

DW

Dodge Window

DPS

Damage per Second

DPS

w/STAB

3.20
0.70
21.88
27.34
Pokemon Go Goldeen Spawn Locations
Water Spawns
Canal
Dock
Harbors
Lake
Ocean
Beach
River
Riverbank
Stream
Wetland
Ports
Reservoir
Basin
Tap Image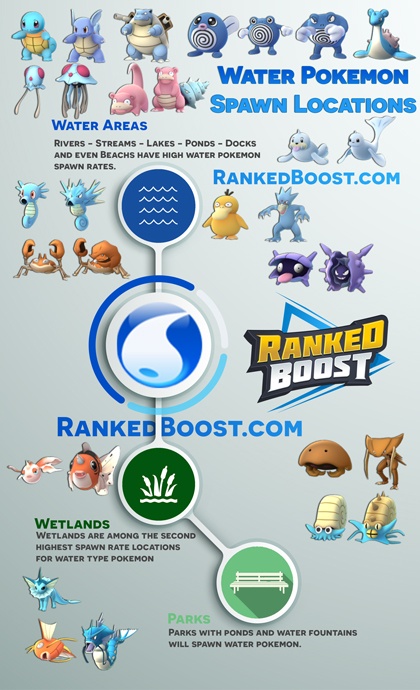 Spawn Locations →
Pokemon Go Goldeen Nests
| Nest | Address |
| --- | --- |
| Lilburn City Park | United States, Georgia, Lilburn, 76 Main St NW |
| Meridian Park | United States, Georgia, Loganville, Generation Blvd |
| Hampstead Heath | United Kingdom, England, London, 3 Hampstead Ln |
| Wollaton Park | United Kingdom, England, Nottingham, Lime Tree Ave |
| Mile Square Regional Park | United States, California, Fountain Valley, 16801 Euclid St |
| Highbanks Metro Park | United States, Ohio, Lewis Center, 9466 Columbus Pike |
Pokemon by Types
☆

Pokemon