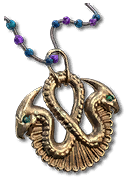 Diablo 4 Word of Hakan
The Diablo 4 Word of Hakan is a Unique Amulet exclusive to the Rogue class.
Non-Physical Damage

Cooldown Reduction

Critical Strike Damage for Imbued Skills

Ranks to Imbuement Skills

Your Rain of Arrows is always Imbued with all Imbuements at once.

Rogue Class Only
How To Get Word of Hakan
The Word of Hakan Unique Amulet will only drop from Level 85+ Monsters.
You can further increase your chances of the Word of Hakan Drop by slaying in Nightmare Dungeons. Since these monster types have a higher drop rate of Unique Amulet Equipment.