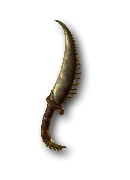 Diablo 4 Condemnation
The Diablo 4 Condemnation is a Unique Dagger exclusive to the Rogue class.
Damage to Close Enemies

Attack Speed for Basic Skills

Critical Strike Chance Against Injured Enemies

Damage with Dual-Wielded Weapons

Core Skill Damage

Your Core Skills deal

[20 - 40%]

increased damage when spending 3 Combo Points. Your Skills using this weapon have a 30% chance to generate 3 Combo Points.

Rogue Class Only
Best Builds To Use with Condemnation
We have a total of (2) builds that use the Condemnation Unique Dagger. You can click/tap any Condemnation build below to view the complete Build.

Best Builds
Best Malignant Hearts To Use With Condemnation
The best malignant heart to use with Condemnation is Caged Heart of The Dark Dance, which is a Vicious Type Socket.
Best Unique Weapons and Armor To Use with Condemnation
The best unique equipment to use with Condemnation in D4 is Mother's Embrace, which is a Unique Ring.

Best Rogue Uniques
Best Paragons To Use with Condemnation
The best paragon to use with Condemnation in D4 is Versatility, which is a Rare Glyph Node.

Best Rogue Paragons