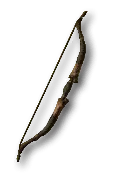 Diablo 4 Eaglehorn
The Diablo 4 Eaglehorn is a Unique Bow exclusive to the Rogue class.
Damage to Distant Enemies

Critical Strike Chance

Physical Damage

Vulnerable Damage

Damage to Elites

Penetrating Shot has a

[30 - 80%]

chance to fire an arrow that bounces off walls and scenery. Hitting enemies from behind with Penetrating Shot will make them Vulnerable for 3 seconds.

Rogue Class Only
How To Get Eaglehorn
The Eaglehorn Unique Bow will only drop from Level 85+ Monsters.
You can further increase your chances of the Eaglehorn Drop by slaying Ghosts in Nightmare Dungeons. Since these monster types have a higher drop rate of Unique Bow Equipment.

Ghosts
Best Unique Weapons and Armor To Use with Eaglehorn
The best unique equipment to use with Eaglehorn in D4 is Grasp of Shadow, which is a Unique Gloves.

Best Rogue Uniques