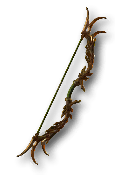 Diablo 4 Windforce
The Diablo 4 Windforce is a Unique Bow exclusive to the Rogue class.
Damage to Distant Enemies

Vulnerable Damage

Core Skill Damage

Damage to Distant Enemies

Ranks to Impetus

Lucky Hit: Hits with this weapon have up to a

[10 - 20%]

chance to deal double damage and Knock Back the target.

Rogue Class Only
How To Get Windforce
The Windforce Unique Bow will only drop from Level 85+ Monsters.
You can further increase your chances of the Windforce Drop by slaying Ghosts in Nightmare Dungeons. Since these monster types have a higher drop rate of Unique Bow Equipment.

Ghosts
Best Malignant Hearts To Use With Windforce
The best malignant heart to use with Windforce is Caged Heart of The Clipshot, which is a Devious Type Socket.