Pokemon Sun and Moon Type Chart – There are 18 types in pokemon as listed in the chart below. Sun and Moon (generation 7) brings 100+ new pokemon and some of them are much more powerful than the previous generation. In this article, you'll find an updated gen 7 type chart to help you find the strengths and weaknesses. The sun and moon type chart quickly shows you how much extra damage a pokemon will take or resist.
Sun and Moon Type Chart
Types are attributes for Pokémon and their learned moves, each Pokémon is able to have one or two. However, moves have only one. Any damaging move typically defines which sun and moon types of Pokémon that the move will be super effective against,  not very effective against, and even which it is completely ineffective against.You can easily find out how each one stacks up against each other with our Pokemon Sun and Moon Type Chart below.
Pokemon Sun and Moon Type Chart Legend

| | |
| --- | --- |
| | Super Effective Against |
| | Normal Against |
| | Not Very Effective |
| | No Effect |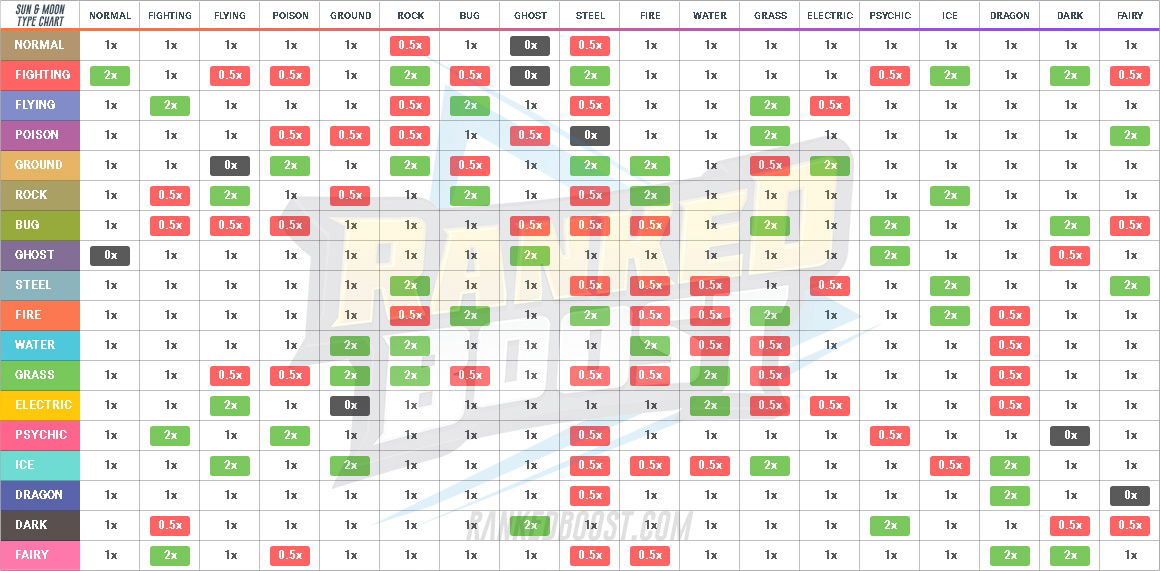 Pokemon Sun and Moon Type Chart for all New Pokemon and current creatures. Each type has strengths and weaknesses in both attack and defense. You should try to always use moves that have a advantage over your opponent – doing so will inflict more damage than normal.
Gaining the advantage (for example; Electric attacks against Water Type) will inflict double the damage instead of the normal amount. Your damage can also stack up to deal quadruple the damage; for example, a Water attack against a Rock/Ground Pokemon. In the case when you attack in-game, it will display "It's super effective!".
"It's super effective!"
Conversely, a single and or a double type disadvantage will only deal half and or a quarter amount of Normal Damage. In this case in-game will display "It's not very effective…".
Another advantage in battle is Same Type Attack Bonus (STAB). Just as it sounds, you will deal increased damage if your Move is the same type as the Pokemon you're attacking (For example, a ice move being used on an ice Pokemon). In this scenario the damage will be 1.5 times the normal amount. Again, even this can stack with the other damage amplifiers.