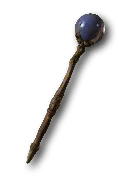 Diablo 4 The Oculus
The Diablo 4 The Oculus is a Unique Wand exclusive to the Sorceress class.
Lucky Hit Chance

Max Evade Charges

Attacks Reduce Evade's Cooldown by [X] Seconds

Lucky Hit: Up to a 5% Chance to Restore [X]% Primary Resource

Ranks to Teleport

Gain the effect of the Teleport Enchantment for free. When you Evade using Teleport Enchantment, you are taken to a random location.

Sorceress Class Only
Best Skills To Use with The Oculus
The strongest skill synergy with the The Oculus Unique Wand in D4 are Teleport, and there is also a strong passive synergy with .

Best Sorceress Skills