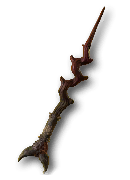 Diablo 4 Flamescar
The Diablo 4 Flamescar is a Unique Wand exclusive to the Sorceress class.
Lucky Hit Chance

Damage to Burning Enemies

Damage to Healthy Enemies

Lucky Hit: Chance to Burn

Ranks to Incinerate

While Channeling Incinerate, you periodically shoot embers that are attracted to enemies, each dealing

[X]

Fire damage.

Sorceress Class Only
Best Malignant Hearts To Use With Flamescar
The best malignant heart to use with Flamescar is Caged Heart of Revenge, which is a Brutal Type Socket.
Best Paragons To Use with Flamescar
The best paragon to use with Flamescar in D4 is Pyromaniac, which is a Rare Glyph Node.

Best Sorceress Paragons
Best Skills To Use with Flamescar
The strongest skill synergy with the Flamescar Unique Wand in D4 are Incinerate, and there is also a strong passive synergy with .

Best Sorceress Skills