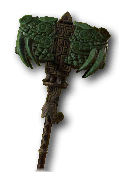 Diablo 4 Overkill
The Diablo 4 Overkill is a Unique Mace exclusive to the Barbarian class.
Overpower Damage

Damage to Injured Enemies

Critical Strike Chance Against Injured Enemies

Damage on Elite Kill

Ranks to Death Blow

Death Blow creates a shockwave, dealing

[24 - 38%]

of its Base damage to enemies. Enemies who die to this effect also reset Death Blow's Cooldown.

Barbarian Class Only
How To Get Overkill
The Overkill Unique Mace will only drop from Level 85+ Monsters.
You can further increase your chances of the Overkill Drop by slaying Bandits in Nightmare Dungeons. Since these monster types have a higher drop rate of Unique Mace Equipment.

Bandits
Best Builds To Use with Overkill
We have a total of (1) builds that use the Overkill Unique Mace. You can click/tap any Overkill build below to view the complete Build.

Best Builds
Best Skills To Use with Overkill
The strongest skill synergy with the Overkill Unique Mace in D4 are Death Blow, and there is also a strong passive synergy with .

Best Barbarian Skills