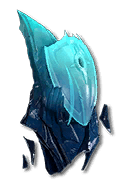 Diablo 4 Earthguard Aspect
The Diablo 4 Earthguard Aspect is NOT a Codex Aspect, which means it can only be found on gear and then extracted.
Effect:
Gain
[15-25%]
bonus amount to your next Earthen Bulwark for each enemy you Crowd Control up to a maximum of 100%.
Usable on the following Equipment Slots:






Druid Class Only
How To Get Earthguard Aspect
The Earthguard Aspect is not a Codex which means you will have to find it and extract it from Legendary Equipment that will randomly drop from enemies. The Earthguard Aspect has a chance to appear on the following equipment slots:

Helm

Chest

Pants

Shield

Amulet
(+50%)
You can boost your chances of acquiring the Earthguard Aspect by target farming monsters known to have a higher drop rate for the type of equipment where this aspect is typically found on. The following monster have a higher chance to drop equipment that can be found with the Earthguard Aspect:

Cannibals

Cultists

Beasts

Vampires

Werewolves

Wildlife

Knights

Drowned

Zombies

Skeletons
Best Malignant Hearts To Use With Earthguard Aspect
The best malignant heart to use with Earthguard Aspect is Caged Heart of Retaliation, which is a Devious Type Socket.
Best Paragons To Use With Earthguard Aspect
The best paragon to use with Earthguard Aspect in D4 is Earthen Devastation, which is a Legendary Board Node.

Best Druid Paragons