Welcome to our Pokemon Sword and Shield Galarian Form List, here you can view every New Galar Form pokemon in Pokemon S&S. You can Click/Tap a pokemon name view even more data such as Type Weakness, where to find and catch along with more useful information.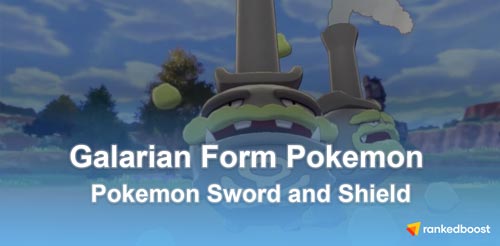 Pokemon S&S Galarian Form Pokemon
The Pokemon Sword and Shield Galarian Pokemon List below will display each Galar Form and their Evolutions.
trending_flat
Level 40
#334

Galarian Rapidash


trending_flat
Level 35
#251

Weezing

trending_flat
Level 35 within the Galarian Region
#251

Galarian Weezing


trending_flat
Level 20
#32

Galarian Linoone


trending_flat
level 35 at Night
#33

Obstagoon


trending_flat
Ice Stone
#368

Galarian Darmanitan

trending_flat
Level 38
#237

Cursola

trending_flat
Level 28
#183

Perrserker

trending_flat
Have 49+ damage on Yamask and walk under stone sculpture in Dusty BowlWild Area
#328

Runerigus


You can view our other Pokemon S&S Guides below.