Home > League of Legends > Build > Jungle
Jungle Item builds, Masteries and Rune Pages for the TOP 3 Strongest Jungle Champion in this Patch. Skill Orders to help you as you learn to play the Best Jungle Champion. A Jungle guide for the top 3 champion within in the current meta.
[snippet top-3-jungle-build-video]
Jungle Item Build
Jungle is both a easy role and hard role to play for new players. Easy because you will spend most your time killing Camps, while other players will lane against a human player. Hard since you must have decent knowledge of Jungler Clear Paths, plus a overall knowledge of game to help you decide what lanes need ganks in there match ups. Not mention you have to be the eyes for most of your lanes and the shot caller for Map Objectives such as Dragon & Baron.
Jungle Item Build
This Jungle Guide uses the "Strong Against" Icons to indicate when a Jungle Item Build Path is effective versus a certain type of champion. For example: Iceborn Gauntlet has Armor Stats along with a unique passive that slow enemy targets on hit, making it really strong versus ADC champions.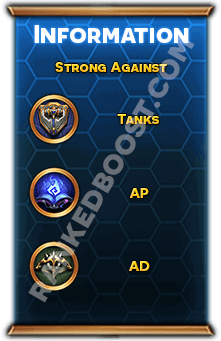 TOP 3 JUNGLE BUILDS is a jungle guide of the Best LoL Jungle Champions for the Solo Queue/Dynamic Queue Ranked Mode.
Jungle Build
Top 3 Jungle Build Paths worth mentioning due to one of the following:
Champion

 

Buffs

Item buffs 

(directly buffing the champion within the meta)

Re

worked

New Champions
Meta Change
TOP 3
Jungle Build
The best Jungle Champions & Jungle Build Paths, Jungle only Items and there Smite Effects. depending on the type of champion your are playing, many item builds can be really strong. Tanks tend to use more Iceborn Gauntlet and Deadman's plate. While AP are using Rylai's Crystal Scepter and Rod of Ages. Then of course the Carrys, which can range from ADC to bruiser hyper carry. Yup thats right even AD Carry can sometimes find a place within this jungler role.
View even more Jungle Build Paths to Rank Up using the Elo Booster Tier List.



| | |
| --- | --- |
| | Earn Season Rewards in Ranked 3v3 & 5v5 Flex Queue Fast and Easily. |
| Have A Pro Player Play For You And Earn Rewards Fast. | |
| | Duo Queue With A Pro Player And Rank Up In Dynamic Queue. |
Jungle Guide
These Jungle Guide Champions have fallen out of the TOP 3 but still have a strong place within the Meta. Still viable just not the best you could be picking for the role this current patch.

A weak early game, easily counter jungled making it much harder to jungle Kayle then most other jungle guide champions. However Kayle late game is very strong and her Ult being one of the most overpowered for protecting a carry that's including yourself.

One of thee best if not the best jungle Guide champion to practice and eventually master. This jungler has always been in the meta and considered a strong pick since his release, Lee Sin is a jungle worth giving a shot.
Easily the fastest clear time for a jungle champion. Shyvana is also a strong duelist with superb late game damage, thanks mainly to her jungle build path.

A Hyper carry jungle guide pick with a fast clear speed, this champion late game can easily become the carry your team will need in Solo Queue/Dynamic Queue.
Skarner's passive gives him a strong control over his and the enemy's Jungle areas. He also has a amazing Single Target Ult that is Perfect for catching the Enemy's AD Carry. On top of that i really strong jungle build for dueling enemy champions.
Scary Jungle Guide Champion to deal with since at any moment she could be ganking you and you wont know until its to late. Evelynn is Squishy early on but after a couple of kills and some tank items she can becomes a powerful duelist and strong team fighter.

Elise has everything you need as a jungle champion, HP Sustain with huge Burst Damage and a great escape ability. Elise's spider minions can tank camps making her a really easy to play champion.

Perfect jungle champion for lower elos, very snowball-ish champion in nature. You should never pick Master Yi if the enemy team has a lot of Hard CC (Stun) since this will make master yi a prime target for the enemy.

One of the most fun jungle guide champions to play, just be sure that your jungle build is tanky and let your passive do the damage. At level 6 you can go as hard as you want for a kill and if things look bad escape it with the press of your R key. This makes Tower Diving as ekko during a gank super effective, similar to a Elise Tower Dive gank since u can drop aggro by using your ekko Ult.

one of the best skill based jungle guide champions in LoL, if you can land spears you can do a lot of damage and with E for health you never have to worry about being low on HP. She has weakness and champion with hard CC will destroy her other then that a very powerful pick in the right hands.
One of the strongest Jungle duelist champions you can pick in Solo Queue/Dynamic Queue, Also a very effective Pick into assassin champions.
Hands down one of the best beginner jungle champions for any one new to the role. Warwick does not have much of a early game, his mid to late game is super strong Ganking lanes with his Ult. it don't help that warwick has little options in terms of jungle item build paths.

Surprisingly a very strong Jungle guide champion, Solid ganks thanks to his Q and Ult tp. With the ability to deny kills from the enemy teams thanks to his W consume which also helps him One Shot the camps and makes him a strong counter pick champion as well.
A amazing jungle champion with a similar play style to Ekko Jungle, Fizz Ganks can be very strong thanks to his high Single target Damage. Fizz has lots of jungle item build option for making him even more effective at ganking.
really simple champion, a straight forward skill set with really good damage. One of Xin Zhao biggest cons is that he is a all in champion with little escape making it difficult to play him in solo queue/dynamic queue. also a having a very straight forward jungle build.
A easy to pick and play jungle champion who also happens to be really good against AD Carrys. Rammus also has a potent gank that can easily burn a enemy's flash summoner spell. Plus a really strong jungle build for countering ADC champions.