Home > League of Legends > Build > Jungle
Jungle Item builds, Masteries and Rune Pages for the TOP 3 Strongest Jungle Champion in this Patch. Skill Orders to help you as you learn to play the Best Jungle Champion. A Jungle guide for the top 3 champion within in the current meta.
[snippet top-3-jungle-build-video]
Jungle Item Build
Jungle is both a easy role and hard role to play for new players. Easy because you will spend most your time killing Camps, while other players will lane against a human player. Hard since you must have decent knowledge of Jungler Clear Paths, plus a overall knowledge of game to help you decide what lanes need ganks in there match ups. Not mention you have to be the eyes for most of your lanes and the shot caller for Map Objectives such as Dragon & Baron.
Jungle Item Build
This Jungle Guide uses the "Strong Against" Icons to indicate when a Jungle Item Build Path is effective versus a certain type of champion. For example: Iceborn Gauntlet has Armor Stats along with a unique passive that slow enemy targets on hit, making it really strong versus ADC champions.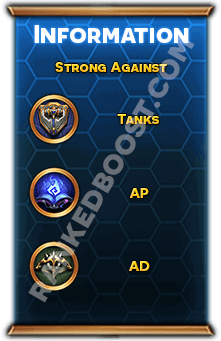 TOP 3 JUNGLE BUILDS is a jungle guide of the Best LoL Jungle Champions for the Solo Queue/Dynamic Queue Ranked Mode.
Jungle Build
Top 3 Jungle Build Paths worth mentioning due to one of the following:
Champion

 

Buffs

Item buffs 

(directly buffing the champion within the meta)

Re

worked

New Champions
Meta Change
TOP 3
Jungle Build
The best Jungle Champions & Jungle Build Paths, Jungle only Items and there Smite Effects. depending on the type of champion your are playing, many item builds can be really strong. Tanks tend to use more Iceborn Gauntlet and Deadman's plate. While AP are using Rylai's Crystal Scepter and Rod of Ages. Then of course the Carrys, which can range from ADC to bruiser hyper carry. Yup thats right even AD Carry can sometimes find a place within this jungler role.
View even more Jungle Build Paths to Rank Up using the Elo Booster Tier List.
[masterslider alias="ms-6-1″]
Jungle Guide
These Jungle Guide Champions have fallen out of the TOP 3 but still have a strong place within the Meta. Still viable just not the best you could be picking for the role this current patch.
[masterslider alias="ms-6-6-1-1-7-1-7-2-1″]