Welcome to our Dota Underlords Items List, here we list all items and the stats and effects they have. We also rank the best items to use depending on your hero and link to each hero so you can learn tons more useful tips and strategies with them.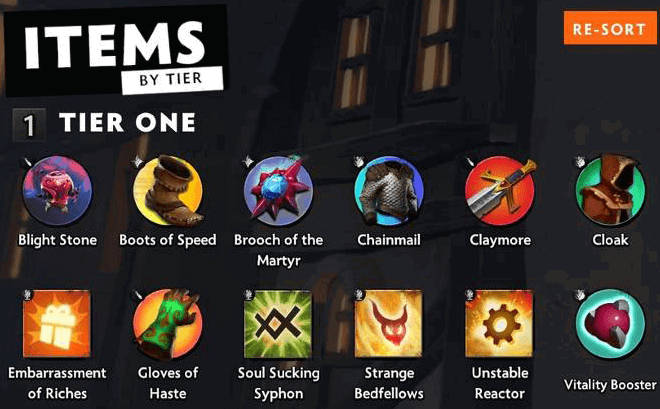 Dota Underlords Items List
The Dota Underlords Items List details everything you need to know about each item in the game, we even added a section showing you what heroes do best with each item as this is important when equipping items.
Dota Underlords Best Items
The Dota Underlords Best Items Tier List ranks what we consider to be the strongest items to use. The rankings are based on the amount of stats and how powerful the effect is when used with the right heroes or builds.
Dota Underlords Best Items Tier List | Best Items To Use
S Tier | Shiva's Guard, Heart of Tarrasque, Expanded Roster, Bloodthorn, Assault Cuirass, Dagon, Daedalus, Vanguard, Skull Basher, Blade Mail
A Tier | Divine Rapier, Desperate Measures, Vicious Intent, Refresher Orb, Radiance, Moon Shard, Maelstrom, Battle Fury, Sacred Relic, Dragon's Hoard
B Tier | Black King Bar, Wicked Intent, Shaman Pluck, Retaliate, Pocket Sand, Hunter's Focus, Font of Creation, Elusive Targets, Summoning Stone, Coordinated Assault, Completing the Cycle
C Tier | Recruiter, Friends and Family Discount, Mekansm, Hood of Defiance, Final Flash, Eye of Skadi, Check the Bodies, A Higher Class of Criminal, Octarine Essence, Blink Dagger, Arcane Boots
D Tier | Unstoppable, Tooth and Claw, Silver Lining, Mask of Madness, Indomitable Will, Forged in Battle, Fall From Grace, Brooch of the Aggressor, Age of Chivalry, Aegis of the Immortal, Unstable Reactor, Embarrassment of Riches
E Tier | Vitality Booster, Gloves of Haste, Cloak, Claymore, Chainmail
F Tier |
Unranked |