Welcome to our Pokemon GO Evolution Chart Gen 3 Pokemon List. A complete list of the Third Gen Evolution Stages, Baby, Starters and even Legendary Pokemon. Starting from the left with the Base Form, 1st Stage Evolution.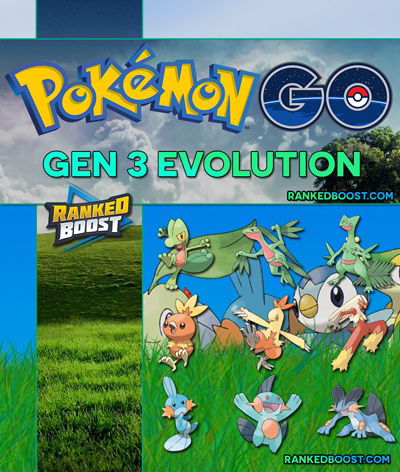 Pokemon GO Evolution Gen 3 Requirements are based on previous generation candy requirements and are subject to change when more information is available.
(THESE POKEMON GO GEN 3 EVOLUTIONS PROVIDED IN THIS CHART ARE BASED ON THE POKEMON RUBY, SAPPHIRE & EMERALD GAMES)
(THIS WILL BE UPDATED WITH THE NEWEST INFORMATION AS SOON AS IT BECOMES AVAILABLE.)
Pokemon GO Generation 3 Evolutions
The TWO NEW cross gen Pokemon that will become available are what is more commonly referred to as Baby Pokemon. Meaning you will likely acquire these upcoming Pokemon from Gen 3 Eggs.
(You Can View The Entire Gen 3 Evolution List Below.)
Pokemon Go Generation 3 Pokemon List
[You can Tap Or Click The Pokemon Images to view more in-depth stats.]
If you made it this far, there's a chance you will be interested in the types of items you will need to complete certain NEW pokemon evolutions in the 3rd Generation of Pokemon GO.


Gen 3 Evolution Items