Welcome to our Pokemon Duel Level Up Guide. Here we will explain not only the Best Pokemon to level up, but what Attack Move you should be Leveling Up as well.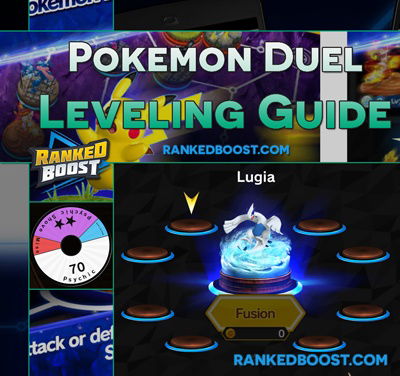 Already Know How Leveling Up Pokemon Works?
If so you can skip our leveling up pokemon guide and jump straight to the best Pokemon and Attacks Moves to Level UP.
Best Attack Moves
How Do I Level Up Pokemon Figures?

Fusing your Pokemon will Level UP your figure in Pokemon Duel. There a couple of ways of doing this and items you can use as well.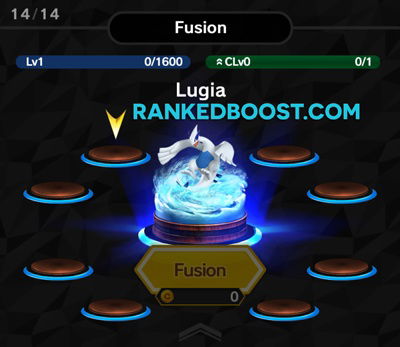 (Note: Using these items/figures for fusion will consume them losing them forever.)
What Items Do I Need To Level Up Pokemon?
The First thing you will need and a lot of it is Coins,

this is the currency used to Level Up Pokemon Duel Figures.
Duplicate Pokemon Figures – You can use Extra Figures you have in fusion to Earn Pokemon EXP.
Green Cubes

– You can use

Cubes

to increase the Pokemon you are fusing's Chain Level.

Rare Metals

– You can use

Rare Metals

to also Increase Your Pokemon's EXP.
(Note: You will need the same Rarity as the Figure EX, R, UC, C when using Rare Metals and Cubes in fusion.)
What Happens When I Level Up Pokemon?

When you Level Up Pokemon Duel Figures it will have the option to choose an Attack Move Wedge from the Spin wheel you wish to increase in size.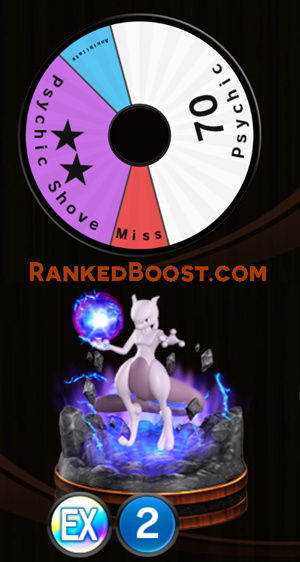 A Pokemon Duel Figure Level Up allows you to change one segment from the Miss Attack Wedge of the Figure into another of your choice. This, in turn, will reduce your chance of missing an attack, but also buff up another attack move that you choose in the process.
Below we list all the Best Attack Moves to Level Up On Your Pokemon.
Best Pokemon To Level Up
Below is Tier List of the Best Attack Moves to Level Up on the Best Pokemon Duel Figure in the game.
The amount of Coins & XP you need to max out a Pokemon depending on their rarity information was provided by the YouTuber Go Shiny Hunter.
Common Level XP Cost
Lv2 = 100 XP
Lv3 = 225 XP
Lv4 = 1000 XP
Lv5 Max = 5000 XP
Total = 6325 XP | Coin Cost: 21108
Uncommon Level XP Cost

Lv2 = 180 XP
Lv3 = 405 XP
Lv4 = 1800 XP
Lv5 Max = 9000 XP
Total = 11385 XP | Coin Cost: 37933
Rare Level XP Cost

Lv2 = 720 XP
Lv3 = 1620 XP
Lv4 = 7200 XP
Lv5 Max = 36000 XP
Total = 45040 XP | Coin Cost: 150305
EX Level XP Cost

Lv2 = 1600 XP
Lv3 = 3600 XP
Lv4 = 16000 XP
Lv5 Max = 80000 XP
Total = 101200 XP | Coin Cost: 337720
We Only list the Best Pokemon Here since weaker option are simply not worth leveling up and wasting your Cubes, Rare Metals and even duplicate Figures.
Best Attack Moves To Level Up

Name
Attack Move
Dialga

Roar of Time

Seedot

Explosion

Metagross

Hyper Beam/Dodge

Lugia

Hurricane

Ho-Oh

Rainbow Wing

Kyogre

Tidal Wave

Charizard

Fire Spin

Palkia

Spacial Rend

Feraligatr

Wash Away

Darkrai

Dark Leave

Absol

Double-Edge

Groudon

Hammer

Venusaur

Solar Beam

Mewtwo

Psychic Shove

Blastoise

Hydro Pump/Mirror Coat

Lapras

Sing/Dodge

Sneasel

Fake Out/Quick Attack

Mew

Hyper Sonic

Rayquaza

Extreme Speed

Tyranitar

Earthquake

Zygarde

Extreme Speed

Snorlax

Body Slam

Keldeo

Hydro Kick

Giratina

Shadow Claw

Xerneas

Fairy Mist/Moonblast

Yveltal

Oblivion Wing/Dark Mist

Chesnaught

Spiky Shield

Greninja

Water Shuriken

Electivire

Electric Blast

Garchomp

Dragon Rush

Empoleon

Aqua Jet

Lucario

Aura Sphere

Aggron

Protect

Infernape

Drive Kick/Mach Punch

Gardevoir

Wave Hole

Weavile

Ice Shard

Manaphy

Manaphy's Song

Torterra

Withdraw

Raikou

Thunderous Blow

Latios

Dodge

Genesect

Techno Charge

Latias

Fly Away

Shuppet

Will-o-Wisp

Braixen

Flamethrower

Delphox

Hyperspace Hole

Typhlosion

Hot Air/Fire Blast

Magmortar

Flame Gun