Pokemon GO Trainer Customization or as some may know it as Avatar Customization refers to the ability to change the visual appearance of your Trainer In-Game. These can range from Hats, Shirts, Backpacks, Pants and even Shoes. Below we have a full list of Avatar Customization for both Genders since each has their own unique choices.


Male Trainer Customization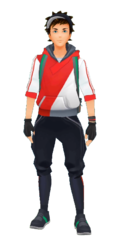 Female Trainer Customization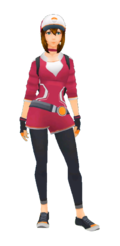 Pokemon GO Trainer Customization Update:

As of 2/15/2017 Data mined code found information regarding new Trainer Avatar Items.
Skin
Shirt
Pants
Hat
Shoes
Eyes
Gloves
Socks
Belt
Necklace
Glasses
Also, players will be able to Unlock several Trainer Customization with medals.
Trainer Avatar Customization
Pokemon GO Trainer Hats Customization
(Head Cosmetics)

 Male Hats






Female Hats






Pokemon GO Trainer Backpacks Customization
(Accessories Customization)

 Male Backpacks







Female Backpacks




Pokemon GO Trainer Shirt Customization
(Chest Cosmetics)

 Male Shirts





Female Shirts










Pokemon GO Trainer Pants Customization
(Leg Cosmetics)

 Male Pants




Female Pants







Pokemon GO Trainer Shoes Customization
(Feet Cosmetics)

 Male Shoes








Female Shoes







Skin Color
Light




(pale white)

White




(fair)

Medium




(light brown)

Brown




(dark brown)
Hair Color
| Blonde | Brown | Light Brown | Blue | Purple | Red |
| --- | --- | --- | --- | --- | --- |
Eye Color