Pokemon Sword and Shield Munchlax is a Normal Type Big Eater Pokémon, which makes it weak against Fighting type moves. You can find and catch Munchlax in Motostoke Riverbank with a 5% chance to appear during Normal Weather weather. The Max IV Stats of Munchlax are 135 HP, 85 Attack, 40 SP Attack, 40 Defense, 85 SP Defense, and 5 Speed.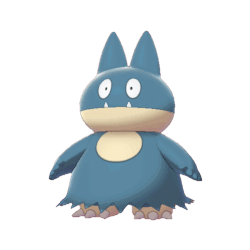 Munchlax
Galar Pokedex ID: 260
Click/Tap the buttons to navigate the Munchlax Guide.

Evolutions

Locations

Raid

Weakness

Moves
List of Munchlax Max IV Stats in Pokemon SW SH.
| Stat | Amount | Bar Graph |
| --- | --- | --- |
| Total | 390 | |
| HP | 135 | |
| Attack | 85 | |
| Defense | 40 | |
| Special Attack | 40 | |
| Special Defense | 85 | |
| Speed | 5 | |
Based on this pokemon's stats we consider the best nature for Munchlax to have is Sassy, this will increase it's Sp. Def and decrease it's Speed stats.
| Ability | Type | Effect |
| --- | --- | --- |
| Pickup | Normal | |
| Thick Fat | Normal | |
| Gluttony | Hidden | |
Sword Pokedex Entry

Stuffing itself with vast amounts of food is its only concern. Whether the food is rotten or fresh, yummy or tasteless—it does not care.
Shield Pokedex Entry

It stores food beneath its fur. It might share just one bite, but only if it really trusts you.
Pokemon Sword and Shield Munchlax Raids
Where do i find Munchlax Raids?
You can find Munchlax raids in the following locations: Bridge Field, Motostoke Riverbank, Stony Wilderness.
You can Click/Tap the links below to view where to find Munchlax Raid Spawn Locations in Pokemon Sw and Sh.
Pokemon Sword and Shield Munchlax Weakness
Munchlax is a Normal Type pokemon. This will cause it to take More Damage from Fighting Type Moves and will take Less Damage from Ghost type moves.
Damage
Types
4.0x
Damage
2.0x
Damage

Fighting

0.5x
Damage
0.25x
Damage
Immune to Damage

Ghost
What pokemon is Munchlax Weak Against?
What pokemon is Munchlax Strong Against?
Pokemon SW and SH Munchlax Moves List
What moves can Munchlax learn from TMs, TRs, and Leveling?
Munchlax can learn the type move at level . This move Bolded Pow numbers are adjusted for this pokemon's Normal type +50% STAB damage.
| Lvl | Move | Type | Class | Pow | Acc | PP | Effect |
| --- | --- | --- | --- | --- | --- | --- | --- |
| 01 | [] Lick | | | — | | | |
| 01 | [] Tackle | | | — | | | |
| 04 | [] Defense Curl | | | — | | | |
| 08 | [] Recycle | | | — | | | |
| 12 | [] Covet | | | — | | | |
| 16 | [] Bite | | | — | | | |
| 20 | [] Stockpile | | | — | | | |
| 20 | [] Swallow | | | — | | | |
| 24 | [] Screech | | | — | | | |
| 28 | [] Body Slam | | | — | | | |
| 32 | [] Fling | | | — | | | |
| 36 | [] Amnesia | | | — | | | |
| 40 | [] Metronome | | | — | | | |
| 44 | [] Flail | | | — | | | |
| 48 | [] Belly Drum | | | — | | | |
| 52 | [] Last Resort | | | — | | | |
TM Moves Munchlax can learn
| TM | Move | Type | Class | Pow | Acc | PP | Effect |
| --- | --- | --- | --- | --- | --- | --- | --- |
| TM00 | Mega Punch | | Physical | 120 | 85 | 20 | |
| TM01 | Mega Kick | | Physical | 180 | 75 | 5 | |
| TM02 | Pay Day | | Physical | 60 | 100 | 20 | A small amount of money is gained after the battle resolves. |
| TM03 | Fire Punch | | Physical | 75 | 100 | 15 | May burn opponent. |
| TM04 | Ice Punch | | Physical | 75 | 100 | 15 | May freeze opponent. |
| TM05 | Thunder Punch | | Physical | 75 | 100 | 15 | May paralyze opponent. |
| TM11 | Solar Beam | | Special | 120 | 100 | 10 | Charges on first turn, attacks on second. |
| TM16 | Screech | | Status | — | 85 | 40 | Sharply lowers opponent's Defense. |
| TM20 | Self-Destruct | | Physical | 300 | 100 | 5 | User faints. |
| TM21 | Rest | | Status | — | — | 10 | User sleeps for 2 turns, but user is fully healed. |
| TM22 | Rock Slide | | Physical | 75 | 90 | 10 | May cause flinching. |
| TM24 | Snore | | Special | 75 | 100 | 15 | Can only be used if asleep. May cause flinching. |
| TM25 | Protect | | Status | — | — | 10 | Protects the user, but may fail if used consecutively. |
| TM27 | Icy Wind | | Special | 55 | 95 | 15 | Lowers opponent's Speed. |
| TM29 | Charm | | Status | — | 100 | 20 | Sharply lowers opponent's Attack. |
| TM31 | Attract | | Status | — | 100 | 15 | If opponent is the opposite gender, it's less likely to attack. |
| TM32 | Sandstorm | | Status | — | — | 10 | Creates a sandstorm for 5 turns. |
| TM33 | Rain Dance | | Status | — | — | 5 | Makes it rain for 5 turns. |
| TM34 | Sunny Day | | Status | — | — | 5 | Makes it sunny for 5 turns. |
| TM36 | Whirlpool | | Special | 35 | 85 | 15 | Traps opponent, damaging them for 4-5 turns. |
| TM39 | Facade | | Physical | 105 | 100 | 20 | Power doubles if user is burned, poisoned, or paralyzed. |
| TM43 | Brick Break | | Physical | 75 | 100 | 15 | Breaks through Reflect and Light Screen barriers. |
| TM48 | Rock Tomb | | Physical | 60 | 95 | 15 | Lowers opponent's Speed. |
| TM59 | Fling | | Physical | — | 100 | 10 | Power depends on held item. |
| TM76 | Round | | Special | 90 | 100 | 15 | Power increases if teammates use it in the same turn. |
| TM79 | Retaliate | | Physical | 105 | 100 | 5 | Inflicts double damage if a teammate fainted on the last turn. |
| TM81 | Bulldoze | | Physical | 60 | 100 | 20 | Lowers opponent's Speed. |
| TM98 | Stomping Tantrum | | Physical | 75 | 100 | 10 | Driven by frustration, the user attacks the target. If the user's previous move has failed, the power of this move doubles. |
| TR | Move | Type | Class | Pow | Acc | PP | Effect |
| --- | --- | --- | --- | --- | --- | --- | --- |
| TR01 | Body Slam | | Physical | 127.5 | 100 | 15 | May paralyze opponent. |
| TR02 | Flamethrower | | Special | 90 | 100 | 15 | May burn opponent. |
| TR03 | Hydro Pump | | Special | 110 | 80 | 5 | |
| TR04 | Surf | | Special | 90 | 100 | 15 | Hits all adjacent Pokémon. |
| TR05 | Ice Beam | | Special | 90 | 100 | 10 | May freeze opponent. |
| TR06 | Blizzard | | Special | 110 | 70 | 5 | May freeze opponent. |
| TR08 | Thunderbolt | | Special | 90 | 100 | 15 | May paralyze opponent. |
| TR09 | Thunder | | Special | 110 | 70 | 10 | May paralyze opponent. |
| TR10 | Earthquake | | Physical | 100 | 100 | 10 | Power is doubled if opponent is underground from using Dig. |
| TR11 | Psychic | | Special | 90 | 100 | 10 | May lower opponent's Special Defense. |
| TR14 | Metronome | | Status | — | — | 10 | User performs almost any move in the game at random. |
| TR15 | Fire Blast | | Special | 110 | 85 | 5 | May burn opponent. |
| TR17 | Amnesia | | Status | — | — | 20 | Sharply raises user's Special Defense. |
| TR20 | Substitute | | Status | — | — | 10 | Uses HP to creates a decoy that takes hits. |
| TR26 | Endure | | Status | — | — | 10 | Always left with at least 1 HP, but may fail if used consecutively. |
| TR27 | Sleep Talk | | Status | — | — | 10 | User performs one of its own moves while sleeping. |
| TR30 | Encore | | Status | — | 100 | 5 | Forces opponent to keep using its last move for 3 turns. |
| TR33 | Shadow Ball | | Special | 80 | 100 | 15 | May lower opponent's Special Defense. |
| TR35 | Uproar | | Special | 135 | 100 | 10 | User attacks for 3 turns and prevents sleep. |
| TR39 | Superpower | | Physical | 120 | 100 | 5 | Lowers user's Attack and Defense. |
| TR42 | Hyper Voice | | Special | 135 | 100 | 10 | |
| TR59 | Seed Bomb | | Physical | 80 | 100 | 15 | |
| TR69 | Zen Headbutt | | Physical | 80 | 90 | 15 | May cause flinching. |
| TR73 | Gunk Shot | | Physical | 120 | 80 | 5 | May poison opponent. |
| TR85 | Work Up | | Status | — | — | 30 | Raises user's Attack and Special Attack. |