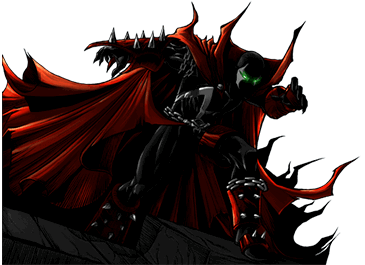 Spawn
""
Injustice 2 Spawn Base Stats
| | | |
| --- | --- | --- |
| Strength | 1100 | |
| Ability | 1050 | |
| Defense | 950 | |
| Health | 1000 | |
His entire body now made of a substance called necroplasm, Spawn is able to wield demonic powers himself. These include producing spikes, chains and skulls of various forms in combat to slay enemies both mortal and supernatural.
Welcome to our Injustice 2 Spawn Gear Build Guide, Below we will list the best gear to use on Spawn we also have this characters Base Stats, Moves list, and Abilities below.
Jump to
These Moves are combo button sequences unique to this character's skill set. These will often provide Mobility, Burst Damage, Air Juggle and Crowd Control Effects.
Spawn Abilities and Powers
Injustice 2 Spawn Gear Build
The Best Gear Stats To Build on this Character. Head/Cape, Torso, Gauntlets, Greaves and Accessory Equipment.
Below You Can View List of Each Characters Injustice 2 Gear Builds, Stats, Moves, Character Powers and Abilities by Clicking their Image or Name Link.
Character Select
This Page is being updated frequently