Welcome to our Splatoon 2 Weapons Tier List, here you can view the Best Weapons In Splatoon 2. Each Weapon Type such Shooter, Roller, Blaster, Charger and even Specials, will be ranked in their own category.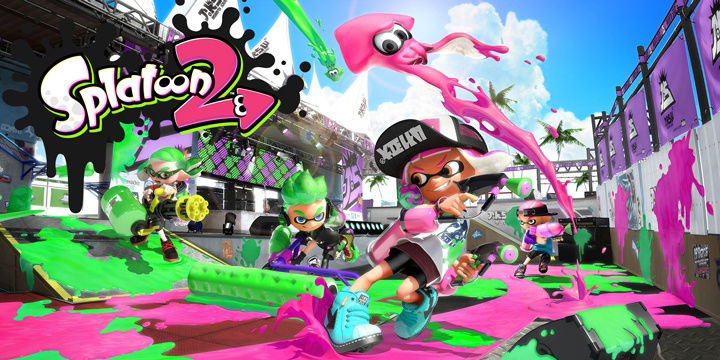 Best Weapons In Splatoon 2
These are the Best Weapons in Splatoon 2 sorted in a Ranking System. This includes Shooters, Rollers, Chargers, Sloshers and Splatlings. Below this Weapon Tier List, you can find our Best Special Weapon Tier List.
[You can quickly Navigate To a Weapon Type using these Buttons.]
Best Shooters In Splatoon 2 Weapon List

"Shooters" are similar to AR Assault Rifles for players who familiar with FPS Games. This Weapons are Automatic meaning they will continuously shoot when holding down the fire button. Recommended Use as a Turf War Weapon.
S

GOD
TIER

Tentatek Splattershot • .52 Gal
A

STRONG

Berry Splattershot Pro • .96 Gal Deco • Cherry H-3 Nozzlenose • Wasabi Splattershot • Splattershot Pro
B

GOOD

Custom Jet Squelcher • L-3 Nozzlenose D • Splattershot • Forge Splattershot Pro • N-ZAP '83 • Splattershot Jr. • .52 Gal Deco • N-ZAP '85 • Splash-o-matic • Neo Splash-o-matic
C

AVERAGE

Dual Squelcher • .96 Gal • Neo Sploosh-o-matic • N-ZAP '89 • Custom Dual Squelcher • Sploosh-o-matic 7
D

BELOW
AVERAGE

L-3 Nozzlenose • Aerospray PG • Aerospray MG
E

WEAK

H-3 Nozzlenose • Jet Squelcher • Sploosh-o-matic • H-3 Nozzlenose D
F

WORST
TIER

Aerospray RG • Custom Splattershot
Best Blasters In Splatoon 2 Weapon List

"Blasters" shot slow large globs of ink that can explode in mid-air, making them excellent for splatting enemies. Recommended Use as a Tower Control Weapon.
S

GOD
TIER

Luna Blaster Neo
A

STRONG

Custom Range Blaster  • Grim Range Blaster • Rapid Blaster Pro Deco
B

GOOD

Luna Blaster • Rapid Blaster Deco • Custom Blaster
C

AVERAGE

Range Blaster • Rapid Blaster Pro
D

BELOW
AVERAGE

Rapid Blaster
E

WEAK

Blaster
F

WORST
TIER
Best Chargers In Splatoon 2 Weapon List

"Chargers" main focus should be Splatting enemies and not wasting your shots to cover ground. Lets other players using Rollers, Sloshers and Shooters cover the ground.
S

GOD
TIER

Bamboozler 14 Mk III  • Bento Splat Charger • Bento Splatterscope • Custom E-liter 3K Scope • Fresh Squiffer
A

STRONG

Kelp Splat Charger • Kelp Splatterscope  • Custom E-liter 3K  • New Squiffer • Bamboozler 14 Mk II
B

GOOD

Hero Charger Replica
C

AVERAGE

Bamboozler 14 Mk I • Classic Squiffer • E-liter 3K Scope • E-liter 3K • Splatterscope • Splat Charger
D

BELOW
AVERAGE

E

WEAK

F

WORST
TIER
Best Rollers and Brushes In Splatoon 2 Weapon List

"Rollers and Brushes" are amazing for covering ground, being able to spread ink easily over a wider area than its shooter counter parts.
S

GOD
TIER

Carbon Roller • Dynamo Roller
A

STRONG

Octobrush • Gold Dynamo Roller • Tempered Dynamo Roller  • Krak-On Roller
B

GOOD

Octobrush Nouveau • Carbon Roller Deco • Permanent Inkbrush • Splat Roller • CoroCoro Roller
C

AVERAGE

Inkbrush • Inkbrush Nouveau
D

BELOW
AVERAGE

E

WEAK

F

WORST
TIER
Best Splatlings In Splatoon 2 Weapon List

"Splatlings" closely resemble Gatling Guns and is heavy weapon class. Similar to Chargers requiring a charge up to increase its effectiveness, however, instead of range and damage you will receive increased fire duration.
S

GOD
TIER

Heavy Splatling Remix • Refurbished Mini Splatling • Heavy Splatling Deco
A

STRONG

Zink Mini Splatling  • Custom Hydra Splatling
B

GOOD

Hydra Splatling • Heavy Splatling • Mini Splatling
C

AVERAGE

D

BELOW
AVERAGE

E

WEAK

F

WORST
TIER
Best Slosher In Splatoon 2 Weapon List

"Slosher" is a bucket that hurls long range ink at enemies, can be used to splat opponents from high up and in some cases on the other side of structures.
S

GOD
TIER

Slosher Deco • Soda Slosher • Sloshing Machine Neo
A

STRONG

Slosher • Tri-Slosher  • Sloshing Machine
B

GOOD

C

AVERAGE

D

BELOW
AVERAGE

E

WEAK

F

WORST
TIER
Splatoon 2 Best Weapons Based On Game Mode


Turf War

Tentatek Splattershot • N-Zap 89′ •  N-Zap 85′  • Splattershot Jr.

Splat Zones

Tentatek Splattershot • .96 Gal • .96 Gal Deco • Gold Dynamo Roller

Tower
Control

.96 Gal Deco • Heavy Splatling • .52 Gal • Range Blaster • Tentatek Splattershot • Soda Slosher

Rain Maker

N/A