Pokemon Sword and Shield Espurr is a Psychic Type Restraint Pokémon, which makes it weak against Bug, Ghost, Dark type moves. You can find and catch Espurr in Route 5 with a 20% chance to encounter during All Weather weather when walking through tall grass. The Max IV Stats of Espurr are 62 HP, 48 Attack, 63 SP Attack, 54 Defense, 60 SP Defense, and 68 Speed.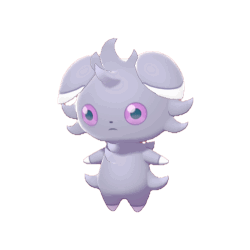 Espurr
Galar Pokedex ID: 208
Click/Tap the buttons to navigate the Espurr Guide.

Evolutions

Locations

Raid

Weakness

Moves
List of Espurr Max IV Stats in Pokemon SW SH.
| Stat | Amount | Bar Graph |
| --- | --- | --- |
| Total | 355 | |
| HP | 62 | |
| Attack | 48 | |
| Defense | 54 | |
| Special Attack | 63 | |
| Special Defense | 60 | |
| Speed | 68 | |
Based on this pokemon's stats we consider the best nature for Espurr to have is Timid, this will increase it's Speed and decrease it's Attack stats.
| Ability | Type | Effect |
| --- | --- | --- |
| Keen Eye | Normal | |
| Infiltrator | Normal | |
| Own Tempo | Hidden | |
Sword Pokedex Entry

Though Espurr's expression never changes, behind that blank stare is an intense struggle to contain its devastating psychic power.
Shield Pokedex Entry

There's enough psychic power in Espurr to send a wrestler flying, but because this power can't be controlled, Espurr finds it troublesome.
Espurr Locations in Pokemon Sword and Shield
Where do i find and how to get Espurr?
Spawn locations you can find Espurr are in the Route 5 area, with a 20% chance to spawn during All Weather weather.
Non Overworld Spawns (NOT Visible - Randomly found in tall grass)
Pokemon Sword and Shield Espurr Raids
Where do i find Espurr Raids?
You can find Espurr raids in the following locations: Stony Wilderness, Watchtower Ruins.
You can Click/Tap the links below to view where to find Espurr Raid Spawn Locations in Pokemon Sw and Sh.
Pokemon Sword and Shield Espurr Weakness
Espurr is a Psychic Type pokemon. This will cause it to take More Damage from Bug, Ghost, Dark Type Moves and will take Less Damage from Fighting, Psychic type moves.
Damage
Types
4.0x
Damage
2.0x
Damage

Bug

Ghost

Dark

0.5x
Damage

Fighting

Psychic

0.25x
Damage
Immune to Damage
What pokemon is Espurr Weak Against?
What pokemon is Espurr Strong Against?
Pokemon SW and SH Espurr Moves List
What moves can Espurr learn from TMs, TRs, and Leveling?
Espurr can learn the type move at level . This move Bolded Pow numbers are adjusted for this pokemon's Psychic type +50% STAB damage.
| Lvl | Move | Type | Class | Pow | Acc | PP | Effect |
| --- | --- | --- | --- | --- | --- | --- | --- |
| 01 | [] Scratch | | | — | | | |
| 01 | [] Leer | | | — | | | |
| 03 | [] Fake Out | | | — | | | |
| 06 | [] Disarming Voice | | | — | | | |
| 09 | [] Confusion | | | — | | | |
| 18 | [] Covet | | | — | | | |
| 21 | [] Psybeam | | | — | | | |
| 30 | [] Light Screen | | | — | | | |
| 30 | [] Reflect | | | — | | | |
| 33 | [] Psyshock | | | — | | | |
TM Moves Espurr can learn
| TM | Move | Type | Class | Pow | Acc | PP | Effect |
| --- | --- | --- | --- | --- | --- | --- | --- |
| TM02 | Pay Day | | Physical | 40 | 100 | 20 | A small amount of money is gained after the battle resolves. |
| TM14 | Thunder Wave | | Status | — | 90 | 20 | Paralyzes opponent. |
| TM17 | Light Screen | | Status | — | — | 30 | Halves damage from Special attacks for 5 turns. |
| TM18 | Reflect | | Status | — | — | 20 | Halves damage from Physical attacks for 5 turns. |
| TM19 | Safeguard | | Status | — | — | 25 | The user's party is protected from status conditions. |
| TM21 | Rest | | Status | — | — | 10 | User sleeps for 2 turns, but user is fully healed. |
| TM24 | Snore | | Special | 50 | 100 | 15 | Can only be used if asleep. May cause flinching. |
| TM25 | Protect | | Status | — | — | 10 | Protects the user, but may fail if used consecutively. |
| TM31 | Attract | | Status | — | 100 | 15 | If opponent is the opposite gender, it's less likely to attack. |
| TM33 | Rain Dance | | Status | — | — | 5 | Makes it rain for 5 turns. |
| TM34 | Sunny Day | | Status | — | — | 5 | Makes it sunny for 5 turns. |
| TM39 | Facade | | Physical | 70 | 100 | 20 | Power doubles if user is burned, poisoned, or paralyzed. |
| TM40 | Swift | | Special | 60 | — | 20 | Ignores Accuracy and Evasiveness. |
| TM41 | Helping Hand | | Status | — | — | 20 | In Double Battles, boosts the power of the partner's move. |
| TM47 | Fake Tears | | Status | — | 100 | 20 | Sharply lowers opponent's Special Defense. |
| TM57 | Payback | | Physical | 50 | 100 | 10 | Power doubles if the user was attacked first. |
| TM70 | Trick Room | | Status | — | — | 5 | Slower Pokémon move first in the turn for 5 turns. |
| TM71 | Wonder Room | | Status | — | — | 10 | Swaps every Pokémon's Defense and Special Defense for 5 turns. |
| TM72 | Magic Room | | Status | — | — | 10 | Suppresses the effects of held items for five turns. |
| TM76 | Round | | Special | 60 | 100 | 15 | Power increases if teammates use it in the same turn. |
| TR | Move | Type | Class | Pow | Acc | PP | Effect |
| --- | --- | --- | --- | --- | --- | --- | --- |
| TR08 | Thunderbolt | | Special | 90 | 100 | 15 | May paralyze opponent. |
| TR11 | Psychic | | Special | 135 | 100 | 10 | May lower opponent's Special Defense. |
| TR20 | Substitute | | Status | — | — | 10 | Uses HP to creates a decoy that takes hits. |
| TR25 | Psyshock | | Special | 120 | 100 | 10 | Inflicts damage based on the target's Defense, not Special Defense. |
| TR26 | Endure | | Status | — | — | 10 | Always left with at least 1 HP, but may fail if used consecutively. |
| TR27 | Sleep Talk | | Status | — | — | 10 | User performs one of its own moves while sleeping. |
| TR31 | Iron Tail | | Physical | 100 | 75 | 15 | May lower opponent's Defense. |
| TR38 | Trick | | Status | — | 100 | 10 | Swaps held items with the opponent. |
| TR40 | Skill Swap | | Status | — | — | 10 | The user swaps Abilities with the opponent. |
| TR49 | Calm Mind | | Status | — | — | 20 | Raises user's Special Attack and Special Defense. |
| TR58 | Dark Pulse | | Special | 80 | 100 | 15 | May cause flinching. |
| TR65 | Energy Ball | | Special | 90 | 100 | 10 | May lower opponent's Special Defense. |
| TR68 | Nasty Plot | | Status | — | — | 20 | Sharply raises user's Special Attack. |
| TR69 | Zen Headbutt | | Physical | 120 | 90 | 15 | May cause flinching. |
| TR83 | Ally Switch | | Status | — | — | 15 | User switches with opposite teammate. |
| TR85 | Work Up | | Status | — | — | 30 | Raises user's Attack and Special Attack. |
| TR90 | Play Rough | | Physical | 90 | 90 | 10 | May lower opponent's Attack. |