Pokemon Sword and Shield Eevee is a Normal Type Evolution Pokémon, which makes it weak against Fighting type moves. You can find and catch Eevee in Route 4 with a 1% chance to appear during All Weather weather. The Max IV Stats of Eevee are 55 HP, 55 Attack, 45 SP Attack, 50 Defense, 65 SP Defense, and 55 Speed.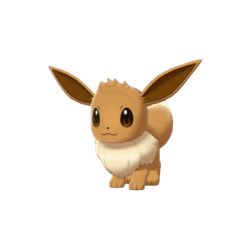 Eevee
Galar Pokedex ID: 196
Click/Tap the buttons to navigate the Eevee Guide.

Evolutions

Locations

Raid

Weakness

Moves
List of Eevee Max IV Stats in Pokemon SW SH.
| Stat | Amount | Bar Graph |
| --- | --- | --- |
| Total | 325 | |
| HP | 55 | |
| Attack | 55 | |
| Defense | 50 | |
| Special Attack | 45 | |
| Special Defense | 65 | |
| Speed | 55 | |
Based on this pokemon's stats we consider the best nature for Eevee to have is Careful, this will increase it's Sp. Def and decrease it's Sp. Atk stats.
| Ability | Type | Effect |
| --- | --- | --- |
| Run Away | Normal | |
| Adaptability | Normal | |
| Anticipation | Hidden | |
Sword Pokedex Entry

It has the ability to alter the composition of its body to suit its surrounding environment.
Shield Pokedex Entry

Thanks to its unstable genetic makeup, this special Pokémon conceals many different possible evolutions.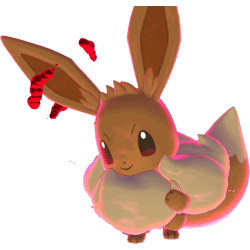 Gigantamax Eevee
Gigantamax Sword Pokedex Entry

Gigantamax energy upped the fluffiness of the fur around Eevee's neck. The fur will envelop a foe, capturing its body and captivating its mind.
Gigantamax Shield Pokedex Entry

Having gotten even friendlier and more innocent, Eevee tries to play with anyone around, only to end up crushing them with its immense body.
Pokemon Sword and Shield Eevee Evolutions
How do i evolve Eevee in Pokemon Sword and Shield?
Pokemon Sword and Shield Eevee evolves into Vaporeon with a Water Stone. This pokemon also has 7 alternative evolutions.
Eevee Locations in Pokemon Sword and Shield
Where do i find and how to get Eevee?
A popular spawn location you can find Eevee is in the Route 4 area with a 1% chance to spawn during All weather.
Overworld Spawns (Visible in-game)
Travel to the Train Station at the Meetup Spot, there you will find an Adult Man and his Children. If you have SaveData from Let's Go Eevee on your Nintendo Switch talk with his Son to receive a Eevee.
Eevee Location: Train Station - Meetup Spot
If you have Let's Go Pikachu SaveData instead talk with his Daughter to receive an
Pikachu
 pokemon.
Pokemon Sword and Shield Eevee Raids
Where do i find Eevee Raids?
You can find Eevee raids in the following locations: Bridge Field, East Lake Axewell, Motostoke Riverbank, Rolling Fields.
You can Click/Tap the links below to view where to find Eevee Raid Spawn Locations in Pokemon Sw and Sh.
Pokemon Sword and Shield Eevee Weakness
Eevee is a Normal Type pokemon. This will cause it to take More Damage from Fighting Type Moves and will take Less Damage from Ghost type moves.
Damage
Types
4.0x
Damage
2.0x
Damage

Fighting

0.5x
Damage
0.25x
Damage
Immune to Damage

Ghost
What pokemon is Eevee Weak Against?
What pokemon is Eevee Strong Against?
Pokemon SW and SH Eevee Moves List
What moves can Eevee learn from TMs, TRs, and Leveling?
Eevee can learn the type move at level . This move Bolded Pow numbers are adjusted for this pokemon's Normal type +50% STAB damage.
| Lvl | Move | Type | Class | Pow | Acc | PP | Effect |
| --- | --- | --- | --- | --- | --- | --- | --- |
| 01 | [] Covet | | | — | | | |
| 01 | [] Helping Hand | | | — | | | |
| 01 | [] Tackle | | | — | | | |
| 01 | [] Growl | | | — | | | |
| 01 | [] Tail Whip | | | — | | | |
| 05 | [] Sand Attack | | | — | | | |
| 10 | [] Quick Attack | | | — | | | |
| 15 | [] Baby-Doll Eyes | | | — | | | |
| 20 | [] Swift | | | — | | | |
| 25 | [] Bite | | | — | | | |
| 30 | [] Copycat | | | — | | | |
| 35 | [] Baton Pass | | | — | | | |
| 40 | [] Take Down | | | — | | | |
| 45 | [] Charm | | | — | | | |
| 50 | [] Double-Edge | | | — | | | |
| 55 | [] Last Resort | | | — | | | |
| TM | Move | Type | Class | Pow | Acc | PP | Effect |
| --- | --- | --- | --- | --- | --- | --- | --- |
| TM02 | Pay Day | | Physical | 60 | 100 | 20 | A small amount of money is gained after the battle resolves. |
| TM15 | Dig | | Physical | 80 | 100 | 10 | Digs underground on first turn, attacks on second. Can also escape from caves. |
| TM21 | Rest | | Status | — | — | 10 | User sleeps for 2 turns, but user is fully healed. |
| TM24 | Snore | | Special | 75 | 100 | 15 | Can only be used if asleep. May cause flinching. |
| TM25 | Protect | | Status | — | — | 10 | Protects the user, but may fail if used consecutively. |
| TM29 | Charm | | Status | — | 100 | 20 | Sharply lowers opponent's Attack. |
| TM31 | Attract | | Status | — | 100 | 15 | If opponent is the opposite gender, it's less likely to attack. |
| TM33 | Rain Dance | | Status | — | — | 5 | Makes it rain for 5 turns. |
| TM34 | Sunny Day | | Status | — | — | 5 | Makes it sunny for 5 turns. |
| TM39 | Facade | | Physical | 105 | 100 | 20 | Power doubles if user is burned, poisoned, or paralyzed. |
| TM40 | Swift | | Special | 90 | — | 20 | Ignores Accuracy and Evasiveness. |
| TM41 | Helping Hand | | Status | — | — | 20 | In Double Battles, boosts the power of the partner's move. |
| TM46 | Weather Ball | | Special | 75 | 100 | 10 | Move's power and type changes with the weather. |
| TM47 | Fake Tears | | Status | — | 100 | 20 | Sharply lowers opponent's Special Defense. |
| TM76 | Round | | Special | 90 | 100 | 15 | Power increases if teammates use it in the same turn. |
| TM79 | Retaliate | | Physical | 105 | 100 | 5 | Inflicts double damage if a teammate fainted on the last turn. |
| TR | Move | Type | Class | Pow | Acc | PP | Effect |
| --- | --- | --- | --- | --- | --- | --- | --- |
| TR01 | Body Slam | | Physical | 127.5 | 100 | 15 | May paralyze opponent. |
| TR13 | Focus Energy | | Status | — | — | 30 | Increases critical hit ratio. |
| TR20 | Substitute | | Status | — | — | 10 | Uses HP to creates a decoy that takes hits. |
| TR26 | Endure | | Status | — | — | 10 | Always left with at least 1 HP, but may fail if used consecutively. |
| TR27 | Sleep Talk | | Status | — | — | 10 | User performs one of its own moves while sleeping. |
| TR29 | Baton Pass | | Status | — | — | 40 | User switches out and gives stat changes to the incoming Pokémon. |
| TR31 | Iron Tail | | Physical | 100 | 75 | 15 | May lower opponent's Defense. |
| TR33 | Shadow Ball | | Special | 80 | 100 | 15 | May lower opponent's Special Defense. |
| TR42 | Hyper Voice | | Special | 135 | 100 | 10 | |
| TR82 | Stored Power | | Special | 20 | 100 | 10 | Power increases when user's stats have been raised. |
| TR85 | Work Up | | Status | — | — | 30 | Raises user's Attack and Special Attack. |