Nioh 2 has many types of pieces you can equip Arm Guards, Foot Guards and many more. Each has its own Status effect resistances and even weight, toughness which will affect how your character plays. for example, if you have too much heavy armor on you will be slowed down, most notably in your dash, as it will be shorter and slower to do so with that weight on your character. Before we jump into the list of armor you can find in nioh 2 let's check out some of the basics of that stats found on armor.
 = Light Armor
= Medium Armor
= Heavy Armor

0

= Fire Resistance

0

= Water Resistance
0 = Lightning Resistance
0 = Poison Resistance
0 = Paralysis Resistance
= Skill
= Strength
= Stamina
= Constitution
Toughness: Determines your resistance to guard breaks, and the amount of Ki damage you take
Rarity: Common, Uncommon, Rare, Exotic, Divine and Ethereal. The better the rarity of the Armor, the better status effects it will have.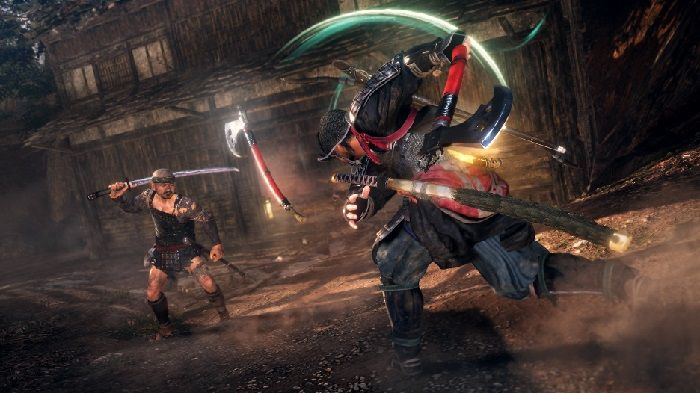 Nioh 2 Armor List of Stats
Below you can find all the Nioh 2 Armor avaible and their stats effect resistance and effects.
Armor
Req
Res
Weight
Physical
Tough
Defense
Effect

6

6

0

0

0

0

0

3.8
40
Guard Ki Consumption -4%

6

6

0

0

0

0

0

3.8
42
Guard Ki Consumption -2%

6

6

0

0

0

0

0

3.8
43
Damage Received (Critical) -4%

6

6

0

0

0

0

0

3.8
43
Time Afflicted by Ailments -4% Prestige of the Genji Bloodline

2

2

0

0

0

0

0

2.3
17
Dodge Ki Consumption -4%

6

6

0

0

0

0

0

2.4
2.3
19
Melee Damage vs. Uscathed Enemy +1%

6

7

0

0

0

0

0

2.3
22
Bow Damage +2% Dash Ki Consumption -2%

7

6

Yokai Slayer

7

8

0

0

0

0

0

2.3
21
Strong Attack Ki Consumption -2% The Rightful Eccentric

2

2

0

4

0

0

0

1.2
8
Amrita Earned +1%

7

7

4

0

0

0

0

1.2
11
Amrita Earned +2%

6

6

0

0

0

2

4

1.2
10
Backstab Damage +2%

2

2

0

0

0

4

2

1.2
8
Shuriken & Kunai Damage +6%

6

6

0

0

4

0

0

1.2
7
Damage Received vs. Yokai -2% Servant of the Gods

6

6

0

0

0

0

0

9.6
7.8
82
32
Guard Ki Consumption (Critical) -8.0%

8

7

0

0

0

0

0

10.4
7.8
88
92
Time Afflicted by Ailments -8.0% Prestige of the Genji Bloodline

7

6

0

0

0

0

0

7.8
84
44
Guard Ki Consumption -4.0%

7

7

0

4.2

0

0

0

10.2
7.8
86
62
Damage Taken (Critical) -8.0%

6

6

0

0

0

4.5

0

4.8
4.6
38
26
Melee Dmg. vs. Unscathed Enemy +2.0%

6

7

0

0

0

0

0

5.2
4.6
40
38
Bow Damage +4.0% Dash Ki Consumption -4.0%

7

8

0

0

0

0

0

4.6
42
70
Strong Attack Ki Consumption The Rightful Eccentric

0

0

0

0

0

4.6
4.6
36
46
Damage Taken vs. Yokai -3.2% Yokai Slayer

6

6

0

0

0

4

8

2.6
2.5
20
24
Backstab Damage +4.0%

2

2

0

4.3

0

8

4

2.4
2.5
12
20
Shuriken & Kunai Damage +12.0%

1

1

0

0

0

0

0

0
0
1
-

2

2

0

8

0

0

0

2.4
2.5
16
12
Amrita Earned +2.0%

7

7

0

8

0

0

0

3
2.5
22
46
Fire Damage +4.0%

6

6

0

0

8

0

0

2.8
2.5
14
40
Damage Taken vs. Yokai -3.2% Servant of the Gods

6

6

0

0

0

0

0

4.8
3.8
40
44
Guard Ki Consumption (Critical)

8

7

0

0

0

0

0

5.2
3.8
44
41
Time Afflicted by Ailments -4.0% Prestige of the Genji Bloodline

7

6

0

0

0

0

0

4.9
3.8
42
23
Guard Ki Consumption -2.0%

4

3

0

0

0

0

0

5.1
3.8
43
40
Damage Taken (Critical) -4.0%

2

2

0

0

0

0

0

2
2.3
17
8
Dodge Ki Consumption (Critical) -4.0%

6

6

0

0

0

0

0

2.4
2.3
19
18
Melee Damage vs. Unscathed Enemy +1.0%

6

6

0

0

0

0

0

2.6
2.3
20
41
Bow Damage +2.0% Dash Ki Consumption +2.0%

7

8

0

0

0

0

0

2.8
2.3
22
49
Damage Taken (Mid-Attack) -4.0% The Rightful Eccentric (2 PIECES)

7

6

0

0

0

0

0

2.3
2.3
18
17
Damage Taken (Mid-Attack) -4.0% Yokai Slayer

6

6

0

0

0

2

4

1.3
1.2
18
12
Backstab Damage +2.0%

2

2

0

0

0

4

2

1.2
1.2
9
7
Shuriken & Kunai Damage 6.0%

6

6

4

0

0

0

0

1.2
11
20
Fire Damage +2.0%

2

2

0

4

0

0

0

1.2
1.2
8
9
Amrita Earned +1.0%

6

6

0

0

4

0

0

1.4
1.2
7
18
Damage Taken vs Yokai -1.6% Servant of the Gods

6

6

0

0

0

0

0

7.2
5.8
60
18
Guard Ki Consumption (Critical) -6.0%

7

6

0

0

0

0

0

7.3
5.8
63
29
Guard Ki Consumption -3.0%

7

7

0

0

0

0

0

7.6
0
64
49
Damage Received (Critical) -6.0%

8

7

3.4

0

0

0

0

7.8
5.8
66
8
- Prestige of the Genji Bloodline

2

2

0

0

0

0

0

3
3.5
25
12
Dodge Ki Consumption -6.0%

6

7

0

3.3

0

0

0

3.9
3.5
30
28
Bow Damage +3.0% Dash Ki Consumption -3.0%

6

6

3.3

0

0

0

0

3.6
3.5
27
21
Melee Damage vs Unscathed Enemy +1.5%

7

8

0

0

0

0

0

3.5
31
58
Strong Attack Ki Consumption -3.0% The Rightful Eccentric

7

6

0

0

0

0

0

3.5
3.5
27
14
Sohaya Waistguard Yokai Slayer

1

1

0

0

0

0

0

0
0
1
-

2

2

-

6

0

0

0

1.8
1.9
12
13
Amrita Earned +1.5%

2

2

0

0

0

9.4

3

1.8
1.9
12
13
Shurkien & Kunai Damage +9.0%

6

6

0

0

0

3

6

1.9
1.9
15
19
Backstab Damage +3.0%

7

7

6

-

-

-

-

2.2
1.9
16
30
Fire Damage +3.0%

6

6

0

0

6

0

0

2.1
1.9
10
26
Damage Received vs. Yokai -3.0% Servant of the Gods

6

6

0

0

0

0

0

4.8
3.8
41
12
Guard Ki Consumption -4.0%

7

6

0

0

0

0

0

4.9
3.8
42
37
Guard Ki Consumption -2.0%

7

7

0

0

0

0

0

5.1
3.8
44
30
Damage Taken (Critical) -4.0%

8

7

0

0

0

0

0

3.8
44
40
Time Afflicted by Ailments -4.0% Prestige of the Genji Bloodline

2

2

0

0

0

0

0

2
2.3
17
8
Dodge Ki Consumption (Critical) -4.0%

6

6

0

0

0

0

0

2.4
2.3
19
19
Melee Damage vs Unscathed Enemy +1.0%

7

6

0

0

0

0

0

2.3
2.3
18
23
Dash Ki Consumption -2.0% Yokai Slayer

6

7

0

0

0

0

0

2.6
2.3
20
40
Bow Damage +2.0% Dash Ki Consumption -2.0%

7

8

0

0

0

0

0

2.8
2.3
21
35
Strong Attack Ki Consumption -2.0% The Rightful Eccentric

2

2

0

4

0

0

0

1.2
1.2
8
9
Amrita Earned +1.0%

2

2

0

0

0

4

2

1.2
1.2
8
7
Shuriken & Kunai Damage +6.0%

6

6

0

0

0

2

4

1.3
1.2
12
12
Backstab Damage +2.0%

7

6

0

0

0

0

0

3.5
27
14
Elemental Damage Received -6.0%

6

6

0

0

4

0

0

1.4
1.2
7
27
Damage Received vs. Yokai -1.6% Servant of the Gods