This is a list of all the Armor in Minecraft Dungeons. Here we will list every type of Armor found in the game with its Stats, Rarity, and its Bonuses. There is a large variety of Armor that can be found in the game, some of which have unique and special abilities that will make it easier to survive.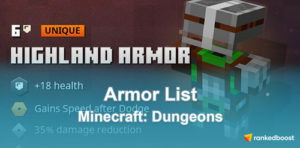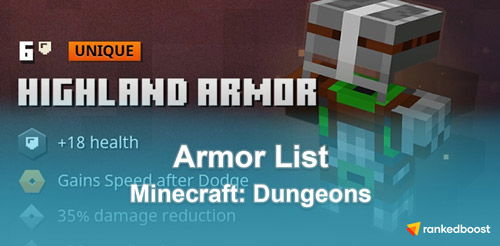 Armor in Minecraft Dungeons will provide you with defense like you would assume, it also gives more Health for your Health Bar. Not only does it give you more Health and Defense, but it comes with other bonuses. For example, "faster melee swing speed" or "damage reduction" damage reduction could arguably be defense, but not every piece of Armor has damage reduction.
Each piece of Armor has different attributes, some are rarer than others, and others have more bonuses.
Rarity – How Easy it is to find. Common, Rare, and Unique.
Cooldown – The time needed between each use.
Bonuses – Extra effects that Armor can have.
Where and how do you find Armor?
You will find most types of Armor from exploring the game's Dungeons, and finding and opening Treasure Chests.
All Armor In Minecraft Dungeons
Below is a list of all the Armor found in Minecraft Dungeons alongside all of their in-game stats. These include Rarity, Defense, Bonuses, and Health.
Armor
Health
Bonuses
Description

Archer's Armor

Unique

+27

+15% movespeed +10 arrows per bundle +30% ranged damage

Archer's Armor, favored by humble warriors, is cheap to make and still stops a blade.

Champion's Armor

Common

+200

+200 health 20% damage reduction 33% chance to revive on death Mobs Target you more

Granted to the champions of the Overworld by the free villagers as a token of their thanks for many years of protection and assistance. The mark of a true hero.

Evocation Robe

Common

+100

-25% item cooldown +15% movespeed aura

Potent Magical Runes are weaved into the fabric of these robes, their origins and true powers are shrouded in mystery.

Fox Armor

Unique

+39 health

30% chance to negate hits20% damage boost weapon auraHealth potions heal nearby allies

Ancient Villager tribes created this armor to honor the fox, who is a great and agile warrior.

Grim Armor

Common

+253

+253 Health +75% spirits gathered +3% lifesteal aura

This armor is grim. Look at this armor. See how grim it is. Why is this armor so grim? No one knows. No one knows.

Highland Armor

+133 health

+133 healthGains Speed after Dodge20% damage reduction+15% melee damage

The educated elders of the Ender days claimed that this armor was built from the scales of a dragon.

Hunter's Armor

Common

+10 arrows per bundle

Hunter's armor may not be the fanciest armor around but it will stop a blade

Mystery Armor

Common

+270

+270 health 33% chance to revive on death 25% melee attack speed

The origins of this property-shifting armor are unknown. Some blacksmiths see a resemblance in its design to the Iron Golems.

Plate Armor

Common

+0

+0 Health 20% chance to negate hits 20% damage reduction -10% movespeed

Plate armor turns even the most average soldier into a fortress but comes with reduced mobility.

Scale Mail

Common

+198

35% damage reduction +30% melee damage

This armor, crafted near the shores of a great sea, was inspired by the scales of fish.

Souldancer Robe

+305

Health to around "305".

The Souldancer Robe comes alive in the light, as if the souls within are dancing for all eternity.

Spelunker's Armor

Common

+175

+10 damage boost aura Gives you a pet bat

The sign of a fearless spelunker, worn by those who brave the black depths of the underworld - miners, explores and adventures alike.

Thief Armor

Common

+305

+305 Health +25% melee attack speed

This armor is light, nimble, and smells faintly of sulfur.

Wither Armor

Unique

crafted with parts of slain enemies

Wolf armor

Random

+209

20% weapon damage boost aura Health potions heal nearby allies

Many warriors wear the heads of wolves into battle to strike fear into the hearts of their enemies.