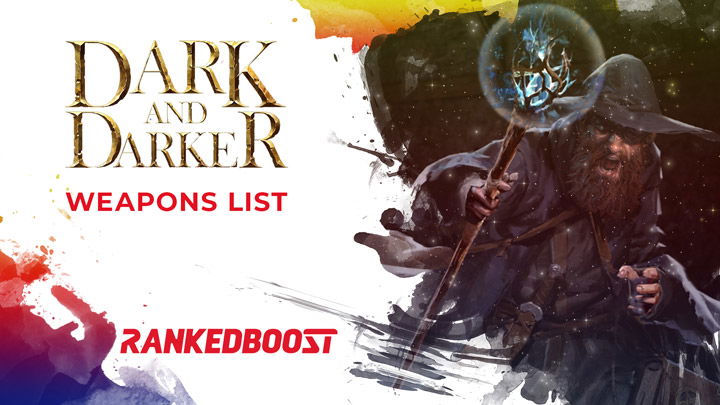 Dark and Darker Weapons List
Here you can view a list of all the weapons in dark and darker. This list will be updated as the game receives more balance patches.
Dark and Darker Best Weapons To Use
We rank the best weapons to use in dark and darker based on their performance in the current meta. We also take into consideration how much move speed you lose, and how fast the weapon can be used.
Dark and Darker Best Weapons
Tier
Weapon
Type
Flat Damage
Combo/Speed/Damage
Move Speed
Action Speed

S Tier

Crystal Sword

2-Handed Magical

Wizard

6 ~ 7

9 ~ 10

11 ~ 12

13 ~ 14

13 ~ 14

17 ~ 18

19 ~ 20

21 ~ 22

Magic Damage

4 ~ 6

7 ~ 9

9 ~ 11

11 ~ 13

13 ~ 15

15 ~ 17

17 ~ 19

19 ~ 21

-30

Attack: -30%

Casting: -35%

S Tier

Double Axe

2-Handed Axe

Barbarian

40

44 ~ 47

48 ~ 53

53 ~ 58

58 ~ 64

64 ~ 70

70 ~ 74

74 ~ 77

-45

Attack: -45%

S Tier

Flanged Mace

1-Handed Main-Hand Mace

Cleric

Fighter

26

30 ~ 31

32 ~ 35

35 ~ 38

38 ~ 42

42 ~ 46

46 ~ 49

49 ~ 51

-25

Attack: -30%

S Tier

Heater Shield

1-Handed Off-Hand Shield

Cleric

Fighter

15

23

30

31 ~ 34

35 ~ 38

38 ~ 41

42 ~ 45

46 ~ 49

-15

Blockreaction: -3%

Guard: -35%

S Tier

Quarterstaff

2-Handed Polearm

Barbarian

Cleric

Wizard

25

31 ~ 40

37 ~ 45

43 ~ 50

48 ~ 54

53 ~ 58

57 ~ 61

61 ~ 64

Range:

-30

Attack: -30%

Blockreaction: -35%

Defensemode: -35%

S Tier

Rapier

1-Handed Main-Hand Sword

Ranger

Rogue

13

14 ~ 15

16 ~ 18

18 ~ 20

20 ~ 22

22 ~ 24

24 ~ 26

26 ~ 27

-17

Attack: -20%

S Tier

Recurve Bow

2-Handed Bow

Ranger

24

28 ~ 29

30 ~ 33

33 ~ 36

36 ~ 40

40 ~ 44

44 ~ 47

47 ~ 49

-40

Attack: -35%

Reload: -70%

S Tier

Spellbook

2-Handed Magical

Cleric

Wizard

-10

Casting: -25%

A Tier

Arming Sword

1-Handed Main-Hand Sword

Fighter

Ranger

22

25 ~ 26

27 ~ 29

29 ~ 31

31 ~ 34

34 ~ 37

37 ~ 40

40 ~ 42

-20

Attack: -25%

A Tier

Castillon Dagger

1-Handed Off-Hand Dagger

Fighter

Rogue

16

19 ~ 20

21 ~ 23

23 ~ 25

25 ~ 28

28 ~ 31

31 ~ 34

34 ~ 36

-10

Attack: -10%

A Tier

Crystal Ball

1-Handed Off-Hand Magical

Wizard

-25

Casting: -25%

A Tier

Hatchet

1-Handed Off-Hand Axe

Barbarian

Fighter

15

18 ~ 19

20 ~ 22

22 ~ 24

24 ~ 27

27 ~ 30

30 ~ 33

33 ~ 35

-25

Attack: -25%

A Tier

Horsemans Axe

1-Handed Main-Hand Axe

Barbarian

Fighter

19

22 ~ 23

24 ~ 26

26 ~ 28

28 ~ 31

31 ~ 34

34 ~ 37

37 ~ 39

-30

Attack: -25%

A Tier

Morning Star

1-Handed Main-Hand Mace

Cleric

28

32 ~ 33

34 ~ 37

37 ~ 40

40 ~ 44

44 ~ 48

48 ~ 51

51 ~ 53

-25

Attack: -30%

A Tier

Rondel Dagger

1-Handed Main-Hand Dagger

Rogue

Wizard

14

17 ~ 18

19 ~ 21

21 ~ 23

23 ~ 26

26 ~ 29

29 ~ 32

32 ~ 34

-10

Attack: -10%

A Tier

Round Shield

1-Handed Off-Hand Shield

Cleric

Fighter

13

19

26

26 ~ 29

29 ~ 32

32 ~ 35

35 ~ 38

38 ~ 41

-12

Blockreaction: -3%

Guard: -25%

A Tier

Spear

2-Handed Polearm

Fighter

29

33 ~ 34

35 ~ 38

38 ~ 41

41 ~ 45

45 ~ 49

49 ~ 52

52 ~ 54

-40

Attack: -35%

Blockreaction: -35%

Defensemode: -35%

A Tier

Survival Bow

2-Handed Bow

Ranger

13

14 ~ 15

16 ~ 18

18 ~ 20

20 ~ 22

22 ~ 24

24 ~ 26

26 ~ 27

-30

Attack: -25%

Reload: -70%

A Tier

Windlass Crossbow

2-Handed Crossbow

Ranger

44

48 ~ 51

52 ~ 57

57 ~ 62

62 ~ 68

68 ~ 74

74 ~ 78

78 ~ 81

-60

Attack: -50%

Reload: -100%

B Tier

Battle Axe

2-Handed Axe

Barbarian

Fighter

35

39 ~ 41

42 ~ 46

46 ~ 50

50 ~ 55

55 ~ 60

60 ~ 64

64 ~ 67

-45

Attack: -40%

B Tier

Buckler

1-Handed Off-Hand Shield

Cleric

Fighter

6

9

12

13 ~ 14

14 ~ 15

16 ~ 17

18 ~ 19

20 ~ 21

-7

Blockreaction: -1%

Guard: -10%

B Tier

Crossbow

2-Handed Crossbow

Fighter

Ranger

Wizard

39

43 ~ 45

46 ~ 50

50 ~ 54

54 ~ 59

59 ~ 64

64 ~ 68

68 ~ 71

-50

Attack: -50%

Reload: -70%

B Tier

Falchion

1-Handed Main-Hand Sword

Fighter

30

34 ~ 35

36 ~ 39

39 ~ 42

42 ~ 46

46 ~ 50

50 ~ 53

53 ~ 55

-25

Attack: -30%

B Tier

Felling Axe

2-Handed Axe

Barbarian

33

37 ~ 39

40 ~ 44

44 ~ 48

48 ~ 53

53 ~ 58

58 ~ 62

62 ~ 65

-40

Attack: -30%

B Tier

Kris Dagger

1-Handed Main-Hand Dagger

Rogue

14

17 ~ 18

19 ~ 21

21 ~ 23

23 ~ 26

26 ~ 29

29 ~ 32

32 ~ 34

-10

Attack: -10%

B Tier

Longbow

2-Handed Bow

Ranger

34

38 ~ 40

41 ~ 45

45 ~ 49

49 ~ 54

54 ~ 59

59 ~ 63

63 ~ 66

-50

Attack: -45%

Reload: -70%

B Tier

Longsword

2-Handed Sword

Fighter

29

33 ~ 34

35 ~ 38

38 ~ 41

41 ~ 45

45 ~ 49

49 ~ 52

52 ~ 54

-40

Attack: -35%

Blockreaction: -3%

Riposte: -35%

Riposteattack: -35%

B Tier

Stiletto Dagger

1-Handed Off-Hand Dagger

Rogue

15

18 ~ 19

20 ~ 22

22 ~ 24

24 ~ 27

27 ~ 30

30 ~ 33

33 ~ 35

-10

Attack: -10%

B Tier

Wizard Staff

2-Handed Magical

Cleric

Wizard

19

22 ~ 23

24 ~ 26

26 ~ 28

28 ~ 31

31 ~ 34

34 ~ 37

37 ~ 39

-20

Attack: -30%

Casting: -35%

B Tier

Zweihander

2-Handed Sword

Barbarian

Fighter

33

37 ~ 39

40 ~ 44

44 ~ 48

48 ~ 53

53 ~ 58

58 ~ 62

62 ~ 65

-50

Attack: -40%

C Tier

Pavise

2-Handed Shield

Fighter

Ranger

24

36

48

49 ~ 54

55 ~ 60

61 ~ 66

67 ~ 72

73 ~ 79

-65

Blockreaction: -3%

Guard: -45%

C Tier

War Maul

2-Handed Mace

Barbarian

Cleric

45

49 ~ 52

53 ~ 58

58 ~ 63

63 ~ 69

69 ~ 75

75 ~ 79

79 ~ 82

-55

Attack: -55%

E Tier

Bardiche

2-Handed Polearm

Barbarian

39

43 ~ 45

46 ~ 50

50 ~ 54

54 ~ 59

59 ~ 64

64 ~ 68

68 ~ 71

-50

Attack: -45%

Blockreaction: -35%

Defensemode: -35%

E Tier

Halberd

2-Handed Polearm

Fighter

37

41 ~ 43

44 ~ 48

48 ~ 52

52 ~ 57

57 ~ 62

62 ~ 66

66 ~ 69

-50

Attack: -45%

? Tier

Explosion Bottle

Throwable

? Tier

Francisca Axe

Throwable

Barbarian

Fighter

? Tier

Hunting Trap

Trap

Ranger

? Tier

Magic Wand

? Magical

Wizard

? Tier

Throwing Knife

Throwable

Rogue

Wizard