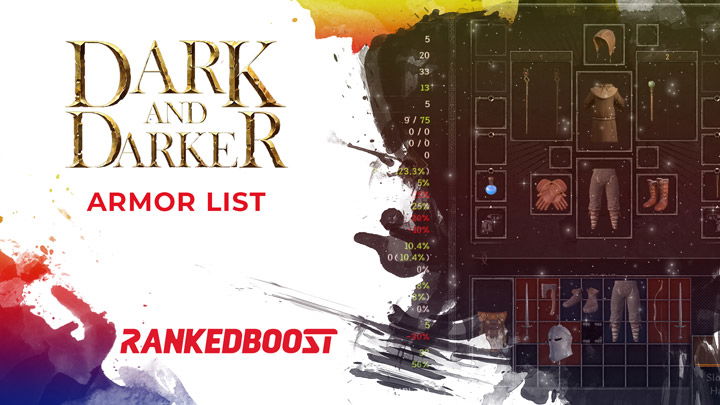 Dark and Darker Armor List
Here you can view a list of all the armor in dark and darker. This list will be updated as the game receives more balance patches.
Dark and Darker Best Armor To Use
We rank the best armor to use in dark and darker based on their performance in the current meta. We also take into consideration how much move speed you lose, and how much armor rating it has.
Dark and Darker Best Armor
Tier
Armor
Type
Armor Rating
Move Speed
Default Stats

? Tier

Adventurer Boots

Feet

6

7

8

9 ~ 10

11 ~ 12

13 ~ 14

14 ~ 15

15 ~ 16

5

5 Magic Resistance

? Tier

Armet

Head

Fighter

24

25 ~ 27

28 ~ 31

32 ~ 34

34 ~ 36

36 ~ 38

38 ~ 40

40 ~ 43

-12

14.0% Headshot Reduction

-5 Magic Resistance

? Tier

Barbuta Helm

Head

Barbarian, Fighter

19

20 ~ 21

22 ~ 23

24 ~ 25

26 ~ 27

28 ~ 30

30 ~ 31

31 ~ 32

-10

12.0% Headshot Reduction

10 Magic Resistance

? Tier

Chapel De Fer

Head

Fighter, Cleric

15

16 ~ 17

18 ~ 19

20 ~ 21

22 ~ 23

24 ~ 25

25 ~ 26

26 ~ 27

-8

10.0% Headshot Reduction

2% Projectile Reduction

10 Magic Resistance

? Tier

Chaperon

Head

Cleric

4

5

6

7

8

9

10

11

-5

5.0% Headshot Reduction

10 Magic Resistance

? Tier

Cloth Pants

Leg

8

9

10

11 ~ 12

13 ~ 14

15 ~ 16

16 ~ 17

17 ~ 18

-5

? Tier

Cobalt Chapel De Fer

Head

Fighter, Cleric

22 ~ 23

-8

10.0% Headshot Reduction

2% Projectile Reduction

10 Magic Resistance

? Tier

Cobalt Frock

Chest

Wizard, Cleric

22 ~ 23

-5

20 Magic Resistance

? Tier

Cobalt Heavy Gauntlet

Hand

Fighter, Cleric

19 ~ 20

-3

4% Projectile Reduction

-5 Magic Resistance

? Tier

Cobalt Leather Gloves

Hand

7

1 Agility

? Tier

Cobalt Lightfoot Boots

Feet

5

10

? Tier

Cobalt Plate Boots

Feet

Fighter, Cleric

24 ~ 25

2

5% Projectile Reduction

-5 Magic Resistance

1 Strength

? Tier

Cobalt Plate Pants

Leg

Fighter, Cleric

36 ~ 38

-18

9% Projectile Reduction

-5 Magic Resistance

? Tier

Cobalt Regal Gambeson

Chest

52 ~ 57

-15

10 Magic Resistance

? Tier

Cobalt Templar Armor

Chest

Fighter, Cleric

67 ~ 74

-20

20 Magic Resistance

? Tier

Cobalt Viking Helmet

Head

Barbarian

26 ~ 27

-10

10.0% Headshot Reduction

4% Projectile Reduction

10 Magic Resistance

? Tier

Dark Plate Armor

Chest

Fighter

47

48 ~ 51

52 ~ 61

62 ~ 68

69 ~ 76

76 ~ 82

82 ~ 88

88 ~ 92

-30

12.0% Projectile Reduction

40 Magic Resistance

? Tier

Doublet

Chest

Fighter, Ranger, Rogue

17

18 ~ 19

20 ~ 21

22 ~ 23

24 ~ 25

26 ~ 28

28 ~ 29

29 ~ 30

-8

? Tier

Fine Cuirass

Chest

Fighter

60

61 ~ 64

65 ~ 76

77 ~ 88

89 ~ 97

97 ~ 105

105 ~ 110

110 ~ 115

-35

10.0% Projectile Reduction

-10 Magic Resistance

? Tier

Frock

Chest

Cleric, Wizard

15

16 ~ 17

18 ~ 19

20 ~ 21

22 ~ 23

24 ~ 25

25 ~ 26

26 ~ 27

-5

20 Magic Resistance

? Tier

Gjermundbu

Head

Barbarian

17

18 ~ 19

20 ~ 21

22 ~ 23

24 ~ 25

26 ~ 28

28 ~ 29

29 ~ 30

-8

12.0% Headshot Reduction

4% Projectile Reduction

15 Magic Resistance

? Tier

Heavy Boots

Feet

10

11

12

13 ~ 14

15 ~ 16

17 ~ 18

18 ~ 19

19 ~ 20

5

5 Magic Resistance

? Tier

Heavy Gauntlet

Hand

Cleric, Fighter

12

13 ~ 14

15 ~ 16

17 ~ 18

19 ~ 20

21 ~ 22

22 ~ 23

23 ~ 24

-3

-5 Magic Resistance

? Tier

Heavy Leather Leggings

Leg

19

20 ~ 21

22 ~ 23

24 ~ 25

26 ~ 27

28 ~ 30

30 ~ 31

31 ~ 32

-8

1 Strength

? Tier

Kettle Hat

Head

Cleric, Fighter

15

16 ~ 17

18 ~ 19

20 ~ 21

22 ~ 23

24 ~ 25

25 ~ 26

26 ~ 27

-8

10.0% Headshot Reduction

2% Projectile Reduction

10 Magic Resistance

? Tier

Laced Turnshoe

Feet

5

6

7

8

9

10

11

12

3

5 Magic Resistance

? Tier

Leather Cap

Head

12

13

14

15 ~ 16

17 ~ 18

19 ~ 20

20 ~ 21

21 ~ 22

-5

7.0% Headshot Reduction

? Tier

Leather Gloves

Hand

3

4

5

6

7

8

9

10

1 Agility

? Tier

Leather Leggings

Leg

15

16 ~ 17

18 ~ 19

20 ~ 21

22 ~ 23

24 ~ 25

25 ~ 26

26 ~ 27

-5

10 Magic Resistance

? Tier

Lightfoot Boots

Feet

6

7

8 ~ 9

10 ~ 11

12 ~ 13

13 ~ 14

14 ~ 15

15

5

? Tier

Loose Trousers

Leg

5

6

7

8

9

10

11

12

-3

1 Agility

? Tier

Marauder Outfit

Chest

Rogue

28

29 ~ 31

32 ~ 35

36 ~ 38

38 ~ 40

40 ~ 42

42 ~ 44

44 ~ 47

-10

1 Agility

? Tier

Mystic Vestments

Chest

Cleric, Wizard

24

25 ~ 27

28 ~ 31

32 ~ 34

34 ~ 36

36 ~ 38

38 ~ 40

40 ~ 43

-5

1 Will

? Tier

Northern Full Tunic

Chest

Barbarian

43

44 ~ 47

48 ~ 56

57 ~ 62

63 ~ 69

69 ~ 74

74 ~ 79

79 ~ 83

-15

20 Magic Resistance

? Tier

Old Shoes

Feet

2

3

4

5

6

7

8

9

3

? Tier

Oracle Robe

Chest

Cleric, Wizard

21

22 ~ 23

24 ~ 25

26 ~ 27

28 ~ 29

30 ~ 32

32 ~ 33

33 ~ 34

-5

1 Knowledge

? Tier

Padded Leggings

Leg

12

13

14

15 ~ 16

17 ~ 18

19 ~ 20

20 ~ 21

21 ~ 22

-5

1 Will1 Knowledge

? Tier

Padded Tunic

Chest

10

11

12

13 ~ 14

15 ~ 16

17 ~ 18

18 ~ 19

19 ~ 20

-5

10 Magic Resistance

? Tier

Plate Boots

Feet

Cleric, Fighter

13

14 ~ 15

16 ~ 17

18 ~ 19

20 ~ 21

22 ~ 23

23 ~ 24

24 ~ 25

2

-5 Magic Resistance

? Tier

Plate Pants

Leg

Cleric, Fighter

26

27 ~ 29

30 ~ 33

34 ~ 36

36 ~ 38

38 ~ 40

40 ~ 42

42 ~ 45

-18

-5 Magic Resistance

? Tier

Ranger Hood

Head

Ranger

10

11

12

13 ~ 14

15 ~ 16

17 ~ 18

18 ~ 19

19 ~ 20

-5

4.0% Headshot Reduction

? Tier

Rawhide Gloves

Hand

3

4

5

6

7

8

9

10

1 Will1 Knowledge

? Tier

Regal Gambeson

Chest

35

36 ~ 39

40 ~ 47

48 ~ 51

52 ~ 57

57 ~ 62

62 ~ 66

66 ~ 70

-10

10 Magic Resistance

? Tier

Reinforced Gloves

Hand

6

7

8

9 ~ 10

11 ~ 12

13 ~ 14

14 ~ 15

15 ~ 16

10 Magic Resistance

? Tier

Riveted Gloves

Hand

6

7

8

9 ~ 10

11 ~ 12

13 ~ 14

14 ~ 15

15 ~ 16

1 Strength

? Tier

Rogue Cowl

Head

Rogue

8

9

10

11 ~ 12

13 ~ 14

15 ~ 16

16 ~ 17

17 ~ 18

-5

12.0% Headshot Reduction

10 Magic Resistance

4% Projectile Reduction

? Tier

Ruby Silver Adventurer Boots

Feet

13 ~ 14

5

5 Magic Resistance

? Tier

Ruby Silver Barbuta Helm

Head

Barbarian, Fighter

28 ~ 30

-10

12.0% Headshot Reduction

10 Magic Resistance

? Tier

Ruby Silver Doublet

Chest

Fighter, Ranger, Rogue

26 ~ 28

-8

? Tier

Ruby Silver Fine Cuirass

Chest

Cleric, Fighter

97 ~ 105

-35

10.0% Projectile Reduction

-10 Magic Resistance

? Tier

Ruby Silver Heavy Gauntlet

Hand

Cleric, Fighter

21 ~ 22

-3 Move Speed

-5 Magic Resistance

? Tier

Ruby Silver Leather Cap

Head

19 ~ 20

-5

7.0% Headshot Reduction

? Tier

Ruby Silver Leather Leggings

Leg

24 ~ 25

-5

10 Magic Resistance

? Tier

Ruby Silver Mystic Vestments

Chest

Wizard, Cleric

36 ~ 38

-5

1 Will

? Tier

Ruby Silver Plate Boots

Feet

Cleric, Fighter

22 ~ 23

2

-5 Magic Resistance

? Tier

Ruby Silver Plate Pants

Leg

Cleric, Fighter

38 ~ 40

-18

-5 Magic Resistance

? Tier

Ruby Silver Rawhide Gloves

Hand

8

1 Will

1 Knowledge

? Tier

Ruby Silver Rogue Cowl

Head

Rogue

17 ~ 18

-5

4.0% Headshot Reduction

? Tier

Rugged Boots

Feet

6

7

8

9 ~ 10

11 ~ 12

13 ~ 14

14 ~ 15

15 ~ 16

5

10 Magic Resistance

? Tier

Templar Armor

Chest

Cleric, Fighter

45

46 ~ 49

50 ~ 59

60 ~ 66

67 ~ 74

74 ~ 80

80 ~ 86

86 ~ 90

-15

20 Magic Resistance

? Tier

Viking Helmet

Head

Barbarian

19

20 ~ 21

22 ~ 23

24 ~ 25

26 ~ 27

28 ~ 30

30 ~ 31

31 ~ 32

-10

12.0% Headshot Reduction

10 Magic Resistance

4% Projectile Reduction

? Tier

Visored Barbuta Helm

Head

Fighter

19

20 ~ 21

22 ~ 23

24 ~ 25

26 ~ 27

28 ~ 30

30 ~ 31

31 ~ 32

-10

13.0% Headshot Reduction

6% Projectile Reduction

? Tier

Warden Outfit

Chest

Ranger

30

31 ~ 34

35 ~ 40

41 ~ 45

46 ~ 52

52 ~ 56

56 ~ 58

58 ~ 60

-10

1 Agility

? Tier

Wizard Hat

Head

Wizard

5

6

7

8

9

10

11

12

-5

2.5% Headshot Reduction

5 Magic Resistance

? Tier

Wizard Shoes

Feet

Wizard

1

2

3

4

5

6

7

8

5

10 Magic Resistance