Welcome to our Pokemon Duel Items List, View all the items available such as Cubes, Rare Metals and Ingots.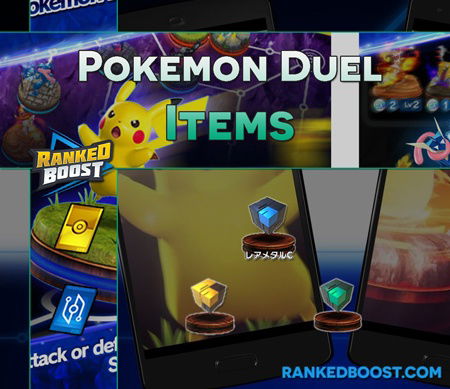 There are 3 main items in Pokemon Duel you will be using:
Cubes (Green) – Increases a Pokemon's Chain Level
Rare Metals (Blue) – Used for Leveling Pokemon
Ingots (Yellow) – Sold at shops for Coins


What Are Pokemon Duel Cubes?
When UC, C, R, EX Cubes Fuse with a Pokemon Figure, it will receive Points to Level UP its Chain Level.
(Pokemon can only get up to Chain level 10)
Zero Damage, Blue and Red Attacks are unable to receive a point

Purple attacks can not increase stars
| Rarity | Upgrade cost |
| --- | --- |
| Common | 30 Minerals |
| Uncommon | 10 Minerals |
| Rare | 3 Minerals |
| EX | 1 Mineral |
The required amount of XP does not change upon leveling up a Pokémon's chain level.


What Are Pokemon Duel Rare Metals?
When UC, C, R, EX Rare Metals Fuse with a Pokemon Figure, it will receive experience points.
Rare Metals are the main Pokemon Duel items you will use to Level Up your Pokemon. You can use Cubes and Rare Metals to Level Up your Pokemon. Leveling up your Pokemon will Increase the size of a selected Wedge Attack, reducing the red wedges size on their roulette wheel in turn reducing the Pokemon's chance to miss an attack.


What Are Pokemon Duel Ingots?
You can sell UC, C, R, EX Ingots at the shop and receive large amounts of Coins. In the bottom right side of the shop screen you can sell these Yellow Ingots.
What Do Coins Do In Pokemon Duel?
Coins are currently used for Fusing Pokemon Figures and also used in Quest Mode to perform a Team Evaluation.
You Should Make Sure To Use Your Items On The Best Pokemon.
There are a couple more Pokemon Duel Item List items available in-game.


Pokemon Duel Booster Ticket
Using this Pokemon Duel Item at the shop will reward a player with a Booster Case.
What Is A Booster Case?
Players who open a Booster Case will receive Pokemon Figures and as a bonus some extra Material.


Pokemon Duel AI Ticket
Using this allows Players to make a move in League Matches.
Pokemon Duel Item List Tips You Should Know
You should never use your yellow ingots for figure fusion, they sell for so much more gold that you should always SELL INGOTS.