Welcome to our League of Legends Wild Rift Items Guide, here you can find a description of what each Low Tier, Mid Tier, and High Tier Item does in Wild Rift. We also list the Best Items To Builds for each champion in wild rift.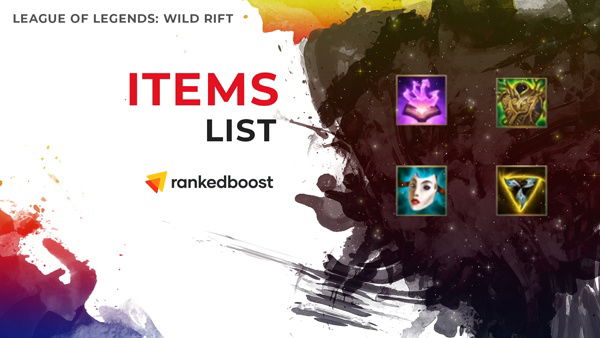 LoL Wild Rift Items List
Below you will find an LoL Wild Rift Items List and detailed information on what each item does. It's essential you build the right items for each champion, as this will affect your champion in-game more than almost anything else you do.
Physical – Attack Damage items which are primarily used on Marksmen and AD Carry champions in the Dragon Lane.
Magic – Ability Power items used by AP Champions such as Mages who are mostly played in the Mid Lane.
Defense – Tanks Items mostly used by bruisers and champions found in the Support Role or Baron Lane.
Boots – These are items used for almost any class and this also includes the various enchantment you can apply to the boots of your choice.
You can Click/Tap any of the Item Images to view champion builds that use that specific Item.
Item
Stats
Effects


+65 Attack Damage

Bloody: 15% Physical Vamp

Bloodsworn: Physical Vamp overheals you, generating a shield that absorbs 40-320 Damage. This shield decays out of combat over 10 seconds


+25% Critical Strike
+35% Attack Speed

Electric: +5% Move Speed

Energized: Moving and attacking generates Energy stacks. At max stacks your next attack deals 50-120 bonus magic damage and activates all Energized effects.

Shiv Lighting: Energized attacks bounce up to 5 nearby enemies, and each hit can crit.


+30 Attack Damage
+30% Attack Speed

Thirst: +10% Physical Vamp.

Ruined Strikes: Attacks deal bonus physical damage equal to 6% of the enemy's current Health. Deals at least 15 damage, and against monsters deals a max of 60 damage.

Drain: Hitting a champion with 3 attacks or abilities deals 30-100 magic damage and steals 25% of their move speed for 3 seconds. (60s Cooldown)


+25% Critical Rate
+35% Attack Speed

Hunter's Swiftness: +5% Move Speed.

Energized: Moving and attacking generates Energy stacks. At max stacks your next attack deals 50-120 bonus magic damage and activates all Energized effects.

Firecannon Barrel: Energy stacks charge 25% faster and Energized attacks have 150 bonus Attack Range. Melee attacks gain only 50 range.


+25% Critical Rate
+45% Attack Speed

Wind's Fury: Attacks strike 2 additional nearby enemies, each dealing 40%. These strikes can Critically Strike and trigger on-hit effects.


+50 Attack Damage
+10% Cooldown Reduction

Slice: +10 Armor Penetration.

Momentum: Moving builds Momentum, granting a max of 50 Move Speed at 100 stacks. Attacks expend all Momentum to deal bonus magic damage equal to the number of stacks. Momentum decays while movement is impaired.

Spectral Haste: Attacks that expend max Momentum grant 25% Attack Speed for 4 seconds.


+50 Attack Damage
+10% Cooldown Reduction

Razor: +15 Armor Penetration.

Nightstalker: Being unseen for 1 second causes your next attack against a champion to deal 20-125 bonus physical damage and slows them by 99% for 0.25 seconds. Buff last for 5 seconds and ranged attacks do not slow.


+60 Attack Damage
+25% Critical Rate

Infinity: Critical Strikes deal 230% damage instead of 200%


+45 Attack Damage

Last Whisper: +35% Armor Penetration.

Executioner's Calling: Physical damage applies Grievous Wounds to the enemy champions for 5 seconds.


+350 Max Health
+30 Attack Damage
+20% Cooldown Reduction

Sunder: Dealing physical damage to a champion reduces their Armor by 4% for 6 seconds, stacking 6 times for 24% reduction.

Rage: Attacks grant 20 Move Speed and kills grant 60 Move Speed for 2 seconds. Bonuses do not stack. Ranged champions gain halved values.


+25 Attack Damage
+300 Max Mana
+10% Cooldown Reduction

Awe: Grants Attack Damage equal to 1% of max Mana and refunds 15% of all Mana spent.

Mana Charge: Increases max Mana by 8 every attack or when Mana is spent. Caps at 700 bonus Mana, transforming Manamune into Muramana. Triggers up to 3 times every 12 seconds. You may only carry one Tear of the Goddess item at a time.


+25 Attack Damage
+1000 Max Mana
+10% Cooldown Reduction

Awe: Grants Attack Damage equal to 1% of max Mana and refunds 15% of all Mana spent.

Shock: Attacks against champions consume 3% of current Mana to deal double that amount as bonus physical damage. Shock is only active when you have greater than 20% max Mana.


+200 Max Health
+20 Attack Damage
+40% Attack Speed
+300 Max Mana
+20% Cooldown Reduction

Fervor: +5% Move Speed.

Spellblade: Using an ability causes the next attack used within 10 seconds to deal bonus physical damage equal to 200% base. (1.5s Cooldown)

Rage: Attacks grant 20 Move Speed and kills grant 60 Move Speed for 2 seconds. Bonuses do not stack. Ranged champions gain halved values.


+45 Attack Damage
+35 Magic Resistance
+10% Cooldown Reduction

Lifeline: Magic damage that puts you under 35% Health grants a shield that absorbs 350 magic damage for 5 seconds. (90s Cooldown)

Lifegrip: Triggering Lifeline grants 30 Attack Damage. 10% Physical Vamp, and 10% Magical Vamp until exiting combat.


+300 Max Health
+35 Attack Damage
+10% Cooldown Reduction

Dance: +10% Physical Vamp.

Cauterize: 30% of damage taken is instead dealt as a Bleed effect over 3 seconds.


+25% Critical Rate
+45% Attack Speed

Spectral Waltz: +5% Move Speed.

Lifeline: Magic damage that puts you under 35% Health grants a shield that absorbs 350 magic damage for 5 seconds. (90s Cooldown)


+50 Attack Damage
+10% Cooldown Reduction

Sabotage: +10 Armor Penetration.

Blackout: Being spotted by an enemy ward reveals traps and disables wards around you for 8 seconds. Attacks instantly destroy both objects. (60s Cooldown)


+20 Attack Damage
+10% Physical Vamp


+10% Critical Rate
+15% Attack Speed


+20% Attack Speed

Energized: Moving and attacking generates Energy stacks. At max stacks your next attack deals 50-120 bonus magic damage and activates all Energized effects.


+20 Attack Damage

Sharp: +10 Armor Penetration.


+30% Attack Speed


+40 Attack Damage


+15 Critical Rate


+15 Attack Damage

Last Whisper: +20% Armor Penetration.


+20 Attack Damage

Executioner's Calling: Physical damage applies Grievous Wounds to enemy champions for 3 seconds.


+175 Max Health
+15 Attack Damage

Rage: Attacks grant 20 Move Speed and kills grant 60 Move Speed for 2 seconds. Bonuses do not stack. Ranged champions gain halved values.


+30 Attack Speed
+10%


+20 Attack Damage
+35 Magic Resistance

Lifeline: Magic damage that puts you under 35% Health grants a shield that absorbs 350 magic damage for 5 seconds. (90s Cooldown)


+25 Attack Damage
+10% Cooldown Reduction


+12 Attack Damage


+10 Critical Rate


+15% Attack Speed


+80 Ability Power
+300 Max Mana
+10% Cooldown Reduction

Discordic Echo: Moving and casting abilities builds Discord. At 100 Discord your next damaging ability deals 100 bonus magic damage +10% to your target and up to 3 nearby enemies.


+300 Max Health
+70 Ability Power

Death Touch: +15 Magic Penetration.

Cursed: Magic damage applies Grievous Wounds to enemy champions for 3 seconds.


+70 Ability Power

Dissolve: +40% Magic Penetration.


+130 Ability Power

Overkill: Increases Ability Power by 40%


+350 Max Health
+70 Ability Power

Icy: Damaging active abilities slow enemies by 20% for 1 second.


+250 Max Health
+90 Ability Power

Madness: Deals 2% more damage for each second in combat against champions, capped at 10% after 5 seconds.

Torment: Ability damage deals 1% of an enemy's max Health as bonus magic damage over 3 seconds. This damage doubles if they are slowed or immobilized.


+250 Max Health
+60 Ability Power
+300 Max Mana

Eternity: Restore Mana equal to 15% of the damage taken from champions. Regen Health equal to 20% of Mana spent. Capped at 25 Health per cast.

Veteran: Each stack provides 20 Health, 10 Mana and 6 Ability Power, Stacking at a rate of 1 every 30 seconds. Max of 10 stacks, providing 200 Health, 100 Mana, and 60 Ability Power.


+80 Ability Power
+300 Max Mana
+10% Cooldown Reduction

Spellblade: Using an ability causes the next attack used within 10 seconds to deal bonus magic damage equal to 75% base +50% (1.5s Cooldown)

Bane: +5% Move Speed.


+50% Attack Speed
+70 Ability Power
+20% Cooldown Reduction

Bite: Attacks deal 15 bonus magic damage +15%.


+35 Ability Power
+500 Max Mana
+20% Cooldown Reduction

Awe: Grants Attack Damage equal to 1% of max Mana and refunds 15% of all Mana spent.

Mana Charge: Increases max Mana by 8 every attack or when Mana is spent. Caps at 700 bonus Mana, transforming Archangel's Staff into Seraph's Embrace. Triggers up to 3 times every 12 seconds. You may only carry one Tear of the Goddess item at a time.


+35 Ability Power
+1200 Max Mana
+20% Cooldown Reduction

Awe: Grants Attack Damage equal to 1% of max Mana and refunds 15% of all Mana spent.

Lifeline: Magic damage that puts you under 35% Health grants a shield that absorbs 350 magic damage for 5 seconds. (90s Cooldown)


+250 Max Health
+60 Ability Power
+10% Cooldown Reduction

Ardent: +5% Move Speed.

Censer: When you heal or shield an allied champion, both of you gain 10-30% Attack Speed and your attacks deal 16-30 bonus magic damage for 6 seconds. Regen effects do not trigger Censer.


+30 Attack Damage
+60 Ability Power

Hextech Bolt: Hitting an enemy champion with an attack or ability shocks them for 100-200 magic damage +30% and slows them by 40% for 2 seconds. (30s Cooldown)

Life Drain: +15% Physical Vamp.

Energy Drain: +15% Magical Vamp.


+80 Ability Power
+300 Max Mana
+10% Cooldown Reduction

Harmonic Echo: Moving and casting abilities builds Harmony. At 100 Harmony your next healing or shielding ability restores 70 Health +10% to your target and up to 3 nearby allied champions.


+55 Ability Power
+40 Magic Resistance
+10% Cooldown Reduction

Blood Price: Stores 35% of premitigation damage dealt to champions as Blood, capped at 110-250. Healing or shielding an ally consumes all blood to heal them for an equal value.


+65 Ability Power
+200 Max Mana
+20% Cooldown Reduction

Soul Charged: Unique takedowns reduce the cooldown of your ultimate by 3%, capping at 15% after 5 stacks.


+200 Max Health
+60 Ability Power

Destiny: +5% Move Speed.

Balance: +15 Magic Penetration.

Inevitable Demise: Abilities crit for 20% bonus damage against enemies below 35% Health.


+300 Max Mana

Awe: Grants Attack Damage equal to 1% of max Mana and refunds 15% of all Mana spent.

Mana Charge: Increases max Mana by 8 every attack or when Mana is spent. Caps at 700 bonus Mana. Triggers up to 3 times every 12 seconds. You may only carry one Tear of the Goddess item at a time.


+35 Ability Power


+30 Ability Power
+150 Max Mana

Haste: +10% Cooldown Reduction.


+35 Ability Power
+10% Cooldown Reduction


+45 Ability Power


+65 Ability Power


+200 Max Health
+35 Ability Power

Madness: Deal 2% more damage for each second in combat against champions, capped at 10% after 5 seconds.


+300 Max Mana
+10% Cooldown Reduction

Spellblade: Using an ability causes the next attack used within 10 seconds to deal bonus physical damage equal to 200% base. (1.5s Cooldown)


+40 Ability Power

Hextech Bolt: Hitting an enemy champion with an attack or ability shocks them for 75 magic damage. (30s Cooldown)


+125 Max Health
+25 Ability Power

Death Touch: +15 Magic Penetration.


+25 Ability Power

Dissolve: +20% Magic Penetration.


+300 Max Mana


+25 Ability Power


+45 Attack Damage
+40 Armor

Resurrect: Upon taking lethal damage, restores 50% base Health and 30% Mana after 4 seconds of stasis. (180s Cooldown)


+400 Max Health
+40 Armor

Immolate: Deals 25-40 magic damage per second to nearby enemies. Deals 50% bonus damage to minions and monsters.


+350 Max Health
+100% Health Regen
+45 Magic Resistance
+10% Cooldown Reduction

Blessed: Increases all healing, regen, and drain effects on yourself by 30%.


+400 Max Health
+50 Armor

Armored: Reduces damage from Critical Strikes by 15%.

Cold Steel: Reduce the Attack Speed of enemies by 15% for 1.5 seconds when struck by an attack.


+200 Max Health
+75 Armor

Thorns: Being hit by an attack reflects 25 magic damage +10% bonus and inflicts them with Grievous wounds for 1 second.


+550 Max Health
+25 Attack Damage

Icy: Attacks slow enemies by 40% for 1.5 seconds. Slow amount halved for ranged attacks.


+650 Max Health
+200% Health Regen
+10% Cooldown Reduction

Warmog's Heart: If you have at least 2500 Health, restore 5% Health per second if you haven't taken damage within the last 6 seconds.


+400 Max Health

Heavy Handed: +50% Base Attack Damage. Only applies to melee champions.

Lifeline: Magic damage that puts you under 35% Health grants a shield that absorbs 350 magic damage for 5 seconds. (90s Cooldown)

Sterak's Fury: Triggering Lifeline increases size and grants 30% Tenacity for 3 seconds.


+50 Armor
+450 Max Mana
+20% Cooldown Reduction

Spellblade: Using an ability causes the next attack used within 10 seconds to deal bonus magic damage equal to 75% base +50% (1.5s Cooldown)


+300 Max Health
+50 Armor

Momentum: Moving builds Momentum, granting a max of 50 Move Speed at 100 stacks. Attacks expend all Momentum to deal bonus magic damage equal to the number of stacks. Momentum decays while movement is impaired.

Crushing Blow: Melee attacks that expend max Momentum also slow by 50% by 1 second.


+300 Max Health
+100% Health Regen
+60 Magic Resistance

Adaptive: Taking magic damage reduces all subsequent magic damage from that same ability or effect by 15% for 4 seconds.


+300 Max Health
+40 Magic Resistance
+300 Max Mana
+10% Cooldown Reduction

Eternity: Restore Mana equal to 15% of the damage taken from champions. Regen health equal to 20% of mana spent. Capped at 25 Health per cast.

Abyssal: Nearby enemy champions take 15% bonus magic damage.


+40 Armor
+40 Magic Resistance
+150 Max Mana
+10% Cooldown Reduction

Harbinger: Casting your ultimate surrounds you with a blizzard and ignites a nearby ally's attacks for 10 seconds. your blizzard slows enemies by 20% and your ally's attacks burn for 30% bonus magic damage over 2 seconds. Prioritizes highest Attack Damage ally.

Frostfire Covenant: Your blizzard ignites if it slows a burning enemy, dealing 40 magic damage per second and slowing by 40% for 3 seconds.


+350 Max Health
+40 Armor
+10% Cooldown Reduction

Protector: Raise your Guard when next to an allied champion. If you or your ally take damage from a champion, monster, or turret, both of your receive a 125 shield +20% bonus +15% and 20% Move Speed for 1.5 seconds. (30s Cooldown)


+40 Armor
+450 Max Mana
+10% Cooldown Reduction

Awe: Grants Attack Damage equal to 1% of max Mana and refunds 15% of all Mana spent.

Mana Charge: Increases max Mana by 8 every attack or when Mana is spent. Caps at 700 bonus Mana, transforming Winter's Approach into Fimbulwinter. Triggers up to 3 times every 12 seconds. You may only carry one Tear of the Goddess item at a time.


+250 Max Health

Immolate: Deals 25-40 magic damage per second to nearby enemies. Deals 50% bonus damage to minions and monsters.


+175 Max Health
+20 Magic Resistance

Spectral Visit: Grants 150% Health Regen for 10 seconds after taking damage from an enemy champion.


+175 Max Health
+10% Cooldown Reduction


+300 Max Health


+35 Armor

Cold Steel: Reduce the Attack Speed of enemies by 15% for 1.5 seconds when struck by an attack.


+200 Max Health
+300 Max Mana

Eternity: Restore Mana equal to 15% of the damage taken from champions. Regen Health equal to 20% of Mana spent. Capped at 15 Health per cast.


+40 Armor


+30 Armor

Thorns: Being hit by an attack reflects 3 magic damage +10% bonus and inflicts them with Grievous Wounds for 1 second.


+200 Max Health
+15 Attack Damage


+40 Magic Resistance


+20 Armor
+150 Max Mana
+10% Cooldown Reduction


+150 Max Health


+20 Armor


+20 Magic Resistance


+40 Move Speed
+8% Physical Vamp
+8% Magical Vamp

Sprint (Active): Increases Move Speed by 15% for 3 seconds. Dealing or taking damage from champions removes sprint. (60s Cooldown)


+50 Move Speed

Sleek: Move Speed slows reduced by 30%

Sprint (Active): Increases Move Speed by 15% for 3 seconds. Dealing or taking damage from champions removes sprint. (60s Cooldown)


+40 Move Speed
+10 Magic Resist

Tenacity: Reduces the duration of stuns, slows, taunts, fears, silences, blinds, and immobilizes by 30%

Sprint (Active): Increases Move Speed by 15% for 3 seconds. Dealing or taking damage from champions removes sprint. (60s Cooldown)


+40 Move Speed
+10% Cooldown Reduction

Summoned: Reduces Summoner Spell Cooldowns by 10%.

Sprint (Active): Increases Move Speed by 15% for 3 seconds. Dealing or taking damage from champions removes sprint. (60s Cooldown)


+20 Movement Speed

Sprint (Active): Increases Move Speed by 15% for 3 seconds. Dealing or taking damage from champions removes sprint. (60s Cooldown)

Stasis Active

Stasis (Active): Become invulnerable and untargetable for 2.5 seconds, but unable to move, attack, cast abilities or use items. (120s Cooldown)

Locket Active

Locket (Active): Shield yourself and all nearby allied champions from 140-420 damage for 2.5 seconds. (60s Cooldown)

Glory Active

Glory (Active): Gain 15% Move Speed for 4 seconds, increasing to 60% towards enemy champions or towers. After 4 seconds or reaching an enemy champion emits a shockwave that slows nearby enemies by 50% for 2 seconds. (45s Cooldown)

Protobelt Active

Protobelt (Active): Dash forward and unleash a cone of missiles that deal 75-145 magic damage. If champions or monsters are hit by more than one missile, the additional missiles deal only 10% damage. (60s Cooldown)

Quicksilver Active

Quicksilver (Active): Removes all crowd control effects currently affecting you, and gain 50% Move Speed for 1.5 seconds. (60s Cooldown)

Stoneplate Active

Stoneplate (Active): Increase your Health by 40%, while reducing damage dealt by 60% for 4 seconds. If there are 3 or more enemy champions nearby, increases Health by 100% instead. (45s Cooldown)

Redeem Active

Redeem (Active): Reveal a position and after 2.5 seconds, a beam of light heals allies by 25-375, while enemies take 10% of their max Health as true damage. Minions and monsters take 250 damage instead. (60s Cooldown)

Shadows Active

Shadows (Active): Summons 2 ghosts that seek out nearby enemy champions. On contact, a champion is revealed and slowed by 40% for up to 5 seconds, based upon travel time. (60s Cooldown)

Teleport Active

Teleport (Active): After channeling for 3.5 seconds, teleport your champion to an allied champion, structure, or ward. (180s Cooldown)


+40 Move Speed
+10 Armor

Block: Blocks 10% of damage from attacks.

Sprint (Active): Increases Move Speed by 15% for 3 seconds. Dealing or taking damage from champions removes sprint. (60s Cooldown)