Welcome to our World of Warcraft Classic Paladin Builds List. Below we list the Best Builds for the Paladin Class in Patch 1.12, we included each spec Holy, Protection and Retribution and links to their full Builds. The full spec builds will include the gear stats you should focus on to maximize your overall damage or healing depending on the spec you choose.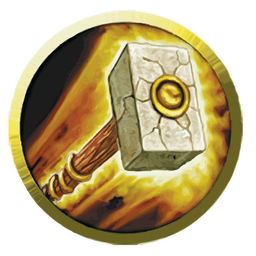 Best Paladin Race 
We consider the Dwarves Race the Best for PVP mostly due to the Stone Form and Frost Resistance, these two Racial Traits are valuable in Battlegrounds whereas Humans are more effective if you plant to focus on PVE content in WoW Classic. Keep in mind that only Alliance can use the Paladin Class.
Best  –  Humans,  Dwarves
Average  –
Weak  –
Not Available –  Night Elf,  Orc,  Tauren,  Troll,  Undead,  Gnome
Best Paladin Spec
We think that the Holy Spec is your best bet if you plan to level up a paladin, however, Tanks are always in high demand. Even though Protection isn't the best tank spec, beggars can be choosers so you will have no problem getting into dungeons if you have the gear and the know how to tank it. Sadly since Ret Pallys are so gear dependent it hard to recommend them.
Best  –   Holy,  Protection
Average  –  Retribution
Weak  –
World of Warcraft Classic Best Paladin Builds

 Best Holy Paladin Build
This Spec is a solid choice if you want to both PVE and PVP in Classic WoW, Healers are almost in high as demand as Tanks. When it comes to PVP this Spec has an edge thanks to its ability to wear Plate Armor, which will make it that much harder to kill on top of all the other ridiculous spells.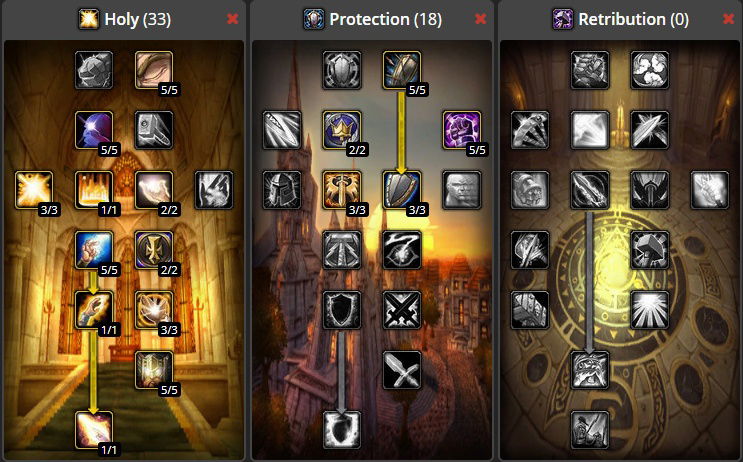 Best Protection Paladin Build
Tanks in most cases take a lot of work and will require some knowledge when it comes to PVE Dungeons, but if you enjoy this playstyle you can give Protection Pally a try. If for some reason you are unsure about this spec Warrior are a solid choice when it comes to Tank Specs.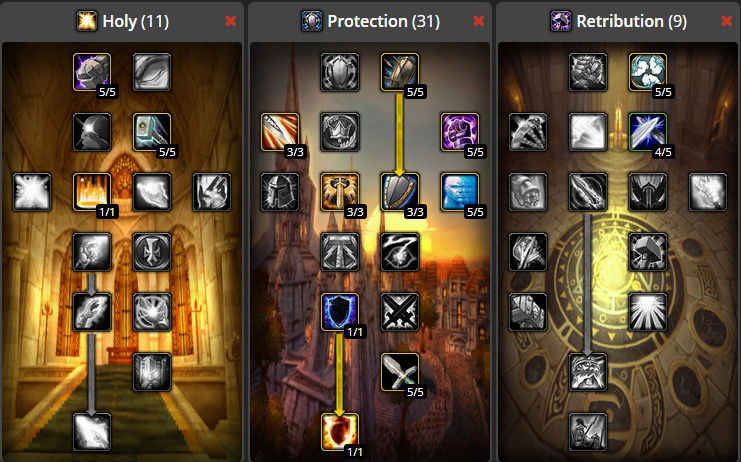 Best Retribution Paladin Build
Ret Pally have it hard because of how Gear dependent they are just to be strong in PVP. On the other side when it comes to PVE most DPS classes can easily out DPS them, so they are not the ideal choice for dungeons or raids.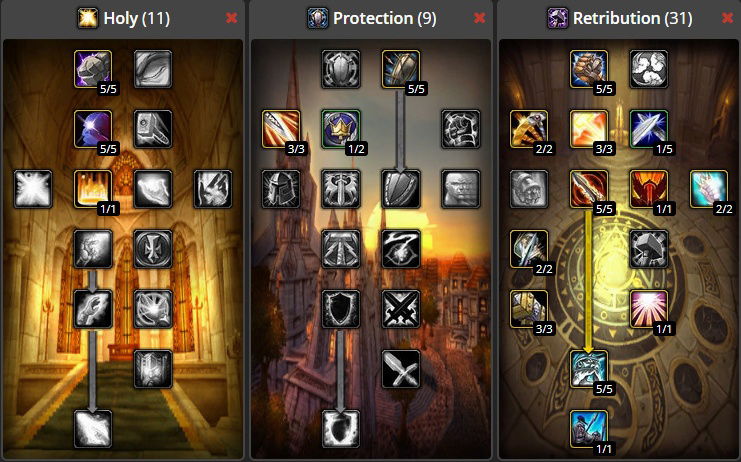 You can view even more WoW Classic Paladin Build Guides by Clicking/Tapping the links below.
You can view more WoW Classic Class Guides by Clicking/Tapping the links below.