Welcome to our World of Warcraft Classic Shaman Builds List. We discuss what we think are the best Races and Specs for Shaman and even some Talent Builds you can use in PVP or PVE. Links to the full guides for each spec Enhancement, Elemental and even Restoration are listed below.
Best Shaman Race 
When it comes to the Shaman Class Orc can flex between both PVP and PVE specs with great success, as such, we recommend it the most as a solid choice for a race choice. The Tauren is a close second, but have more of a place in PVP, while Troll is pretty good in PVE.
Best  –  Orc
Average  –   Troll,  Tauren
Weak  –
Not Available –  Dwarves,  Night Elf,  Undead,  Gnome,  Humans
Best Shaman Spec
Since all 3 shaman specs are viable, this one was a hard choice. We ended up with Elemental because of its effectiveness in PVE and power in a late game geared PVP. Enhancement is similar but you will likely so more success with it in PVP, where Restoration is good in both PVP and PVE.
Best  –   Elemental,  Enhancement
Average  –  Restoration
Weak  –
World of Warcraft Classic Best Shaman Build

 Elemental Shaman Build
This is our favourite out of the 3 shaman specs for some of the reasons listed below, and the fact that this Talent Build can be a monster in the late game PVP with the right gear. We also recommend this and Enhancement as the Twink spec and even as the go-to for levelling up.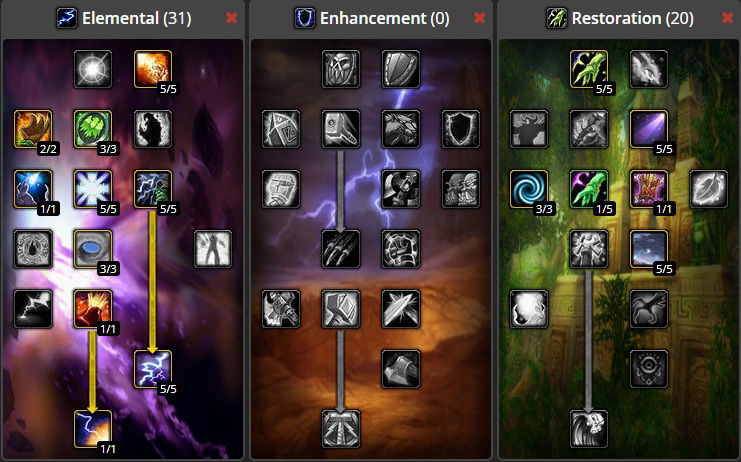 Enhancement Shaman Build
This is a strong Melee DPS that most players will be using in PVP, you can use for PVE content as well. The one drawback is it can be a little gear dependent to do good enough damage to be viable. This Talent Build specifically is for Two Hand Weapon users, however, you can simply switch out 1 talent for the other and in this case, it would be the two hand for the dual wield.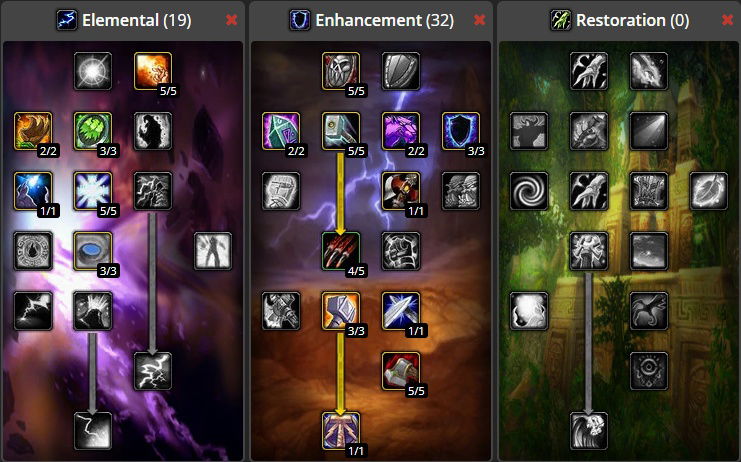 Restoration Shaman Build
This our recommended healing spec, this talent build is full healing and is not a hybrid. Some players for PVP will split between the Restoration and Elemental Skill Trees for a Hybrid Spec, which they then use in PVP with great success. You can, however, go straight healing such as then, and power heals the Flag Runner.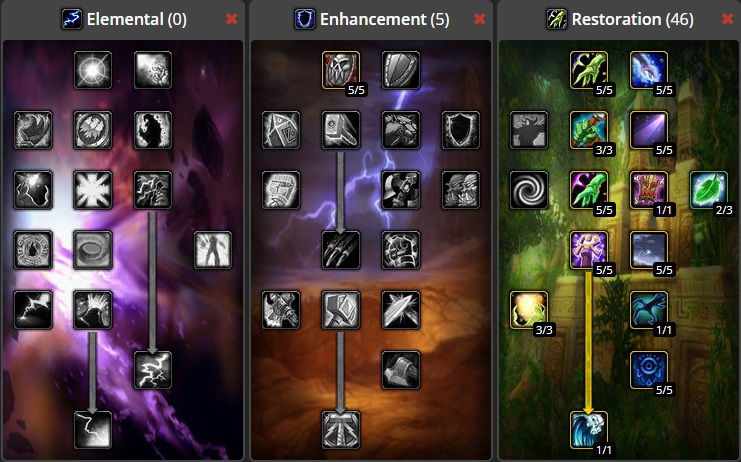 You can view even more WoW Classic Shaman Build Guides by Clicking/Tapping the links below.
You can view more WoW Classic Class Guides by Clicking/Tapping the links below.